Alex Morono shared his impressions of his victory in a fight with UFC veteran compatriot Donald Cerrone.
American mixed martial fighter Alex Morono shared his impressions of his victory in a fight with UFC veteran compatriot Donald Cerrone. According to Alex, he respects Donald very much and is glad that he was able to knock out one of the most recognizable fighters in the organization.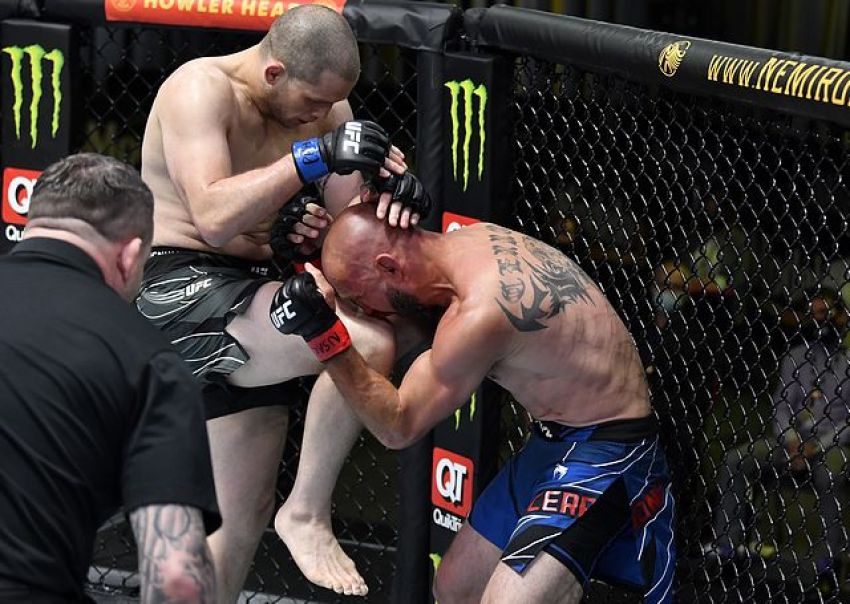 ---
"It feels good just putting my literal handiwork out there—boxing, kickboxing and getting knockouts. That's just been a perpetual life goal," Morono said. "I've come so close in so many fights, cracking dudes and dropping dudes. I hadn't quite found the standing finish. I got it today over a man I admire greatly, more than almost anyone else on the roster. That goal was accomplished. I'm very satisfied."
Morono is well aware that it can be a matter of inches between landing the knockout blow or seeing one's opponent survive, so that's why he was thrilled to hit his mark effectively in Saturday's co-main event.
"I wanted to finish and that's when things get wild," he said. "There's a bit of a fate that exists in MMA in terms of where punches land. Sometimes they're deflected or your range is just an inch off. I just wanted to find a good shot. I hit him with the right and staggered him. He collected himself a bit and then I hit a big right hook. I'd been working on a lot of clinch uppercuts and just went to that."
The 31-year-old Fortis MMA product has been in the UFC since 2016, collecting wins over veterans such as Kyle Noke, Joshua Burkman and Max Griffin along the way. In Morono's mind, none of those opponents measure up to the popular Cerrone. In fact, there aren't many fighters in the promotion where a victory would have meant more to "The Great White."
"I've been in the UFC for a while now. I'm just in it for the martial arts lifestyle. Of course, it was a big win for me. Other than Conor, Cowboy is probably the most recognizable fighter in the UFC," Morono said.
"Cowboy's iconic. He's awesome and the fight was awesome. It was an honor."
---
Recall that the duel between Alex and Donald became the co-main event of the UFC on ESPN 24 tournament, which took place on May 8 at the UFC Apex arena in Las Vegas, Nevada, USA. Morono won by TKO in the first round.