Bellator 260 weighing results.
The official weigh-in ceremony for tomorrow's Bellator 260 tournament has just finished at the Mohegan Sun Arena in Uncasville, Connecticut.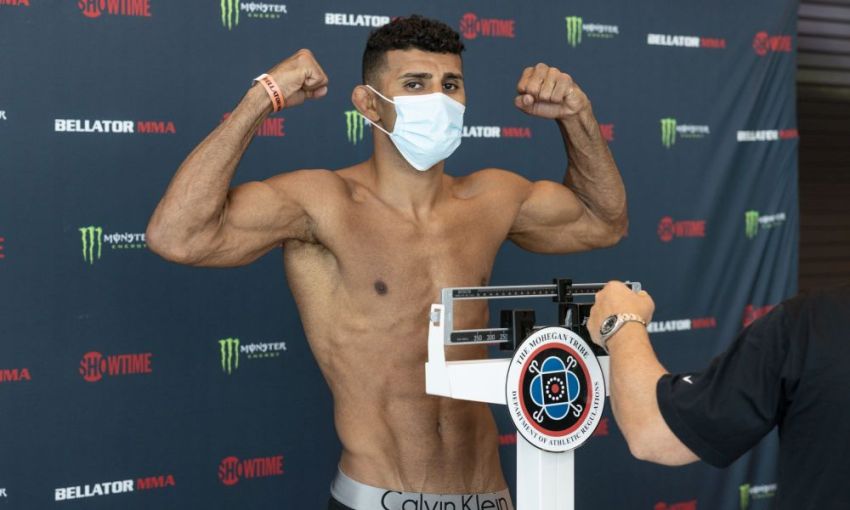 The main event of which will be a welterweight title fight between champion Douglas Lima (32-8) and undefeated Ukrainian Yaroslav Amosov (25-0).
Co-headliners Paul Daley (43-17-2 MMA, 9-4 BMMA) and Jason Jackson (14-4 MMA, 5-1 BMMA) also hit their marks for a 175-pound contract weight co-headliner. Jackson needed two tries to do so, though, after he missing weight on his first attempt.
The weigh-ins took place at Mohegan Sun Arena in Uncasville, Conn. The same venue hosts Friday's event, which has a main card on Showtime following prelims on MMA Junkie.
The full Bellator 260 weigh-in results included:
Champ Douglas Lima (169.75) vs. Yaroslav Amosov (170) – for welterweight title
Paul Daley (175) vs. Jason Jackson (175) – 175-pound contract weight
Aiden Lee (145) vs. Aaron Pico (145.75)
Ilara Joanne (127.5) vs. Vanessa Porto (128) – 128-pound contract weight
Demarques Jackson (170) vs. Mark Lemminger (170.5)
PRELIMINARY CARD (MMA Junkie, 6 p.m. ET)
Levan Chokheli (170) vs. Kyle Crutchmer (170.25)
Tywan Claxton (146) vs. Justin Gonzales (145)
Bobby King (156) vs. Nick Newell (156)
Lucas Brennan (146.5) vs. Matthew Skibicki (146) – 150-pound contract weight
Amanda Bell (145) vs. Marina Mokhnatkina (145.5)
Alex Polizzi (205) vs. Gustavo Trujillo (205.25)