MMA superstar Conor McGregor announced his desire to train under the guidance of Eddie Reynoso, who trains the best pound-for-pound boxer Saul Alvarez, as well as many other famous fighters.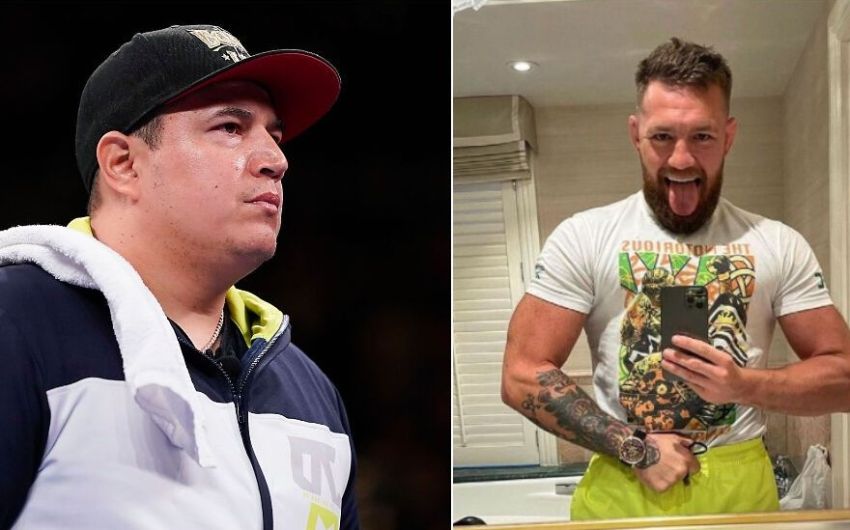 During a recent broadcast on Instagram, the Irishman received a message from Reynoso, who addressed him with words of support, after which  Conor "The Notorious" McGregor  expressed the hope of one day looking into his hall.
"Canelo Team, 'Bless you champ,' my man, appreciate you sir. Eddy Reynoso, big fan of your work and what you're doing with those guys in the gym. One day we'll get to train, I hope so," said McGregor  
"Like I say, I'm taking this 24 hours at a time, I'm confident but I'm gonna take it day by day and see how this leg goes up. One thing's for sure, I'll be able to box. So you know, I'll be out here until mid-October anyway I think. I'll know after this scan how long I'll be here for, but I'd love to get training with you sir, some time in the future. I'm sure we will. Thank you for the support."
McGregor (22-6, 0-1 boxing) is currently recovering from a gruesome left leg injury following his trilogy loss to Dustin Poirier in July. Doctors inserted a rod in McGregor's tibia and his fibula.
Conor McGregor has long been linked to fighting Manny Pacquiao in a boxing match, but back-to-back losses to Poirier in 2021 have halted negotiations. The former two-division UFC champion made his pro boxing debut in a lucrative knockout loss to Floyd Mayweather Jr. in 2017.
Eddy Reynoso is one of the sport's most revered trainers at the moment, leading a stable in San Diego led by the likes of Alvarez, Andy Ruiz Jr., Ryan Garcia, Oscar Valdez and Frank Sanchez.
In March, Reynoso entertained the idea of coaching McGregor.
"Here we can support him. We can help to better his boxing and defense," said Reynoso. "Honestly, when he fought Mayweather he surprised me. He has a good counter. He has good footwork, waist movement, and agility. Therefore, I think he would do good in boxing. Give it your best, keep working hard, don't quit … Conor has a lot to give, I don't know what happened, but his career is untouchable. He's a tremendous athlete that's going to be in the history books. Anytime, this is your home Conor whenever you wanna come practice and learn. We welcome you with open arms."