Mike Tyson recently shared a prediction for the fight Tyron Woodley and Jake Paul.Woodley and Paul are just three weeks away from settling scores in the ring. One has knocked out some of the best welterweights inside the UFC octagon throughout his career and the other is a former Disney star, and a wildly successful YouTuber, who made a switch to professional boxing in 2020.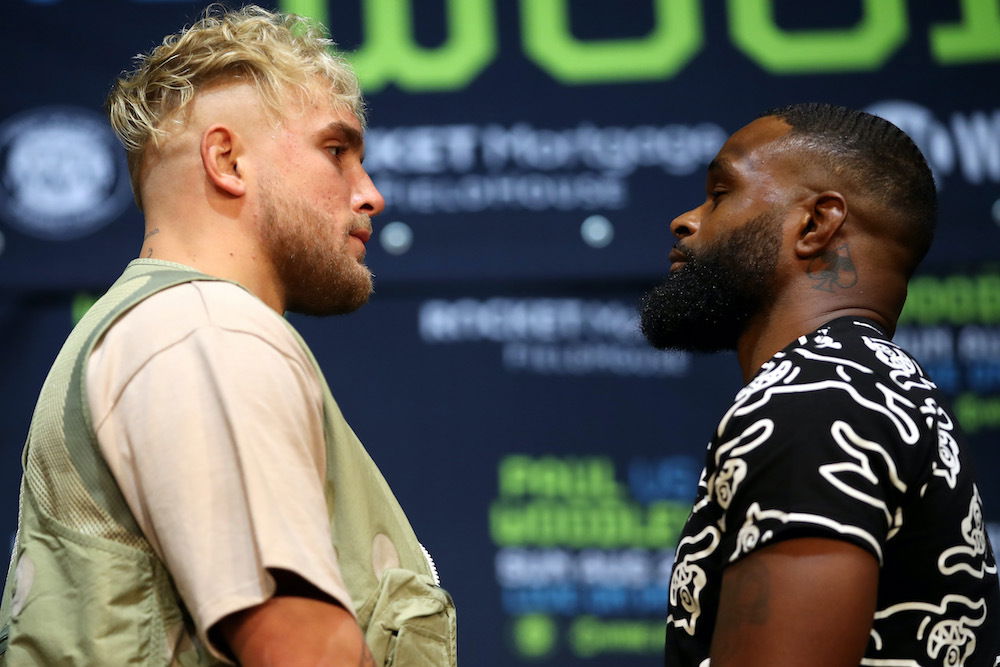 Although it is nearly unreal to predict outcomes of fights with such odd matchups, boxing legend Mike Tyson lately shared a prediction that could help you make your personal choice as well.
At a recent Hotboxin' podcast with David Benavidez, the youngest heavyweight champ predicted that Jake Paul will bag a win over Tyron 'The Chosen One' Woodley.
David Benavidez believes that Jake Paul is a good striker and much more than just another YouTuber or celebrity. Tyson thinks that the 24-year-old benefits from the fans, the media, and his opponents underestimating him and seeing him as just a social media influencer.
"I don't know. Paul's a real good striker and people disadvantage him when they go in and say, blond hair and blue eyes, he's a white b***h'. That also builds their courage up that causes them to get knocked out." said Mike Tyson.
The 24-year-old Jake Paul has racked up a record of 3 wins (3 knockouts) and 0 losses. So far, he has fought a fellow YouTuber, an NBA athlete, and a retired wrestling specialist. Given that he has not yet faced a pro boxer or an active fighter, drawing meaningful conclusions about Paul's abilities becomes difficult.
But based on his performance in previous fights, Tyron Woodley can definitely not afford to underestimate him. Fans have seen the Ohio native also pull of knockouts on his back foot. Clearly, Paul packs a punch and has a good grip on the basics.
Unlike his opponent, Tyron Woodley has been fighting for more than a decade. In the UFC, he bagged 19 wins, 7 losses, and 1 draw. He is also a five-time former UFC welterweight champion. One might think that his MMA experience might trump anything that Paul offers. However, it is important to understand that, despite the similarities, boxing and MMA are two different sports and disciplines.