Cedric Doumbe delivered an impressive 9-second left-hook knockout victory over Jordan Zebo in his promotional debut at the main event of PFL Paris on Saturday night.
Doumbe certainly didn't hold back on the pre-fight theatrics. He made his way through the crowd, carrying a mattress adorned with a tombstone bearing Zebo's name as he made his entrance to the ring.
Check out the video below:
As soon as the two fighters touched gloves, they immediately launched into a furious exchange of strikes. Zebo tried to retaliate with a head kick, but Doumbe's lightning-quick reflexes allowed him to catch the kick and respond with a precise low kick-left-hook combination. Both fighters were crouched low, and 'The Lazy King' delivered a powerful right hand that sent Zebo incapacitated, electrifying the Zenith Paris Arena.
Check out the knockout video below:
Fans promptly responded to Cedric Doumbe's extraordinary performance with a diverse range of reactions.
One fan wrote:
"I would say post the full fight, but this the full fight."
Another wrote:
"Holysh*tballs 9 seconds!!"
Check out some more reactions below:
"That's that one punch power. Insane."
"Dana really fumbled"
"Yeah he's a star. UFC missed out big time."
"Jesus what a superstar"
"The future of PFL"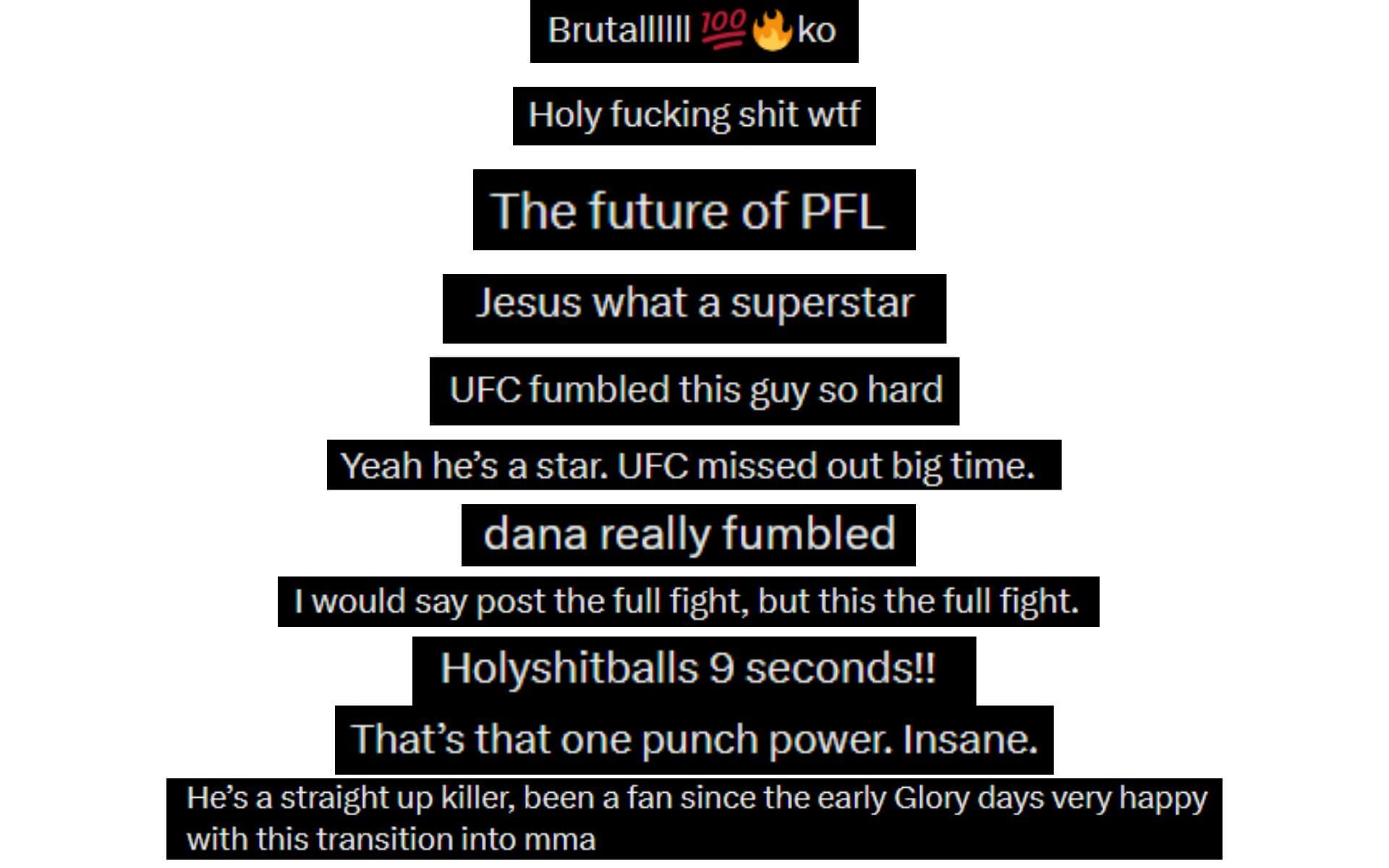 ---
When Cedric Doumbe clarified why he didn't compete for UFC
Cedric Doumbe inked a deal with the PFL in June. The former Glory kickboxing welterweight champion was initially scheduled to face Darian Weeks in the UFC's debut event in Paris in September 2022. However, the fight never materialized because the French commission declined to approve it, citing concerns about differences in the fighters' experience levels.
During his appearance on The MMA Hour with Ariel Helwani in May, 'The Lazy King' provided insights into why he couldn't make his octagon debut:
"A doctor made a mistake in that test and [it said that] I have blood in my brain. I signed the paper to the UFC, I didn't even check, and they [responded] to us that I can't fight because the MRI is bad. So that's why I didn't fight at UFC Paris."
He further disclosed that PFL presented him with a significantly more lucrative offer, amounting to ten times what the UFC had proposed:
"I really have a better contract with PFL. PFL is the future and I'm very [happy] with my contract right now. I will show a great Cedric Doumbe for France, for Cameroon, for Africa in the PFL. Ten times [bigger] I'm very happy. I'm very glad now."
Check out Doumbe's comments below (from 3:25):