Conor McGregor reacted to the statement of Khabib Nurmagomedov
[vc_row][vc_column][vc_column_text]
Conor McGregor reacted to the statement of Khabib Nurmagomedov
[/vc_column_text][vc_raw_html]JTNDc2NyaXB0JTIwYXN5bmMlMjBzcmMlM0QlMjJodHRwcyUzQSUyRiUyRnBhZ2VhZDIuZ29vZ2xlc3luZGljYXRpb24uY29tJTJGcGFnZWFkJTJGanMlMkZhZHNieWdvb2dsZS5qcyUyMiUzRSUzQyUyRnNjcmlwdCUzRSUwQSUzQyUyMS0tJTIwMzYwJTJBMjgwJTIwLS0lM0UlMEElM0NpbnMlMjBjbGFzcyUzRCUyMmFkc2J5Z29vZ2xlJTIyJTBBJTIwJTIwJTIwJTIwJTIwc3R5bGUlM0QlMjJkaXNwbGF5JTNBaW5saW5lLWJsb2NrJTNCd2lkdGglM0EzNjBweCUzQmhlaWdodCUzQTI4MHB4JTIyJTBBJTIwJTIwJTIwJTIwJTIwZGF0YS1hZC1jbGllbnQlM0QlMjJjYS1wdWItNTExMzgyNjg4NTA4ODUzOCUyMiUwQSUyMCUyMCUyMCUyMCUyMGRhdGEtYWQtc2xvdCUzRCUyMjUyMDU3NDAwODElMjIlM0UlM0MlMkZpbnMlM0UlMEElM0NzY3JpcHQlM0UlMEElMjAlMjAlMjAlMjAlMjAlMjhhZHNieWdvb2dsZSUyMCUzRCUyMHdpbmRvdy5hZHNieWdvb2dsZSUyMCU3QyU3QyUyMCU1QiU1RCUyOS5wdXNoJTI4JTdCJTdEJTI5JTNCJTBBJTNDJTJGc2NyaXB0JTNF[/vc_raw_html][vc_column_text]
Former UFC champion in two weight categories, Conor McGregor , reacted to the statement of Khabib Nurmagomedov , who announced that he was not going to fight the Irishman, but did not rule out that the promotion leadership would try to push them at UFC 257, where the Russian will be a second assistant to his teammates.
---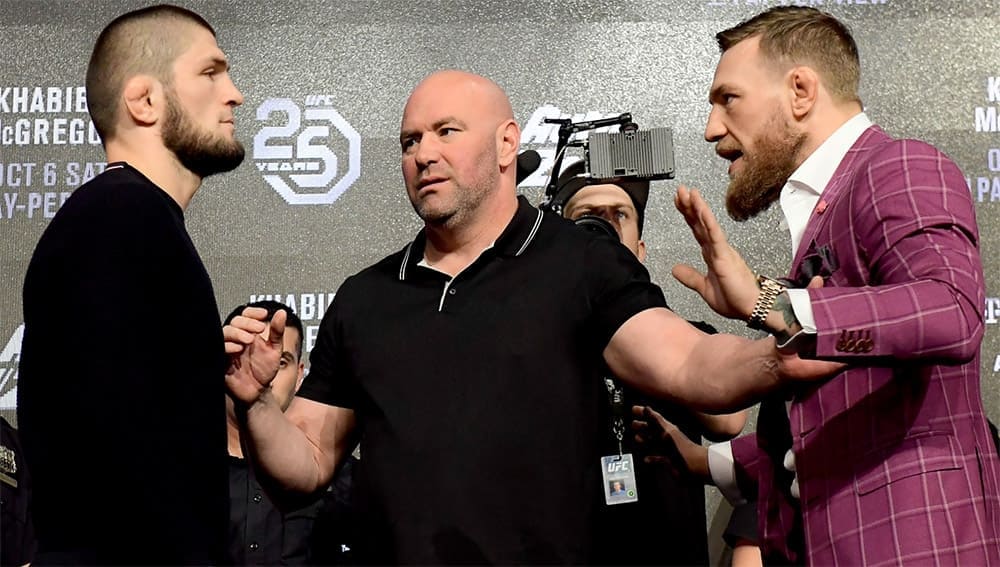 [/vc_column_text][vc_raw_html]JTNDc2NyaXB0JTIwYXN5bmMlMjBzcmMlM0QlMjJodHRwcyUzQSUyRiUyRnBhZ2VhZDIuZ29vZ2xlc3luZGljYXRpb24uY29tJTJGcGFnZWFkJTJGanMlMkZhZHNieWdvb2dsZS5qcyUyMiUzRSUzQyUyRnNjcmlwdCUzRSUwQSUzQyUyMS0tJTIwYWRhcHQlMjBuZXclMjAtLSUzRSUwQSUzQ2lucyUyMGNsYXNzJTNEJTIyYWRzYnlnb29nbGUlMjIlMEElMjAlMjAlMjAlMjAlMjBzdHlsZSUzRCUyMmRpc3BsYXklM0FibG9jayUyMiUwQSUyMCUyMCUyMCUyMCUyMGRhdGEtYWQtY2xpZW50JTNEJTIyY2EtcHViLTUxMTM4MjY4ODUwODg1MzglMjIlMEElMjAlMjAlMjAlMjAlMjBkYXRhLWFkLXNsb3QlM0QlMjIzMTMxMTczMjk4JTIyJTBBJTIwJTIwJTIwJTIwJTIwZGF0YS1hZC1mb3JtYXQlM0QlMjJhdXRvJTIyJTBBJTIwJTIwJTIwJTIwJTIwZGF0YS1mdWxsLXdpZHRoLXJlc3BvbnNpdmUlM0QlMjJ0cnVlJTIyJTNFJTNDJTJGaW5zJTNFJTBBJTNDc2NyaXB0JTNFJTBBJTIwJTIwJTIwJTIwJTIwJTI4YWRzYnlnb29nbGUlMjAlM0QlMjB3aW5kb3cuYWRzYnlnb29nbGUlMjAlN0MlN0MlMjAlNUIlNUQlMjkucHVzaCUyOCU3QiU3RCUyOSUzQiUwQSUzQyUyRnNjcmlwdCUzRQ==[/vc_raw_html][vc_column_text]
"You can run, but you can't hide," the Irishman tweeted.

"Don't be afraid, buddy," he added.

---
Despite the fact that McGregor did not indicate the addressee, it is clear from the context that he was referring to the reigning UFC lightweight champion, who gave a big press conference today (Watch the press conference in Moscow by Khabib Nurmagomedov here) , especially since a few minutes after the publication, the Irishman deleted the data according to the good old tradition messages.
Recall that on January 23 at UFC 257 in Abu Dhabi, Conor McGregor will return to the octagon in a duel against Dustin Poirier , who is a potential challenger.
Taken from the source: https://fighttime.ru/[/vc_column_text][vc_raw_html]JTNDc2NyaXB0JTIwYXN5bmMlMjBzcmMlM0QlMjJodHRwcyUzQSUyRiUyRnBhZ2VhZDIuZ29vZ2xlc3luZGljYXRpb24uY29tJTJGcGFnZWFkJTJGanMlMkZhZHNieWdvb2dsZS5qcyUyMiUzRSUzQyUyRnNjcmlwdCUzRSUwQSUzQyUyMS0tJTIwYWRhcHQlMjBuZXclMjAtLSUzRSUwQSUzQ2lucyUyMGNsYXNzJTNEJTIyYWRzYnlnb29nbGUlMjIlMEElMjAlMjAlMjAlMjAlMjBzdHlsZSUzRCUyMmRpc3BsYXklM0FibG9jayUyMiUwQSUyMCUyMCUyMCUyMCUyMGRhdGEtYWQtY2xpZW50JTNEJTIyY2EtcHViLTUxMTM4MjY4ODUwODg1MzglMjIlMEElMjAlMjAlMjAlMjAlMjBkYXRhLWFkLXNsb3QlM0QlMjIzMTMxMTczMjk4JTIyJTBBJTIwJTIwJTIwJTIwJTIwZGF0YS1hZC1mb3JtYXQlM0QlMjJhdXRvJTIyJTBBJTIwJTIwJTIwJTIwJTIwZGF0YS1mdWxsLXdpZHRoLXJlc3BvbnNpdmUlM0QlMjJ0cnVlJTIyJTNFJTNDJTJGaW5zJTNFJTBBJTNDc2NyaXB0JTNFJTBBJTIwJTIwJTIwJTIwJTIwJTI4YWRzYnlnb29nbGUlMjAlM0QlMjB3aW5kb3cuYWRzYnlnb29nbGUlMjAlN0MlN0MlMjAlNUIlNUQlMjkucHVzaCUyOCU3QiU3RCUyOSUzQiUwQSUzQyUyRnNjcmlwdCUzRQ==[/vc_raw_html][vc_column_text]
[/vc_column_text][vc_raw_html]JTNDc2NyaXB0JTIwYXN5bmMlMjBzcmMlM0QlMjJodHRwcyUzQSUyRiUyRnBhZ2VhZDIuZ29vZ2xlc3luZGljYXRpb24uY29tJTJGcGFnZWFkJTJGanMlMkZhZHNieWdvb2dsZS5qcyUyMiUzRSUzQyUyRnNjcmlwdCUzRSUwQSUzQ2lucyUyMGNsYXNzJTNEJTIyYWRzYnlnb29nbGUlMjIlMEElMjAlMjAlMjAlMjAlMjBzdHlsZSUzRCUyMmRpc3BsYXklM0FibG9jayUyMiUwQSUyMCUyMCUyMCUyMCUyMGRhdGEtYWQtZm9ybWF0JTNEJTIyYXV0b3JlbGF4ZWQlMjIlMEElMjAlMjAlMjAlMjAlMjBkYXRhLWFkLWNsaWVudCUzRCUyMmNhLXB1Yi01MTEzODI2ODg1MDg4NTM4JTIyJTBBJTIwJTIwJTIwJTIwJTIwZGF0YS1hZC1zbG90JTNEJTIyNTUzOTA5MzU2NCUyMiUzRSUzQyUyRmlucyUzRSUwQSUzQ3NjcmlwdCUzRSUwQSUyMCUyMCUyMCUyMCUyMCUyOGFkc2J5Z29vZ2xlJTIwJTNEJTIwd2luZG93LmFkc2J5Z29vZ2xlJTIwJTdDJTdDJTIwJTVCJTVEJTI5LnB1c2glMjglN0IlN0QlMjklM0IlMEElM0MlMkZzY3JpcHQlM0U=[/vc_raw_html][/vc_column][/vc_row]