David Haye said in an interview about Alexander Usyk
[vc_row][vc_column][vc_column_text]
David Haye said in an interview about Alexander Usyk
[/vc_column_text][vc_raw_html]JTNDc2NyaXB0JTIwYXN5bmMlMjBzcmMlM0QlMjJodHRwcyUzQSUyRiUyRnBhZ2VhZDIuZ29vZ2xlc3luZGljYXRpb24uY29tJTJGcGFnZWFkJTJGanMlMkZhZHNieWdvb2dsZS5qcyUyMiUzRSUzQyUyRnNjcmlwdCUzRSUwQSUzQyUyMS0tJTIwMzYwJTJBMjgwJTIwLS0lM0UlMEElM0NpbnMlMjBjbGFzcyUzRCUyMmFkc2J5Z29vZ2xlJTIyJTBBJTIwJTIwJTIwJTIwJTIwc3R5bGUlM0QlMjJkaXNwbGF5JTNBaW5saW5lLWJsb2NrJTNCd2lkdGglM0EzNjBweCUzQmhlaWdodCUzQTI4MHB4JTIyJTBBJTIwJTIwJTIwJTIwJTIwZGF0YS1hZC1jbGllbnQlM0QlMjJjYS1wdWItNTExMzgyNjg4NTA4ODUzOCUyMiUwQSUyMCUyMCUyMCUyMCUyMGRhdGEtYWQtc2xvdCUzRCUyMjUyMDU3NDAwODElMjIlM0UlM0MlMkZpbnMlM0UlMEElM0NzY3JpcHQlM0UlMEElMjAlMjAlMjAlMjAlMjAlMjhhZHNieWdvb2dsZSUyMCUzRCUyMHdpbmRvdy5hZHNieWdvb2dsZSUyMCU3QyU3QyUyMCU1QiU1RCUyOS5wdXNoJTI4JTdCJTdEJTI5JTNCJTBBJTNDJTJGc2NyaXB0JTNF[/vc_raw_html][vc_column_text]Former world champion in two weight categories David Haye admitted that he regrets that Alexander Usyk did not perform there during his peak in the cruiserweight.
---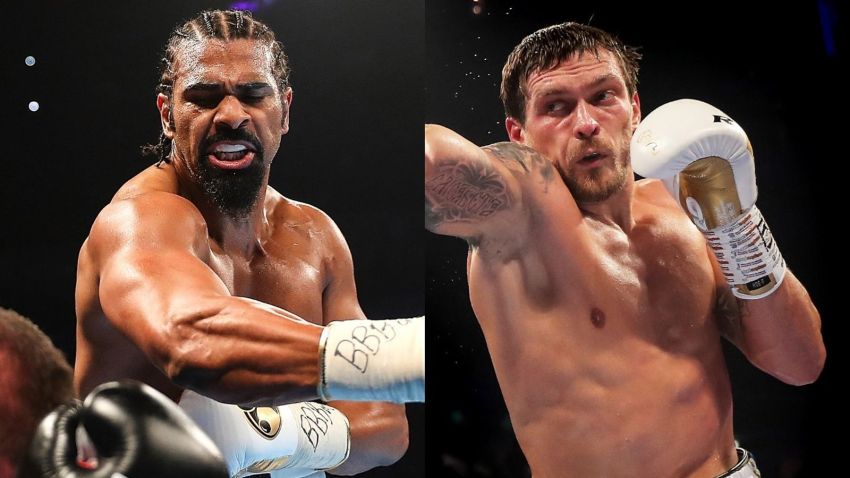 [/vc_column_text][vc_column_text]
"Usyk had a longer, more stable career and started his cruiserweight campaign. I was never interested in becoming the world heavyweight champion, but I was a cruiser.

I wanted to perform in heavyweight, but I was not big enough. I knew it was possible. Evander Holyfield did it, and I thought I could repeat his achievement, unify the titles and rise.

As soon as I joined the belts, I switched to heavyweight. I have not performed a single defense. Usyk had only a few bright knockouts in the cruiserway, while all my fights ended in knockouts. I would like Usyk to perform during my time. I think his style would go well with mine. He works from a distance and doesn't like it when his opponent gets too close. So it would be a long-range confrontation that has always worked for me, "David Haye told The Ring.
[/vc_column_text][vc_video link="https://www.youtube.com/watch?v=XpnHWWpzXb0″][vc_column_text]
[/vc_column_text][vc_raw_html]JTNDc2NyaXB0JTIwYXN5bmMlMjBzcmMlM0QlMjJodHRwcyUzQSUyRiUyRnBhZ2VhZDIuZ29vZ2xlc3luZGljYXRpb24uY29tJTJGcGFnZWFkJTJGanMlMkZhZHNieWdvb2dsZS5qcyUyMiUzRSUzQyUyRnNjcmlwdCUzRSUwQSUzQ2lucyUyMGNsYXNzJTNEJTIyYWRzYnlnb29nbGUlMjIlMEElMjAlMjAlMjAlMjAlMjBzdHlsZSUzRCUyMmRpc3BsYXklM0FibG9jayUyMiUwQSUyMCUyMCUyMCUyMCUyMGRhdGEtYWQtZm9ybWF0JTNEJTIyYXV0b3JlbGF4ZWQlMjIlMEElMjAlMjAlMjAlMjAlMjBkYXRhLWFkLWNsaWVudCUzRCUyMmNhLXB1Yi01MTEzODI2ODg1MDg4NTM4JTIyJTBBJTIwJTIwJTIwJTIwJTIwZGF0YS1hZC1zbG90JTNEJTIyNTUzOTA5MzU2NCUyMiUzRSUzQyUyRmlucyUzRSUwQSUzQ3NjcmlwdCUzRSUwQSUyMCUyMCUyMCUyMCUyMCUyOGFkc2J5Z29vZ2xlJTIwJTNEJTIwd2luZG93LmFkc2J5Z29vZ2xlJTIwJTdDJTdDJTIwJTVCJTVEJTI5LnB1c2glMjglN0IlN0QlMjklM0IlMEElM0MlMkZzY3JpcHQlM0U=[/vc_raw_html][/vc_column][/vc_row]