The last year for Charles Oliveira has been nothing less than a roller coaster ride. From defending his lightweight champion in some of the most spectacular manners to being stripped off it due to half a pound-weight miss, the Brazillian has seen it all.
However, the biggest upset knocked on Oliveira's door when the former champion faced Islam Makhachev for the UFC lightweight title.
The UFC 280 main event ended by Charles Oliveira tapping out to an arm-triangle choke in the second round. Now, Oliveira faces Beneil Dariush at UFC 289. This fight is critical for the lightweight division as it will decide the next challenger for Islam Makhachev's title. Recently, another established UFC lightweight, Dustin Poirier talked about Charles Oliveira's upcoming fight.
Dustin Poirier predicts the outcome of Charles Oliveira vs Beneil Dariush
Poirier, having faced Oliveira, knows the Brazillian fighter better than most others. In a recent interview with MMA Junkie, he discussed and predicted the outcome of this UFC 289 match-up. "I think if he fights like he was in those fights, when he fought me, when he fought Justin, I think he beats Beneil", said Poirier.
Poirier acknowledged Oliveira's previous displays of resilience and champion-level skills. Further, 'Diamond' stated that if the Brazilian fights with the same tenacity he exhibited in his victories over Poirier himself and Gaethje, he has the upper hand against Dariush.
However, Poirier also warned Oliveira, "But if he goes in there second guessing himself or fighting like he did against Islam. Beneil is going to beat him. It's a coin toss to me, it just depends what Charles shows up".
According to him, if Oliveira enters the octagon with self-doubt or fights as he did against Makhachev, Dariush poses a significant threat. For Poirier, the outcome of the fight is truly 50-50. This is because the outcome hinges on which version of Oliveira shows up on fight night.
Revisiting Dustin Poirier vs Charles Oliveira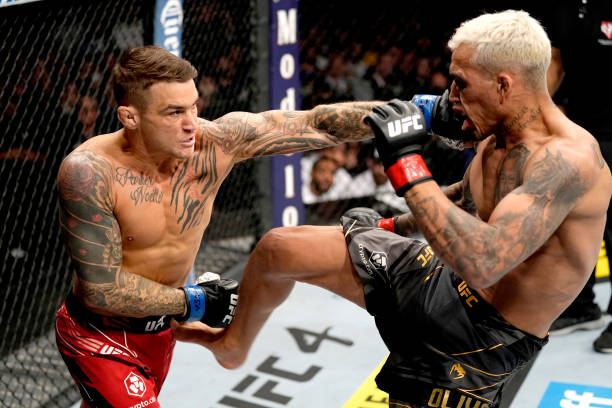 Charles Oliveira made his first lightweight title defence against Dustin Poirier at UFC 269 in December 2021. Although Oliveira was the reigning champ, odds favoured Poirier. The biggest reason for this was Poirier's last two wins against Conor McGregor.
Their fight was a thrilling spectacle since the bell rang. Poirier dominated the first round with his raw aggression. While all three judges gave the first round to the 'Diamond', Oliveira made an unexpected comeback to dominate the second round.
Eventually, Oliveira caught Poirier in a rear-naked choke and finished him in the opening minutes of the third round. Fast forward to the present, both these fighters are looking for an opportunity to fight for the title. Only time will tell which one of them gets it!