Former Arsenal midfielder Emmanuel Frimpong has claimed that Oleksandr Zinchenko and Thomas Partey are in with a shout of breaking into the invincibles team of 2003-04. The Gunners lifted the Premier League title in 2004 and are the only side to do so unbeaten.
During that memorable campaign, they boasted many top players, including Thierry Henry, Patrick Vieira, and Ashley Cole. Mikel Arteta's current side are top of the table, leading second-placed Manchester City by five points.
Zinchenko has shone this season for Arteta's team after moving to the Emirates from City last summer for £32 million. He has featured 16 times across competitions, providing an assist, and has shown his leadership qualities throughout the season.
Frimpong, who made 16 appearances for Arsenal during his career, has tipped the Ukrainian left-back to have displaced Cole in the invincible side. The Ghanaian alludes to the versatility of the full-back. He said (via SportBible):
"I think Zinchenko definitely, for me, Ashley Cole was very good but Zinchenko makes left back look like he is playing in central midfield. I think Zinchenko is an incredible player."
The former Gunners man then touched on Partey's form this season. His compatriot has been a vital part of the Gunners surge to the top of the table. The midfielder has made 21 appearances, scoring two goals. He has helped the side keep 12 clean sheets. Frimpong noted that it would be difficult for him to replace Vieira but that he would be in with a shout:
"I don't think Thomas Partey is a better player than Patrick Vieira, but I think Partey would have a shout. He is also playing well and is high on confidence, which is very good. Apart from that, I don't think so. That team was crazy man, they were just on another level. So those two players have definitely got a shout."
Arsenal's Gabriel Martinelli pens new four-year deal with the Premier League leaders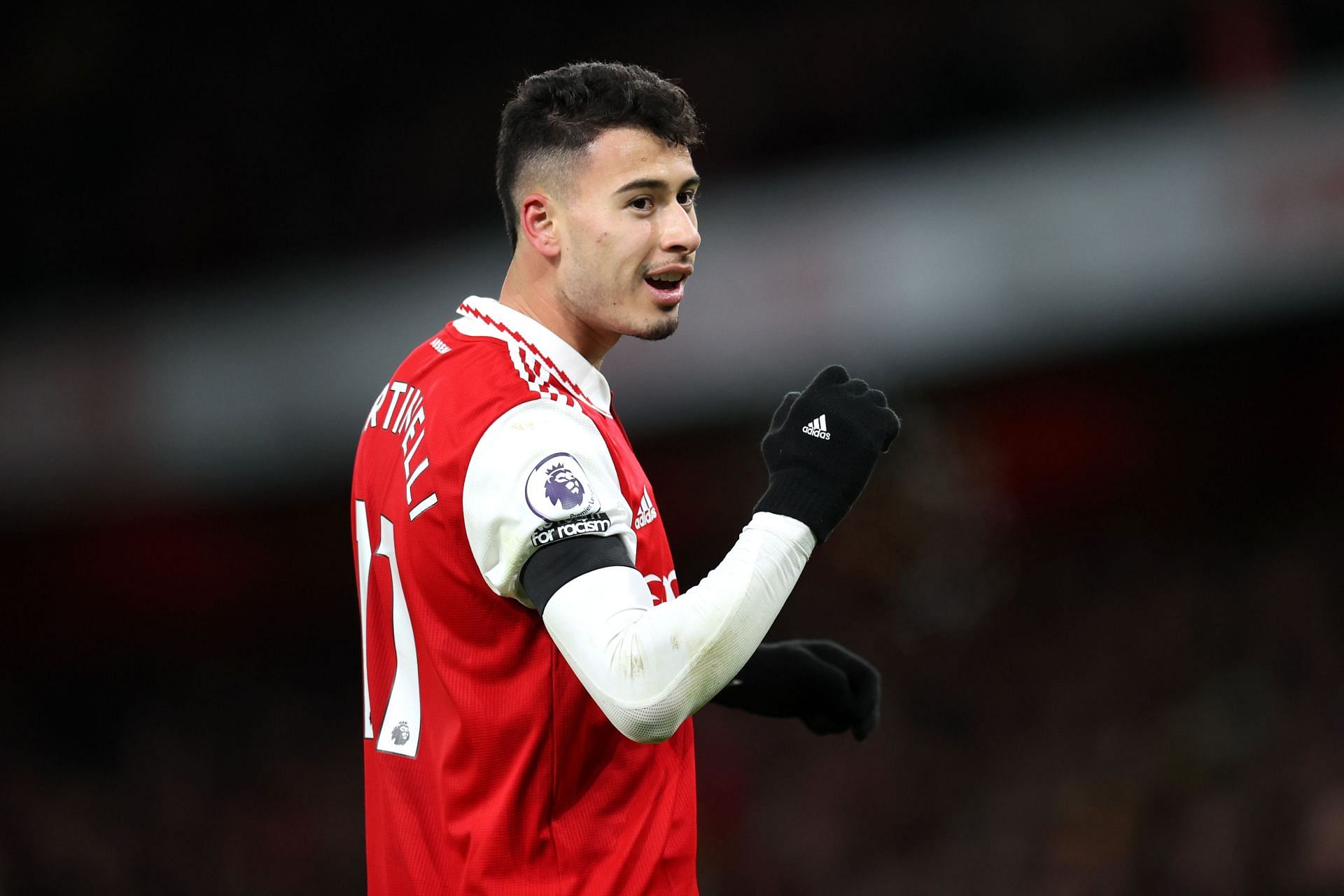 Martinelli is another Arsenal player who has stood out this season. The 21-year-old Brazilian winger has featured 27 times, scoring three goals and providing three assists. He has forged a formidable frontline with Bukayo Saka, Gabriel Jesus, and Eddie Nketiah.
His contract with the Gunners was set to expire at the end of the season, but he has signed a new long-term deal. Arteta was delighted to do get a contract extension sorted for the Brazilian. He told the club's official website:
"Gabi is still very young, so we know there's still much more to come from him and it's great that we'll be on this journey together. We're now excited to continue to develop his huge talent and look forward to seeing him perform with Arsenal in the years to come."
Martinelli joined the Gunners from Brazilian outfit Ituano in 2019 for £6 million. He has made 111 appearances, scoring 25 goals and providing 16 assists, winning the FA Cup in 2020.