This weekend sees the UFC return to Las Vegas for its latest Fight Night event. While the card isn't loaded from a star power perspective, there's still plenty to look forward to.
With a thrown-together headliner and very few ranked fighters competing, many fans might feel that this UFC show is one to miss, but that shouldn't really be the case.
With that in mind, here are five reasons to watch UFC Fight Night: Song Yadong vs. Ricky Simon this weekend.
---
#5. Josh Quinlan looks like one of the UFC's better prospects to watch
This weekend's main card opener sees welterweight prospect Josh Quinlan faced with a late-notice opponent in the form of newcomer Trey Waters. Neither man is ranked or that well-known right now, but this is still a fight well worth keeping an eye on.
That's because Quinlan, based on the small sample of evidence we've been given, could be one of the better prospects in the UFC to watch right now.
'The Renegade' went viral in September 2021 when he unleashed a violent knockout on Dana White's Contender Series, although the result was later overturned due to a positive drug test for Quinlan.
Since then, though, he's made his octagon debut proper, knocking out veteran Jason Witt in explosive fashion.
Overall, with all six of his wins coming via finish, 'The Renegade' seems to have all of the tools needed to succeed in the promotion, and if he can get past the tricky Waters this weekend, his hype train should gain some speed.
---
#4. Julian Erosa is always a fun fighter to watch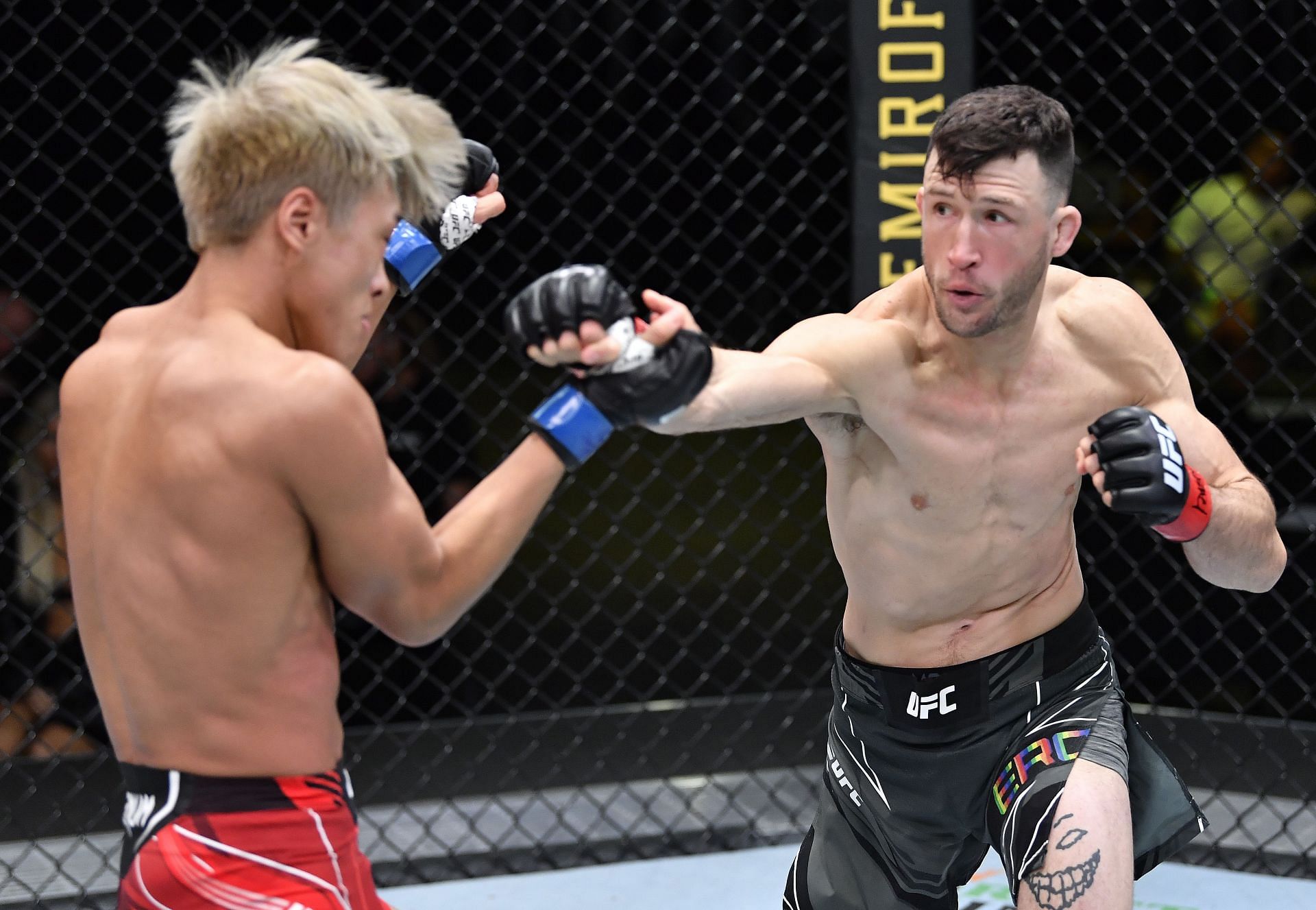 It's probably fair to say that while some fighters will never climb into title contention in the UFC, they are always well worth watching due to their exciting style.
Julian Erosa is almost certainly one of those fighters. 'Juicy J' most recently saw a three-fight win streak snapped by Alex Caceres, a result which slammed the door shut on his hopes of becoming ranked in the featherweight division.
However, prior to that, he'd put on a run of ridiculously exciting fights, with three of his wins from 2020 to 2021 ending in truly wild fashion.
Erosa submitted Sean Woodson with a D'Arce choke, knocked out Nate Landwehr with a flying knee, and used the D'Arce again to dispatch Charles Jourdain. His victory over Woodson saw him claim a $50k performance bonus.
This weekend sees 'Juicy J' take on newcomer Fernando Padilla. While a win won't move Erosa into contention, he still seems likely to produce some kind of fireworks. This makes him a useful addition to the main card, as well as a reason to watch the show.
---
#3. Caio Borralho and Michal Oleksiejczuk might be under-the-radar contenders at 185lbs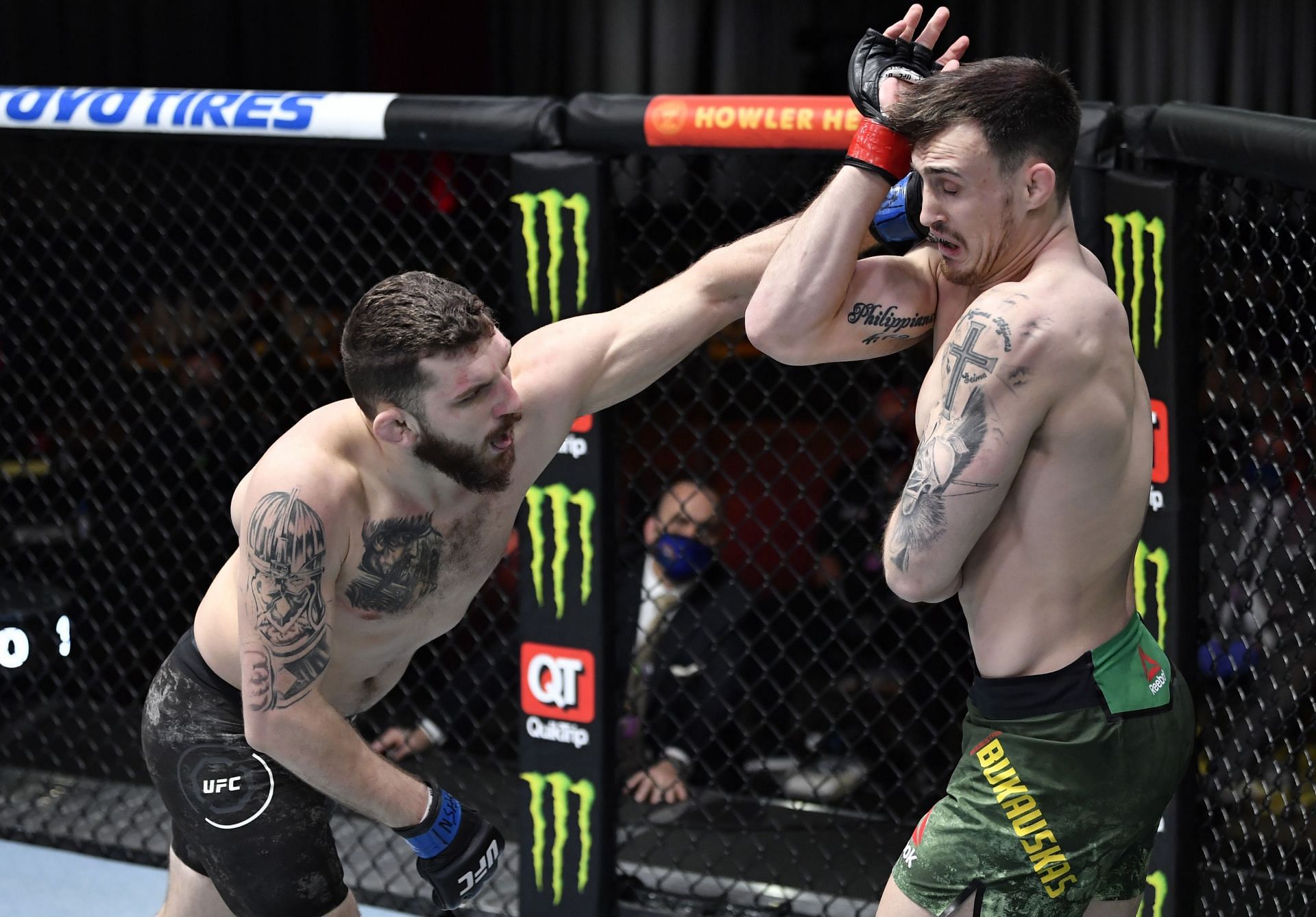 This weekend's co-headline bout sees the middleweight division in the spotlight, as Caio Borralho and Michal Oleksiejczuk are set to face off.
It's almost certainly fair to say that neither man is a star right now, but the winner could well consider themselves a dark horse contender in one of the UFC's thinner weight classes.
Oleksiejczuk is the more well-known quantity of the two. A former 205lber, he's been in the promotion since late 2017 and holds five wins in the octagon via knockout. Since moving to 185 pounds last year, he's unbeaten at 2-0.
It's Borralho, though, who might be the more intriguing prospect. The Brazilian has won all three of his bouts in the octagon and boasts an overall record of 13-1.
'The Natural' doesn't look like a dangerous finisher as such, but thus far at least, nobody has had an answer for his grappling-based attack.
With that considered, the winner of this one should claim plenty of hype. Either Borralho will move to 4-0, a record that would make him impossible to ignore, or Oleksiejczuk will become the first man to beat him, and will be seen as a threat to anyone at 185lbs.
Either way, this should be a fascinating fight to watch.
---
#2. Marcos Rogerio de Lima always guarantees violence, win or lose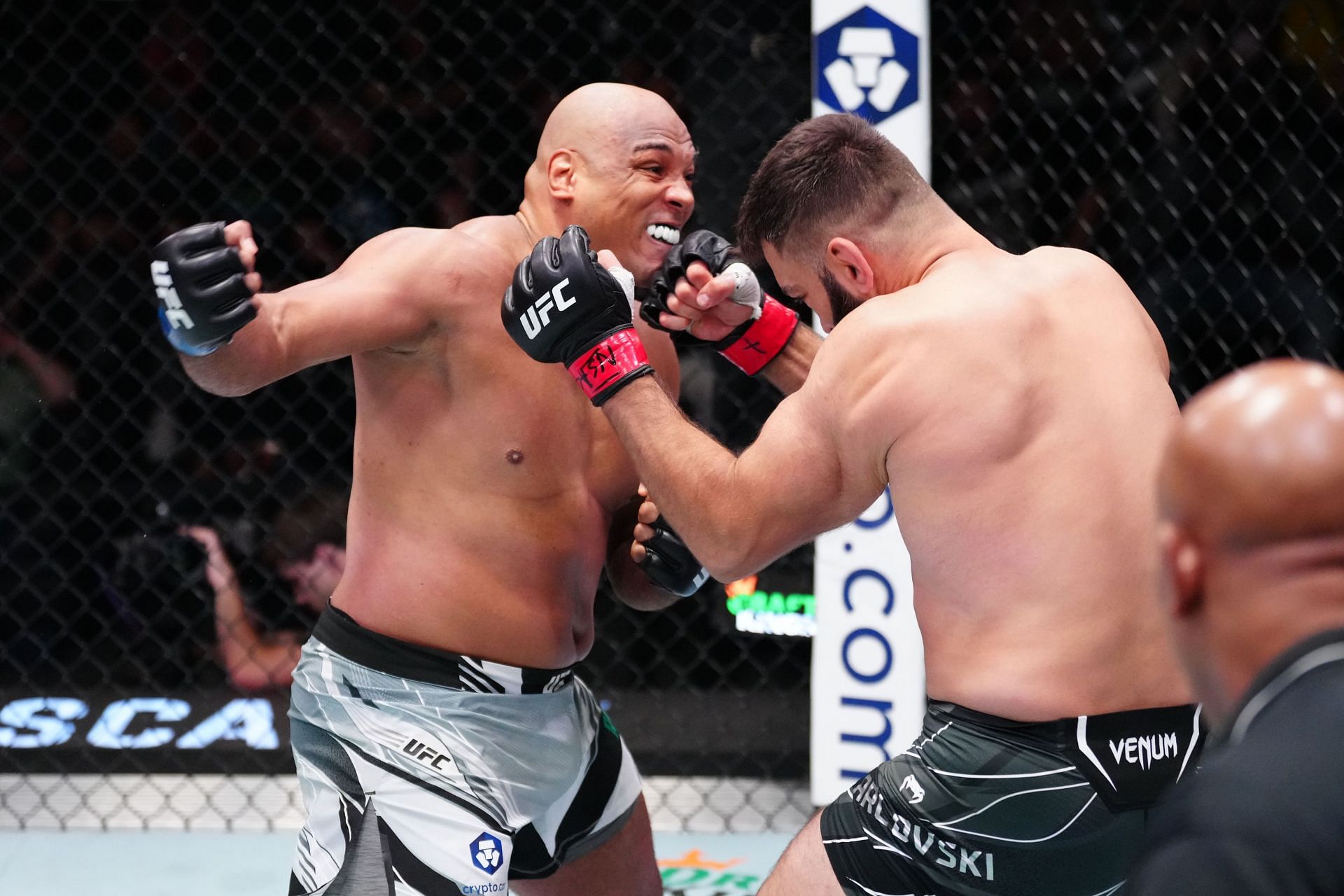 It's arguable that the most exciting fighter on this weekend's UFC card is heavyweight Marcos Rogerio de Lima.
'Pezao' has been with the promotion for almost a decade now, putting together a record of 9-6 across the light heavyweight and heavyweight divisions. He's never climbed into title contention, but his penchant for violence is huge.
The Brazilian has gone the distance on just three occasions in the octagon, and outside of those fights, he's either finished his opponent, usually in nasty fashion, or been finished himself.
This weekend sees him face prospect Waldo Cortes-Acosta. Given the fighting style of 'Salsa Boy', it's unlikely that either man will want to take this fight to the ground.
That means we should be treated to a slugfest. While any heavyweight bout between unranked fighters has the potential to get sloppy, it's hopeful that this one will end before that point.
Win or lose, though, 'Pezao' is likely to thrill the fans again, making this fight well worth watching.
---
#1. Song Yadong vs. Ricky Simon should be a fun main event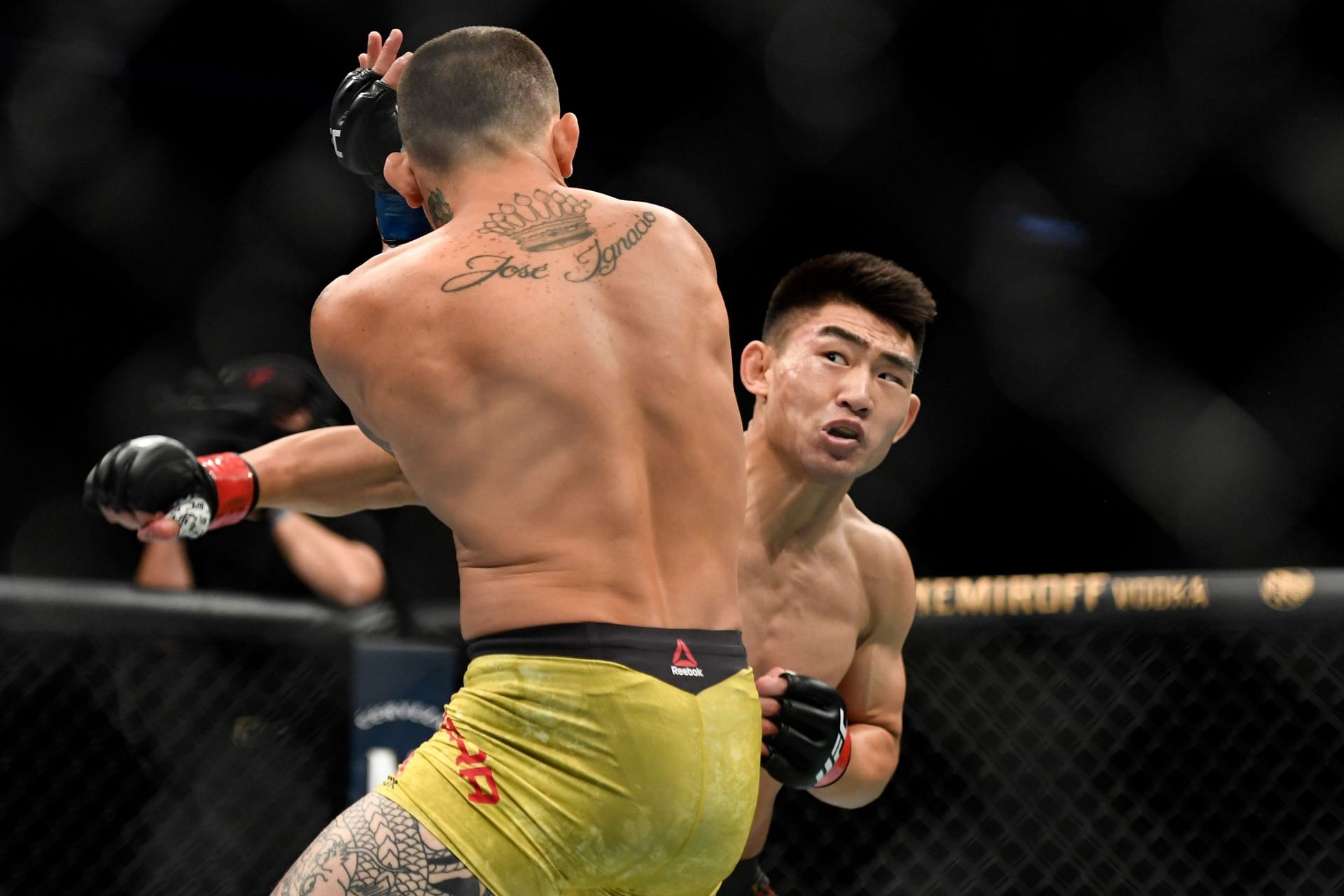 Thus far, it's arguable that 2023 in the UFC has been the year of the bantamweights.
Not only is the big title bout between champ Aljamain Sterling and former titleholder Henry Cejudo set to headline UFC 288 next month, but the year has already seen two events headlined by 135-pound contenders.
This weekend will be the third, as top 15-ranked Ricky Simon and Song Yadong are set to square off over five rounds.
Song and Simon don't have the name value of the likes of Petr Yan and Cory Sandhagen, but they're hugely talented in their own right. Song has a win over Marlon Vera, while Simon is one of just two men to defeat Merab Dvalishvili in the octagon.
More to the point, they're also highly exciting to watch, with both men fighting with an aggressive, straight-ahead style that makes them dangerous to any opponent.
Quite how Song and Simon will adjust to their fight being changed to a five-rounder on late notice is a fair question to ask. They were set to fight last weekend, but their clash was moved to replace the canceled headliner between Renato Moicano and Arman Tsarukyan.
Regardless, it's likely that they'll produce an excellent fight, and the winner could well move into title contention in their own right – making this a must-see affair, particularly for big fans of the UFC's 135-pound division.