Former UFC welterweight champion Kamaru Usman seems set to sport a legendary corner in his middleweight divisional debut. Usman is coming off a majority decision defeat in his trilogy fight against UFC welterweight champion Leon Edwards, whom he faced in March 2023.
Presently, Usman is on a two-fight losing streak. Earlier this month, it was officially announced that he'll fight Khamzat Chimaev. 'Borz' was originally booked to face Paulo Costa at UFC 294 on October 21, 2023. However, Costa's elbow surgery forced him to withdraw from the fight.
Stepping in on short notice, Usman will face Chimaev in a middleweight bout, which would serve as the co-headlining matchup of UFC 294.
lex Behunin of MMA Mania has now tweeted that Kamaru Usman's corner for the Khamzat Chimaev fight would consist of widely-revered MMA coaches Trevor Wittman and Henri Hooft. For the past several years, Usman has been splitting his training time between Wittman's ONX Sports in Colorado and Hooft's Kill Cliff FC in Florida.
In his tweet, Alex Behunin suggested that as per Kamaru Usman's manager Ali Abdelaziz, UFC 294 would mark the first time both Wittman and Hooft would be in Usman's corner for a fight. Behunin's tweet read as follows:
"For the first time, Trevor Wittman & Henri Hooft will be in the corner of Kamaru Usman, per Ali Abdelaziz"
The news elicited several responses from the MMA community, with many Twitter (X) users indicating that Wittman and Hooft teaming up as cornerpersons to help Usman would surely help him against Chimaev. Alternatively, some fans seemingly foresee him losing to 'Borz' irrespective of who's in his corner.
One fan likened it to the plot of the 1990s American animated series, 'Captain Planet and the Planeteers.' In the series, five chosen youngsters team up to summon the superhero 'Captain Planet' to fight the antagonists. Implying that Wittman and Hooft are geniuses, the fan tweeted:
"The Captain Planet method of having those two geniuses, I'm intrigued!"
Check out a few screenshots of fan reactions to the news concerning Usman's corner below: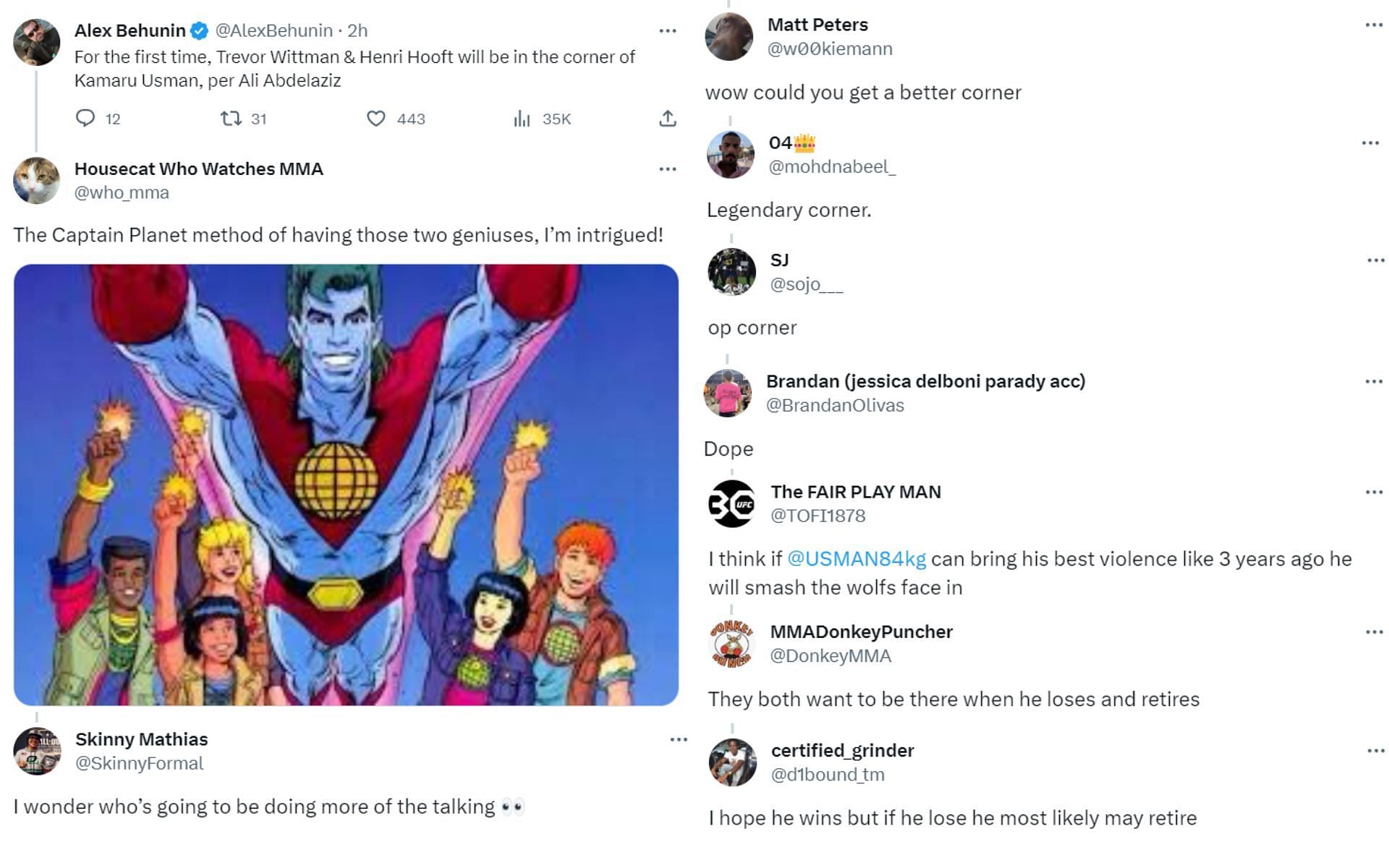 ---
The Kamaru Usman vs. Khamzat Chimaev fight could have major UFC title implications
While former UFC welterweight titleholder Kamaru Usman is yet to make his middleweight debut, the undefeated Khamzat Chimaev has competed at both welterweight and middleweight. As reported by Yahoo! Sports' Kevin Iole, UFC CEO Dana White has confirmed that a middleweight title shot is at stake in the Usman-Chimaev fight. Iole tweeted:
"Dana White just told me that the Chimaev-Usman winner will get the next title shot barring injury, etc"
The UFC middleweight title currently belongs to Sean Strickland, who captured it by beating MMA icon Israel Adesanya in September 2023. Speculation abounded that high-ranking middleweight mainstay Dricus du Plessis would likely be next in line to fight for middleweight gold.
Nevertheless, White's revelation to Iole has led many to believe that the Usman-Chimaev winner would leapfrog Dricus du Plessis and face Sean Strickland for the middleweight belt.