[vc_row][vc_column][vc_raw_html]JTNDc2NyaXB0JTIwYXN5bmMlMjBzcmMlM0QlMjJodHRwcyUzQSUyRiUyRnBhZ2VhZDIuZ29vZ2xlc3luZGljYXRpb24uY29tJTJGcGFnZWFkJTJGanMlMkZhZHNieWdvb2dsZS5qcyUyMiUzRSUzQyUyRnNjcmlwdCUzRSUwQSUzQyUyMS0tJTIwNzI4LTkwJTIwLS0lM0UlMEElM0NpbnMlMjBjbGFzcyUzRCUyMmFkc2J5Z29vZ2xlJTIyJTBBJTIwJTIwJTIwJTIwJTIwc3R5bGUlM0QlMjJkaXNwbGF5JTNBaW5saW5lLWJsb2NrJTNCd2lkdGglM0E3MjhweCUzQmhlaWdodCUzQTkwcHglMjIlMEElMjAlMjAlMjAlMjAlMjBkYXRhLWFkLWNsaWVudCUzRCUyMmNhLXB1Yi01MTEzODI2ODg1MDg4NTM4JTIyJTBBJTIwJTIwJTIwJTIwJTIwZGF0YS1hZC1zbG90JTNEJTIyODA4NTUyMzAxMiUyMiUzRSUzQyUyRmlucyUzRSUwQSUzQ3NjcmlwdCUzRSUwQSUyMCUyMCUyMCUyMCUyMCUyOGFkc2J5Z29vZ2xlJTIwJTNEJTIwd2luZG93LmFkc2J5Z29vZ2xlJTIwJTdDJTdDJTIwJTVCJTVEJTI5LnB1c2glMjglN0IlN0QlMjklM0IlMEElM0MlMkZzY3JpcHQlM0U=[/vc_raw_html][vc_column_text]
UFC bantamweight fighter Marlon Vera (18-6-1 MMA, 10-5 UFC) has received a huge amount of attention over the past few days.
---
The promoted 135-pound division's ascending prospect scored his biggest career win without a doubt. When he stopped Sean O'Malley early at the recent UFC 252.
Immediately after the event, the fans, his octagon colleagues, began to congratulate Vera. And also many celebrities like Steve-O. And now the President of Ecuador has joined them.
---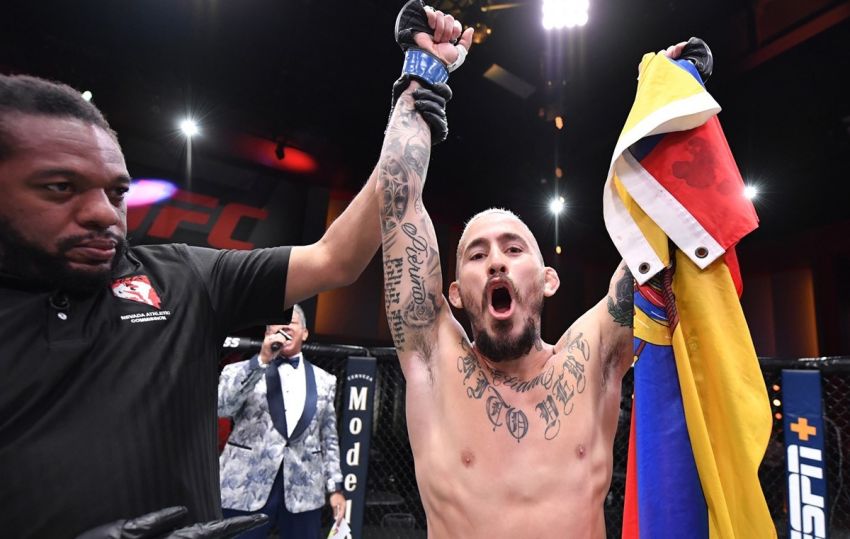 Marlon Vera
[/vc_column_text][vc_raw_html]JTNDc2NyaXB0JTIwYXN5bmMlMjBzcmMlM0QlMjJodHRwcyUzQSUyRiUyRnBhZ2VhZDIuZ29vZ2xlc3luZGljYXRpb24uY29tJTJGcGFnZWFkJTJGanMlMkZhZHNieWdvb2dsZS5qcyUyMiUzRSUzQyUyRnNjcmlwdCUzRSUwQSUzQyUyMS0tJTIwYWRhcHQlMjBuZXclMjAtLSUzRSUwQSUzQ2lucyUyMGNsYXNzJTNEJTIyYWRzYnlnb29nbGUlMjIlMEElMjAlMjAlMjAlMjAlMjBzdHlsZSUzRCUyMmRpc3BsYXklM0FibG9jayUyMiUwQSUyMCUyMCUyMCUyMCUyMGRhdGEtYWQtY2xpZW50JTNEJTIyY2EtcHViLTUxMTM4MjY4ODUwODg1MzglMjIlMEElMjAlMjAlMjAlMjAlMjBkYXRhLWFkLXNsb3QlM0QlMjIzMTMxMTczMjk4JTIyJTBBJTIwJTIwJTIwJTIwJTIwZGF0YS1hZC1mb3JtYXQlM0QlMjJhdXRvJTIyJTBBJTIwJTIwJTIwJTIwJTIwZGF0YS1mdWxsLXdpZHRoLXJlc3BvbnNpdmUlM0QlMjJ0cnVlJTIyJTNFJTNDJTJGaW5zJTNFJTBBJTNDc2NyaXB0JTNFJTBBJTIwJTIwJTIwJTIwJTIwJTI4YWRzYnlnb29nbGUlMjAlM0QlMjB3aW5kb3cuYWRzYnlnb29nbGUlMjAlN0MlN0MlMjAlNUIlNUQlMjkucHVzaCUyOCU3QiU3RCUyOSUzQiUwQSUzQyUyRnNjcmlwdCUzRQ==[/vc_raw_html][vc_column_text]On Sunday, Ecuadorian leader Lenin Moreno tweeted a post in which he congratulated "Chito" on his resounding victory:
"Congratulations" Chito "Vera! A well-deserved victory. Your triumph will glorify Ecuador even more,"  – Ecuadorian President congratulates Marlon Vera
[/vc_column_text][vc_raw_html]JTNDYmxvY2txdW90ZSUyMGNsYXNzJTNEJTIydHdpdHRlci10d2VldCUyMiUzRSUzQ3AlMjBsYW5nJTNEJTIyZXMlMjIlMjBkaXIlM0QlMjJsdHIlMjIlM0UlQzIlQTFGZWxpY2lkYWRlcyUyMCUzQ2ElMjBocmVmJTNEJTIyaHR0cHMlM0ElMkYlMkZ0d2l0dGVyLmNvbSUyRmNoaXRvdmVyYVVGQyUzRnJlZl9zcmMlM0R0d3NyYyUyNTVFdGZ3JTIyJTNFJTQwY2hpdG92ZXJhVUZDJTNDJTJGYSUzRSUyMSUyMEJpZW4lMjBtZXJlY2lkYSUyMHR1JTIwdmljdG9yaWEuJTIwVHUlMjB0cml1bmZvJTIwaGFjZSUyMG0lQzMlQTFzJTIwZ3JhbmRlJTIwYWwlMjBFY3VhZG9yLiUyMCUzQ2ElMjBocmVmJTNEJTIyaHR0cHMlM0ElMkYlMkZ0LmNvJTJGZFJDYWdwazVVTiUyMiUzRWh0dHBzJTNBJTJGJTJGdC5jbyUyRmRSQ2FncGs1VU4lM0MlMkZhJTNFJTNDJTJGcCUzRSUyNm1kYXNoJTNCJTIwTGVuJUMzJUFEbiUyME1vcmVubyUyMCUyOCU0MExlbmluJTI5JTIwJTNDYSUyMGhyZWYlM0QlMjJodHRwcyUzQSUyRiUyRnR3aXR0ZXIuY29tJTJGTGVuaW4lMkZzdGF0dXMlMkYxMjk0OTY4MDk1MDgyMTg4ODAxJTNGcmVmX3NyYyUzRHR3c3JjJTI1NUV0ZnclMjIlM0VBdWd1c3QlMjAxNiUyQyUyMDIwMjAlM0MlMkZhJTNFJTNDJTJGYmxvY2txdW90ZSUzRSUyMCUzQ3NjcmlwdCUyMGFzeW5jJTIwc3JjJTNEJTIyaHR0cHMlM0ElMkYlMkZwbGF0Zm9ybS50d2l0dGVyLmNvbSUyRndpZGdldHMuanMlMjIlMjBjaGFyc2V0JTNEJTIydXRmLTglMjIlM0UlM0MlMkZzY3JpcHQlM0U=[/vc_raw_html][vc_video link="https://www.youtube.com/watch?v=0wPnslrhOw0″ title="Marlon Vera Highlights"][vc_raw_html]JTNDc2NyaXB0JTIwYXN5bmMlMjBzcmMlM0QlMjJodHRwcyUzQSUyRiUyRnBhZ2VhZDIuZ29vZ2xlc3luZGljYXRpb24uY29tJTJGcGFnZWFkJTJGanMlMkZhZHNieWdvb2dsZS5qcyUyMiUzRSUzQyUyRnNjcmlwdCUzRSUwQSUzQyUyMS0tJTIwYWRhcHQlMjBuZXclMjAtLSUzRSUwQSUzQ2lucyUyMGNsYXNzJTNEJTIyYWRzYnlnb29nbGUlMjIlMEElMjAlMjAlMjAlMjAlMjBzdHlsZSUzRCUyMmRpc3BsYXklM0FibG9jayUyMiUwQSUyMCUyMCUyMCUyMCUyMGRhdGEtYWQtY2xpZW50JTNEJTIyY2EtcHViLTUxMTM4MjY4ODUwODg1MzglMjIlMEElMjAlMjAlMjAlMjAlMjBkYXRhLWFkLXNsb3QlM0QlMjIzMTMxMTczMjk4JTIyJTBBJTIwJTIwJTIwJTIwJTIwZGF0YS1hZC1mb3JtYXQlM0QlMjJhdXRvJTIyJTBBJTIwJTIwJTIwJTIwJTIwZGF0YS1mdWxsLXdpZHRoLXJlc3BvbnNpdmUlM0QlMjJ0cnVlJTIyJTNFJTNDJTJGaW5zJTNFJTBBJTNDc2NyaXB0JTNFJTBBJTIwJTIwJTIwJTIwJTIwJTI4YWRzYnlnb29nbGUlMjAlM0QlMjB3aW5kb3cuYWRzYnlnb29nbGUlMjAlN0MlN0MlMjAlNUIlNUQlMjkucHVzaCUyOCU3QiU3RCUyOSUzQiUwQSUzQyUyRnNjcmlwdCUzRQ==[/vc_raw_html][vc_column_text]See also: Anthony Johnson plans to return to UFC light heavyweight
---
[/vc_column_text][/vc_column][/vc_row]