UFC 274 event was headlined by a special stipulations lightweight title fight featuring Charles Oliveira taking on Justin Gaethje.
Oliveira (33-8 MMA) had missed weight by half a pound yesterday afternoon and was thus forced to relinquish his UFC lightweight title as well as a portion of his fight purse. In addition, 'Do Bronx' was no longer eligible to obtain the promotions vacant 155lbs strap this evening. Charles Oliveira had entered the contest on a ten-fight winning streak, his latest being a submission victory over Dustin Poirier.
Charles Oliveira saved what seemed to be a disastrous week for his career.
The Brazilian lightweight submitted Justin Gaethje on Saturday night in the main event of UFC 274 at Footprint Center. Oliveira (33-8 MMA, 21-8 UFC) forced Gaethje (23-4 MMA, 6-4 UFC) to tap with a rear-naked choke after wild back-and-forth exchanges in the first round of their contest.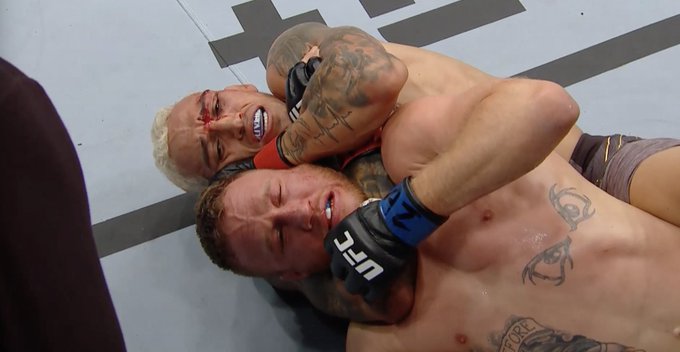 The bout was supposed to be Oliveira's second title defense, as he entered fight week as the reigning champion. However, he was stripped from the belt the day prior to the fight after he failed to make weight. Oliveira came in at 155.5 pounds, half a pound over the limit for lightweight championship fights.
The fight itself against Gaethje was pure chaos and ended in vintage Oliveira fashion.
Official UFC 274 Result: Charles Oliveira def. Justin Gaethje via first round submission (RNC)
With this win, Oliveira is now the No. 1 contender at 155 pounds and will have to win his title again in a fight against whoever the UFC deems as the next in line.
Watch the reaction of professional fighters after Charles Oliveira stopped Justin Gaethje at UFC 274:
Conor McGregor has responded after receiving a challenge from UFC 274 main event winner Charles Oliveira.
"Called it. Even if he knocked him down he too shit to be able to follow him down and do anything substantial. Always Charles's fight. Sorry @Drake should have posted 😂
But it's my pleasure @DraftKings, add it to my take of tonight's winnings."
Conor McGregor continued:
"I'm not sure I wish to cut the weight. I am really enjoying being built like a refrigerator. I feel I want to fight at this size just to watch it back lol. But I'd love to fight the Brazilian, 100%! I love Brazil and I'm unbeaten against Brazil. All KO's. I've some thinking to do."