Video | Saul Alvarez defeated Billy Joe Saunders ahead of schedule, forcing the opponent to surrender after the 8 round
Just at the AT&T Stadium in Arlington, Texas, a boxing night from promoter Matchroom Boxing has concluded, the highlight of which was the unification of the middleweight title between WBA / WBC World Champion Saul Alvarez and WBO belt winner Billy Joe Saunders.
From the start, Saunders put on the jab actively. Alvarez was cautious at first, but then delivered a good blow to the body. In the middle of the second round, Canelo was discharged with a heavy combination. A little later, the Mexican delivered an excellent right hand kick, forcing Saunders to back away.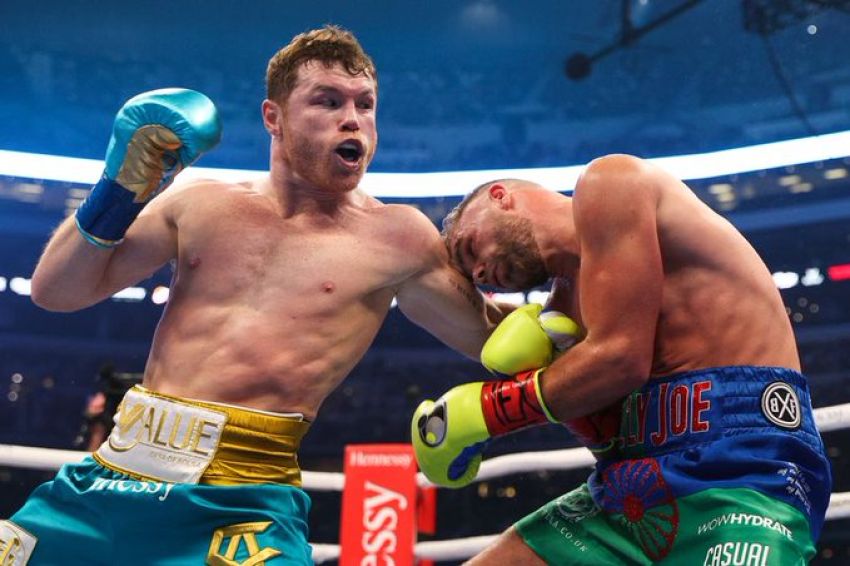 Alvarez tricked a lot and alternated floors, confusing his opponent. Canelo was constantly trying to deliver an uppercut, but Saunders managed to get away from this blow. The Briton himself continued to bet on the jab, remaining at a safe distance.
In the fifth round, Saunders hit Alvarez with a double jab, and then sealed the success with a left hook. The Briton began to feel much more confident and even teased Canelo after his attacks, copying the style of his friend Tyson Fury. The Mexican charged for single shots, from which Saunders, as a rule, walked away, but still occasionally missed.
Canelo had a powerful eighth round, hitting from the right, forcing Saunders to lose his balance, and then aggressively attacking the Briton, forcing him to retreat to the ropes. In that three minute, after Alvarez's crushing uppercut, Saunders practically closed his right eye. Despite the fact that the fight was not one-sided, during the break between rounds, Saunders' corner refused to continue the fight.
Fight result: Saul Alvarez defeated Billy Joe Saunders after the opponent refused to continue the fight after the eighth round