Disclosure: This post contains affiliate links. If you buy or sign-up through one of those links, you won't pay a penny more but we'll get a small commission that helps me in running this blog. Read the Disclosure page.
Top American UFC welterweight Stephen Thompson (16-4-1), who is one of the most gifted analysts among the promotion fighters, shared his opinion on the three main fights of the past UFC 260 tournament, which took place last weekend and gave fans a new heavyweight champion.
"Initially I thought that Stipe would go and do what he did in the first fight – use wrestling, push him to the net, exhaust him. I thought that Francis Ngannou would be overworked, but everything happened exactly the opposite. I knew that Ngannou had gotten better, but so did Stipe. A lot of time has passed since the first battle.
I think Stipe was afraid to get involved in the exchange, and it's understandable why. Then Ngannou made a pass, but didn't even get close. When you see such a big guy falling apart in the octagon, it's strange, he took up half of the octagon. And it's not just that, but also in the technical aspect. After that, he turned onto his back, which is amazingly fast for such a big guy, and he began to shower him with punches. I thought that the fight was over, but that was the beginning of the end. I was delighted"
"What impressed me the most was the submission at the end, I thought he would finish it with a ground and pound. But he decided to do the good old D'Arce or Anaconda, whatever was there. And that makes sense because it's about Tyrone Woodley's shoulders. Submissions like this don't go well with the big guys. Vicente Luque looked as tough as when I fought him and he was going to win that way. Even if Tyron Woodley had hit him with his hardest hit, I knew Vicente Luque could take it and keep going forward. And Tyron hit him with his hardest hit, but Luque held out. Yes, he staggered a little, but he quickly recovered, and then he dealt a heavy blow, and Tyron was unable to recover. He hit him only once, and he fell, fell on the net, and Vicente struck another blow. And it certainly wasn't good for Tyrone.
When I fought Vicente Luque, I beat the guys with half strength, and they were cut out. Of course, having a head as big as Vicente Luque will definitely help. He is very tough and takes punches very well, and this is his superpower. Yes, he has a good punch, but his real superpower is in his endurance. And I think it depends on the body type and possibly genetics. Yes, you can be psychologically tough, but when they hit you in the head without a block, and you get knocked out, and your opponent takes a blow, like a champion, it's probably a matter of genetics "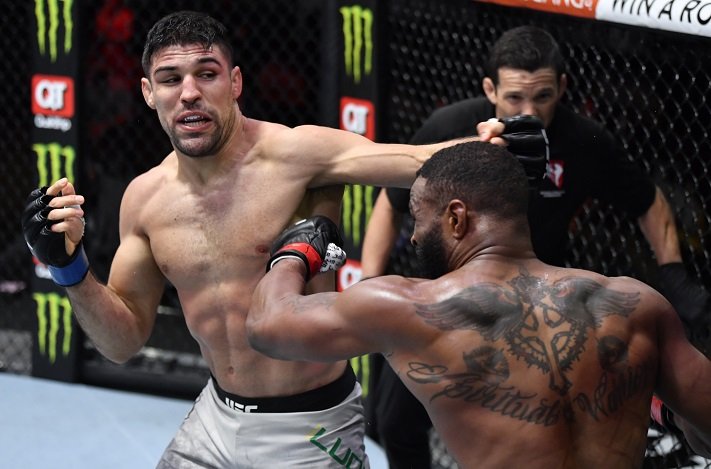 "There were several moments in this fight when it could have ended. He knocked Almeida down and left, and Almeida recovered pretty quickly. Almeida is not some kind of bag. I was impressed by this fight. O'Malley has a strange style, he gives up, in this he looks like me. Wide stance, hands down, he changes sides, and he is a very long Bantamweight.
He just hung over Almeida. It was evident that Almeida was confused by his style, he simply could not find himself, could not find the right distance. Every time he approached, O'Malley would take a half step backward or retreat to the left or right, giving a front kick, then a roundhouse kick, then pretending that he was going to do them. It was evident that Almeida did not know what to do. He had never met anyone like O'Malley with that style before. And O'Malley's confidence played a huge role. Yes, he goes after the defeat, but it happened because of the injury. In general, it was the evening of the Sugar Show "
---
Recall that the main fight of the UFC 260 tournament between Stipe Miocic and Francis Ngannou ended with a victory for Ngannou by knockout in the second round. In the co-main battle of the tournament, Vicente Luque managed to finish with Tyron Woodley's choke hold after several minutes of bright exchanges. As for the fight Sean O'Malley – Thomas Almeida, it became the third most important fight and ended with O'Malley's victory by TKO in the third round.