The fighting world is abuzz with the latest news about UFC lightweight champion Islam Makhachev, who has unveiled a stunning transformation, ditching his signature short locks for a completely bald look.
Fans were left in a frenzy as they took to social media to poke fun and admire Makhachev for his new style.
The typically reserved fighter's bold move has garnered attention and appreciation from fans, who were quick to hail the champ for his new look. The Reddit space is buzzing with reactions that are both unique and hilarious.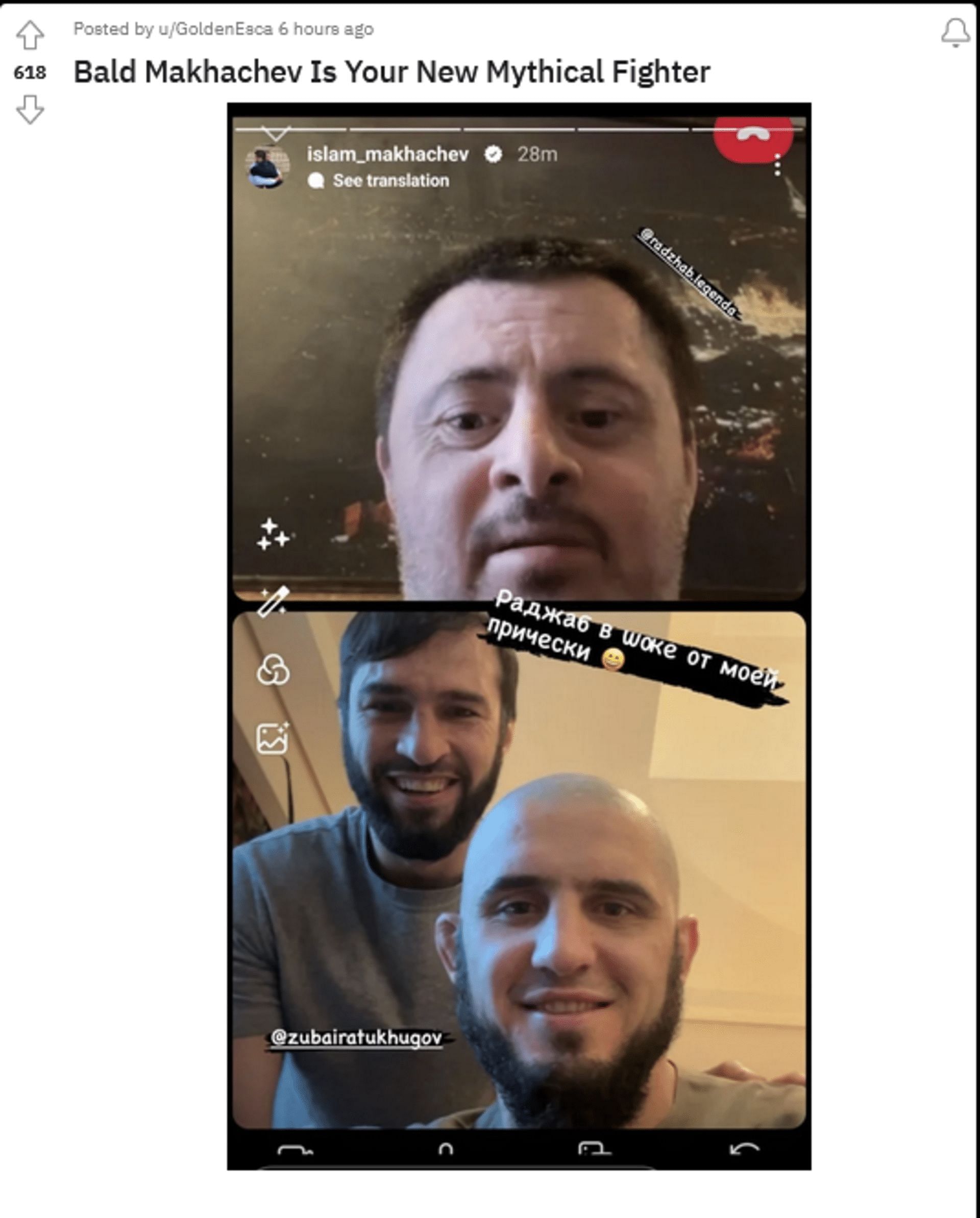 Check out some of the social media reactions below:
Reddit user u/Mt_Myoboku wrote:
"Taking everything Volkanovski worked for."
Another user u/SuperSOI pointed out:
"Lmfao if you cover from the nose down it looks like Volk."
u/CardiologistOk1506 stated:
"Goddamn that's no joke, why they have the same eyes."
u/SKITZ_ZA remarked:
"Once this is done, it's can never be unseen. What have you done to us bru lmao.?"
u/cedped thinks Islam Makhachev looks like his recent rival Alexander Volkanovski:
"Holy shit he really does look like him!"
Another user u/WickedBaby stated:
"Islam 'Aussie aussie aussie' Makhachev."
u/fleshvessel remarked:
"Holy fuck he aged a decade in one shave!!"
Reddit user u/Chezameh2 stated:
"Dagestani Volk."
Social media user u/TG_CID134 wrote:
"Thought the guy in the top pic was Joey from Friends."
u/btcfsl poked fun at Islam Makhachev's new look and remarked:
"He's like Kirby and he ate Volk to become Islam Volkanovskachev."
u/Cappuccino_Addict wrote:
"Islam "The Bald Eagle" Makhachev."
---
Khabib Nurmagomedov's cousin prompts what inflames him about Islam Makhachev
Abubakar Nurmagomedov, a promising welterweight fighter in the UFC and a cousin of the legendary Khabib Nurmagomedov, recently shared his thoughts with his teammate and fellow Dagestani fighter, Islam Makhachev. In a video interview on YukaHero's YouTube channel, the two were asked a series of questions about each other, including what annoys Abubakar about Islam.
Having fought alongside each other in the past, Abubakar was quick to respond and revealed minor irritation with Makhachev. While he didn't have any major gripes with his teammates, he jokingly mentioned that Makhachev has a tendency to not say anything directly, which can be annoying for those around him.
Abubakar remarked:
"When you start, you know? You don't say it directly. You are always beating around the bush, passive aggressive behavior, talking in hints. That really annoys me."
Check out the entire conversation below: