[vc_row][vc_column][vc_column_text]Thiago Santos and Glover Teixeira fight in the main event of the UFC tournament on September 12
---
The light heavyweight fight between Santos and Teixeira will happen at the Apex Arena in Las Vegas. But it is not exactly.[/vc_column_text][vc_raw_html]JTNDc2NyaXB0JTIwYXN5bmMlMjBzcmMlM0QlMjJodHRwcyUzQSUyRiUyRnBhZ2VhZDIuZ29vZ2xlc3luZGljYXRpb24uY29tJTJGcGFnZWFkJTJGanMlMkZhZHNieWdvb2dsZS5qcyUyMiUzRSUzQyUyRnNjcmlwdCUzRSUwQSUzQyUyMS0tJTIwYWRhcHQlMjBuZXclMjAtLSUzRSUwQSUzQ2lucyUyMGNsYXNzJTNEJTIyYWRzYnlnb29nbGUlMjIlMEElMjAlMjAlMjAlMjAlMjBzdHlsZSUzRCUyMmRpc3BsYXklM0FibG9jayUyMiUwQSUyMCUyMCUyMCUyMCUyMGRhdGEtYWQtY2xpZW50JTNEJTIyY2EtcHViLTUxMTM4MjY4ODUwODg1MzglMjIlMEElMjAlMjAlMjAlMjAlMjBkYXRhLWFkLXNsb3QlM0QlMjIzMTMxMTczMjk4JTIyJTBBJTIwJTIwJTIwJTIwJTIwZGF0YS1hZC1mb3JtYXQlM0QlMjJhdXRvJTIyJTBBJTIwJTIwJTIwJTIwJTIwZGF0YS1mdWxsLXdpZHRoLXJlc3BvbnNpdmUlM0QlMjJ0cnVlJTIyJTNFJTNDJTJGaW5zJTNFJTBBJTNDc2NyaXB0JTNFJTBBJTIwJTIwJTIwJTIwJTIwJTI4YWRzYnlnb29nbGUlMjAlM0QlMjB3aW5kb3cuYWRzYnlnb29nbGUlMjAlN0MlN0MlMjAlNUIlNUQlMjkucHVzaCUyOCU3QiU3RCUyOSUzQiUwQSUzQyUyRnNjcmlwdCUzRQ==[/vc_raw_html][vc_column_text]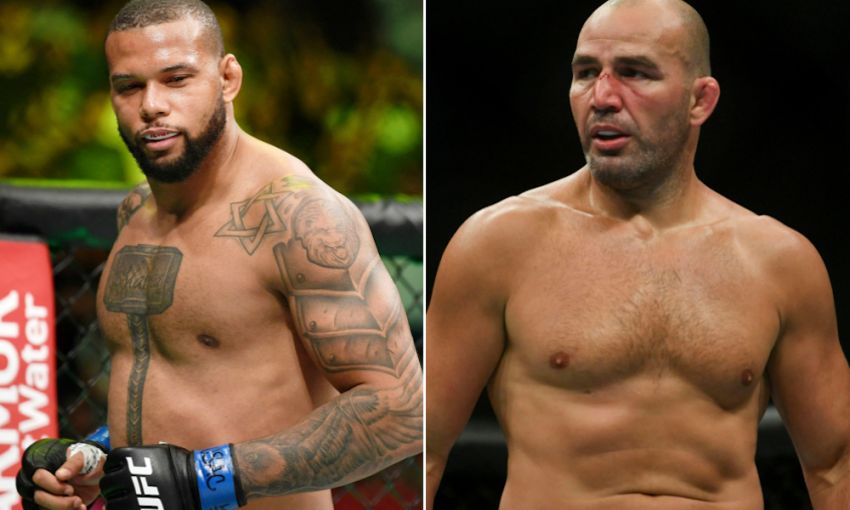 ---
The organization of the match of former contenders for the UFC championship title was informed by informed sources close to the situation.
Thiago Santos, 36, last July made an unsuccessful attempt to take the title away from John Jones, however, he became the first fighter in the organization's history to win the fight against an undefeated American on the card of one of the judges. Prior to this, Santos led a series of four victories, three of which he got ahead of schedule.
40-year-old Glover Teixeira won four bouts in a row, in the last match by TKO in the fifth round of Anthony Smith.
At the moment, Thiago Santos and Glover Teixeira are in second and fifth places in the UFC light heavyweight rating, respectively.[/vc_column_text][vc_raw_html]JTNDYmxvY2txdW90ZSUyMGNsYXNzJTNEJTIyaW5zdGFncmFtLW1lZGlhJTIyJTIwZGF0YS1pbnN0Z3JtLWNhcHRpb25lZCUyMGRhdGEtaW5zdGdybS1wZXJtYWxpbmslM0QlMjJodHRwcyUzQSUyRiUyRnd3dy5pbnN0YWdyYW0uY29tJTJGcCUyRkNDWFZqazdKeDI2JTJGJTNGdXRtX3NvdXJjZSUzRGlnX2VtYmVkJTI2YW1wJTNCdXRtX2NhbXBhaWduJTNEbG9hZGluZyUyMiUyMGRhdGEtaW5zdGdybS12ZXJzaW9uJTNEJTIyMTIlMjIlMjBzdHlsZSUzRCUyMiUyMGJhY2tncm91bmQlM0ElMjNGRkYlM0IlMjBib3JkZXIlM0EwJTNCJTIwYm9yZGVyLXJhZGl1cyUzQTNweCUzQiUyMGJveC1zaGFkb3clM0EwJTIwMCUyMDFweCUyMDAlMjByZ2JhJTI4MCUyQzAlMkMwJTJDMC41JTI5JTJDMCUyMDFweCUyMDEwcHglMjAwJTIwcmdiYSUyODAlMkMwJTJDMCUyQzAuMTUlMjklM0IlMjBtYXJnaW4lM0ElMjAxcHglM0IlMjBtYXgtd2lkdGglM0E1NDBweCUzQiUyMG1pbi13aWR0aCUzQTMyNnB4JTNCJTIwcGFkZGluZyUzQTAlM0IlMjB3aWR0aCUzQTk5LjM3NSUyNSUzQiUyMHdpZHRoJTNBLXdlYmtpdC1jYWxjJTI4MTAwJTI1JTIwLSUyMDJweCUyOSUzQiUyMHdpZHRoJTNBY2FsYyUyODEwMCUyNSUyMC0lMjAycHglMjklM0IlMjIlM0UlM0NkaXYlMjBzdHlsZSUzRCUyMnBhZGRpbmclM0ExNnB4JTNCJTIyJTNFJTIwJTNDYSUyMGhyZWYlM0QlMjJodHRwcyUzQSUyRiUyRnd3dy5pbnN0YWdyYW0uY29tJTJGcCUyRkNDWFZqazdKeDI2JTJGJTNGdXRtX3NvdXJjZSUzRGlnX2VtYmVkJTI2YW1wJTNCdXRtX2NhbXBhaWduJTNEbG9hZGluZyUyMiUyMHN0eWxlJTNEJTIyJTIwYmFja2dyb3VuZCUzQSUyM0ZGRkZGRiUzQiUyMGxpbmUtaGVpZ2h0JTNBMCUzQiUyMHBhZGRpbmclM0EwJTIwMCUzQiUyMHRleHQtYWxpZ24lM0FjZW50ZXIlM0IlMjB0ZXh0LWRlY29yYXRpb24lM0Fub25lJTNCJTIwd2lkdGglM0ExMDAlMjUlM0IlMjIlMjB0YXJnZXQlM0QlMjJfYmxhbmslMjIlM0UlMjAlM0NkaXYlMjBzdHlsZSUzRCUyMiUyMGRpc3BsYXklM0ElMjBmbGV4JTNCJTIwZmxleC1kaXJlY3Rpb24lM0ElMjByb3clM0IlMjBhbGlnbi1pdGVtcyUzQSUyMGNlbnRlciUzQiUyMiUzRSUyMCUzQ2RpdiUyMHN0eWxlJTNEJTIyYmFja2dyb3VuZC1jb2xvciUzQSUyMCUyM0Y0RjRGNCUzQiUyMGJvcmRlci1yYWRpdXMlM0ElMjA1MCUyNSUzQiUyMGZsZXgtZ3JvdyUzQSUyMDAlM0IlMjBoZWlnaHQlM0ElMjA0MHB4JTNCJTIwbWFyZ2luLXJpZ2h0JTNBJTIwMTRweCUzQiUyMHdpZHRoJTNBJTIwNDBweCUzQiUyMiUzRSUzQyUyRmRpdiUzRSUyMCUzQ2RpdiUyMHN0eWxlJTNEJTIyZGlzcGxheSUzQSUyMGZsZXglM0IlMjBmbGV4LWRpcmVjdGlvbiUzQSUyMGNvbHVtbiUzQiUyMGZsZXgtZ3JvdyUzQSUyMDElM0IlMjBqdXN0aWZ5LWNvbnRlbnQlM0ElMjBjZW50ZXIlM0IlMjIlM0UlMjAlM0NkaXYlMjBzdHlsZSUzRCUyMiUyMGJhY2tncm91bmQtY29sb3IlM0ElMjAlMjNGNEY0RjQlM0IlMjBib3JkZXItcmFkaXVzJTNBJTIwNHB4JTNCJTIwZmxleC1ncm93JTNBJTIwMCUzQiUyMGhlaWdodCUzQSUyMDE0cHglM0IlMjBtYXJnaW4tYm90dG9tJTNBJTIwNnB4JTNCJTIwd2lkdGglM0ElMjAxMDBweCUzQiUyMiUzRSUzQyUyRmRpdiUzRSUyMCUzQ2RpdiUyMHN0eWxlJTNEJTIyJTIwYmFja2dyb3VuZC1jb2xvciUzQSUyMCUyM0Y0RjRGNCUzQiUyMGJvcmRlci1yYWRpdXMlM0ElMjA0cHglM0IlMjBmbGV4LWdyb3clM0ElMjAwJTNCJTIwaGVpZ2h0JTNBJTIwMTRweCUzQiUyMHdpZHRoJTNBJTIwNjBweCUzQiUyMiUzRSUzQyUyRmRpdiUzRSUzQyUyRmRpdiUzRSUzQyUyRmRpdiUzRSUzQ2RpdiUyMHN0eWxlJTNEJTIycGFkZGluZyUzQSUyMDE5JTI1JTIwMCUzQiUyMiUzRSUzQyUyRmRpdiUzRSUyMCUzQ2RpdiUyMHN0eWxlJTNEJTIyZGlzcGxheSUzQWJsb2NrJTNCJTIwaGVpZ2h0JTNBNTBweCUzQiUyMG1hcmdpbiUzQTAlMjBhdXRvJTIwMTJweCUzQiUyMHdpZHRoJTNBNTBweCUzQiUyMiUzRSUzQ3N2ZyUyMHdpZHRoJTNEJTIyNTBweCUyMiUyMGhlaWdodCUzRCUyMjUwcHglMjIlMjB2aWV3Qm94JTNEJTIyMCUyMDAlMjA2MCUyMDYwJTIyJTIwdmVyc2lvbiUzRCUyMjEuMSUyMiUyMHhtbG5zJTNEJTIyaHR0cHMlM0ElMkYlMkZ3d3cudzMub3JnJTJGMjAwMCUyRnN2ZyUyMiUyMHhtbG5zJTNBeGxpbmslM0QlMjJodHRwcyUzQSUyRiUyRnd3dy53My5vcmclMkYxOTk5JTJGeGxpbmslMjIlM0UlM0NnJTIwc3Ryb2tlJTNEJTIybm9uZSUyMiUyMHN0cm9rZS13aWR0aCUzRCUyMjElMjIlMjBmaWxsJTNEJTIybm9uZSUyMiUyMGZpbGwtcnVsZSUzRCUyMmV2ZW5vZGQlMjIlM0UlM0NnJTIwdHJhbnNmb3JtJTNEJTIydHJhbnNsYXRlJTI4LTUxMS4wMDAwMDAlMkMlMjAtMjAuMDAwMDAwJTI5JTIyJTIwZmlsbCUzRCUyMiUyMzAwMDAwMCUyMiUzRSUzQ2clM0UlM0NwYXRoJTIwZCUzRCUyMk01NTYuODY5JTJDMzAuNDElMjBDNTU0LjgxNCUyQzMwLjQxJTIwNTUzLjE0OCUyQzMyLjA3NiUyMDU1My4xNDglMkMzNC4xMzElMjBDNTUzLjE0OCUyQzM2LjE4NiUyMDU1NC44MTQlMkMzNy44NTIlMjA1NTYuODY5JTJDMzcuODUyJTIwQzU1OC45MjQlMkMzNy44NTIlMjA1NjAuNTklMkMzNi4xODYlMjA1NjAuNTklMkMzNC4xMzElMjBDNTYwLjU5JTJDMzIuMDc2JTIwNTU4LjkyNCUyQzMwLjQxJTIwNTU2Ljg2OSUyQzMwLjQxJTIwTTU0MSUyQzYwLjY1NyUyMEM1MzUuMTE0JTJDNjAuNjU3JTIwNTMwLjM0MiUyQzU1Ljg4NyUyMDUzMC4zNDIlMkM1MCUyMEM1MzAuMzQyJTJDNDQuMTE0JTIwNTM1LjExNCUyQzM5LjM0MiUyMDU0MSUyQzM5LjM0MiUyMEM1NDYuODg3JTJDMzkuMzQyJTIwNTUxLjY1OCUyQzQ0LjExNCUyMDU1MS42NTglMkM1MCUyMEM1NTEuNjU4JTJDNTUuODg3JTIwNTQ2Ljg4NyUyQzYwLjY1NyUyMDU0MSUyQzYwLjY1NyUyME01NDElMkMzMy44ODYlMjBDNTMyLjElMkMzMy44ODYlMjA1MjQuODg2JTJDNDEuMSUyMDUyNC44ODYlMkM1MCUyMEM1MjQuODg2JTJDNTguODk5JTIwNTMyLjElMkM2Ni4xMTMlMjA1NDElMkM2Ni4xMTMlMjBDNTQ5LjklMkM2Ni4xMTMlMjA1NTcuMTE1JTJDNTguODk5JTIwNTU3LjExNSUyQzUwJTIwQzU1Ny4xMTUlMkM0MS4xJTIwNTQ5LjklMkMzMy44ODYlMjA1NDElMkMzMy44ODYlMjBNNTY1LjM3OCUyQzYyLjEwMSUyMEM1NjUuMjQ0JTJDNjUuMDIyJTIwNTY0Ljc1NiUyQzY2LjYwNiUyMDU2NC4zNDYlMkM2Ny42NjMlMjBDNTYzLjgwMyUyQzY5LjA2JTIwNTYzLjE1NCUyQzcwLjA1NyUyMDU2Mi4xMDYlMkM3MS4xMDYlMjBDNTYxLjA1OCUyQzcyLjE1NSUyMDU2MC4wNiUyQzcyLjgwMyUyMDU1OC42NjIlMkM3My4zNDclMjBDNTU3LjYwNyUyQzczLjc1NyUyMDU1Ni4wMjElMkM3NC4yNDQlMjA1NTMuMTAyJTJDNzQuMzc4JTIwQzU0OS45NDQlMkM3NC41MjElMjA1NDguOTk3JTJDNzQuNTUyJTIwNTQxJTJDNzQuNTUyJTIwQzUzMy4wMDMlMkM3NC41NTIlMjA1MzIuMDU2JTJDNzQuNTIxJTIwNTI4Ljg5OCUyQzc0LjM3OCUyMEM1MjUuOTc5JTJDNzQuMjQ0JTIwNTI0LjM5MyUyQzczLjc1NyUyMDUyMy4zMzglMkM3My4zNDclMjBDNTIxLjk0JTJDNzIuODAzJTIwNTIwLjk0MiUyQzcyLjE1NSUyMDUxOS44OTQlMkM3MS4xMDYlMjBDNTE4Ljg0NiUyQzcwLjA1NyUyMDUxOC4xOTclMkM2OS4wNiUyMDUxNy42NTQlMkM2Ny42NjMlMjBDNTE3LjI0NCUyQzY2LjYwNiUyMDUxNi43NTUlMkM2NS4wMjIlMjA1MTYuNjIzJTJDNjIuMTAxJTIwQzUxNi40NzklMkM1OC45NDMlMjA1MTYuNDQ4JTJDNTcuOTk2JTIwNTE2LjQ0OCUyQzUwJTIwQzUxNi40NDglMkM0Mi4wMDMlMjA1MTYuNDc5JTJDNDEuMDU2JTIwNTE2LjYyMyUyQzM3Ljg5OSUyMEM1MTYuNzU1JTJDMzQuOTc4JTIwNTE3LjI0NCUyQzMzLjM5MSUyMDUxNy42NTQlMkMzMi4zMzglMjBDNTE4LjE5NyUyQzMwLjkzOCUyMDUxOC44NDYlMkMyOS45NDIlMjA1MTkuODk0JTJDMjguODk0JTIwQzUyMC45NDIlMkMyNy44NDYlMjA1MjEuOTQlMkMyNy4xOTYlMjA1MjMuMzM4JTJDMjYuNjU0JTIwQzUyNC4zOTMlMkMyNi4yNDQlMjA1MjUuOTc5JTJDMjUuNzU2JTIwNTI4Ljg5OCUyQzI1LjYyMyUyMEM1MzIuMDU3JTJDMjUuNDc5JTIwNTMzLjAwNCUyQzI1LjQ0OCUyMDU0MSUyQzI1LjQ0OCUyMEM1NDguOTk3JTJDMjUuNDQ4JTIwNTQ5Ljk0MyUyQzI1LjQ3OSUyMDU1My4xMDIlMkMyNS42MjMlMjBDNTU2LjAyMSUyQzI1Ljc1NiUyMDU1Ny42MDclMkMyNi4yNDQlMjA1NTguNjYyJTJDMjYuNjU0JTIwQzU2MC4wNiUyQzI3LjE5NiUyMDU2MS4wNTglMkMyNy44NDYlMjA1NjIuMTA2JTJDMjguODk0JTIwQzU2My4xNTQlMkMyOS45NDIlMjA1NjMuODAzJTJDMzAuOTM4JTIwNTY0LjM0NiUyQzMyLjMzOCUyMEM1NjQuNzU2JTJDMzMuMzkxJTIwNTY1LjI0NCUyQzM0Ljk3OCUyMDU2NS4zNzglMkMzNy44OTklMjBDNTY1LjUyMiUyQzQxLjA1NiUyMDU2NS41NTIlMkM0Mi4wMDMlMjA1NjUuNTUyJTJDNTAlMjBDNTY1LjU1MiUyQzU3Ljk5NiUyMDU2NS41MjIlMkM1OC45NDMlMjA1NjUuMzc4JTJDNjIuMTAxJTIwTTU3MC44MiUyQzM3LjYzMSUyMEM1NzAuNjc0JTJDMzQuNDM4JTIwNTcwLjE2NyUyQzMyLjI1OCUyMDU2OS40MjUlMkMzMC4zNDklMjBDNTY4LjY1OSUyQzI4LjM3NyUyMDU2Ny42MzMlMkMyNi43MDIlMjA1NjUuOTY1JTJDMjUuMDM1JTIwQzU2NC4yOTclMkMyMy4zNjglMjA1NjIuNjIzJTJDMjIuMzQyJTIwNTYwLjY1MiUyQzIxLjU3NSUyMEM1NTguNzQzJTJDMjAuODM0JTIwNTU2LjU2MiUyQzIwLjMyNiUyMDU1My4zNjklMkMyMC4xOCUyMEM1NTAuMTY5JTJDMjAuMDMzJTIwNTQ5LjE0OCUyQzIwJTIwNTQxJTJDMjAlMjBDNTMyLjg1MyUyQzIwJTIwNTMxLjgzMSUyQzIwLjAzMyUyMDUyOC42MzElMkMyMC4xOCUyMEM1MjUuNDM4JTJDMjAuMzI2JTIwNTIzLjI1NyUyQzIwLjgzNCUyMDUyMS4zNDklMkMyMS41NzUlMjBDNTE5LjM3NiUyQzIyLjM0MiUyMDUxNy43MDMlMkMyMy4zNjglMjA1MTYuMDM1JTJDMjUuMDM1JTIwQzUxNC4zNjglMkMyNi43MDIlMjA1MTMuMzQyJTJDMjguMzc3JTIwNTEyLjU3NCUyQzMwLjM0OSUyMEM1MTEuODM0JTJDMzIuMjU4JTIwNTExLjMyNiUyQzM0LjQzOCUyMDUxMS4xODElMkMzNy42MzElMjBDNTExLjAzNSUyQzQwLjgzMSUyMDUxMSUyQzQxLjg1MSUyMDUxMSUyQzUwJTIwQzUxMSUyQzU4LjE0NyUyMDUxMS4wMzUlMkM1OS4xNyUyMDUxMS4xODElMkM2Mi4zNjklMjBDNTExLjMyNiUyQzY1LjU2MiUyMDUxMS44MzQlMkM2Ny43NDMlMjA1MTIuNTc0JTJDNjkuNjUxJTIwQzUxMy4zNDIlMkM3MS42MjUlMjA1MTQuMzY4JTJDNzMuMjk2JTIwNTE2LjAzNSUyQzc0Ljk2NSUyMEM1MTcuNzAzJTJDNzYuNjM0JTIwNTE5LjM3NiUyQzc3LjY1OCUyMDUyMS4zNDklMkM3OC40MjUlMjBDNTIzLjI1NyUyQzc5LjE2NyUyMDUyNS40MzglMkM3OS42NzMlMjA1MjguNjMxJTJDNzkuODIlMjBDNTMxLjgzMSUyQzc5Ljk2NSUyMDUzMi44NTMlMkM4MC4wMDElMjA1NDElMkM4MC4wMDElMjBDNTQ5LjE0OCUyQzgwLjAwMSUyMDU1MC4xNjklMkM3OS45NjUlMjA1NTMuMzY5JTJDNzkuODIlMjBDNTU2LjU2MiUyQzc5LjY3MyUyMDU1OC43NDMlMkM3OS4xNjclMjA1NjAuNjUyJTJDNzguNDI1JTIwQzU2Mi42MjMlMkM3Ny42NTglMjA1NjQuMjk3JTJDNzYuNjM0JTIwNTY1Ljk2NSUyQzc0Ljk2NSUyMEM1NjcuNjMzJTJDNzMuMjk2JTIwNTY4LjY1OSUyQzcxLjYyNSUyMDU2OS40MjUlMkM2OS42NTElMjBDNTcwLjE2NyUyQzY3Ljc0MyUyMDU3MC42NzQlMkM2NS41NjIlMjA1NzAuODIlMkM2Mi4zNjklMjBDNTcwLjk2NiUyQzU5LjE3JTIwNTcxJTJDNTguMTQ3JTIwNTcxJTJDNTAlMjBDNTcxJTJDNDEuODUxJTIwNTcwLjk2NiUyQzQwLjgzMSUyMDU3MC44MiUyQzM3LjYzMSUyMiUzRSUzQyUyRnBhdGglM0UlM0MlMkZnJTNFJTNDJTJGZyUzRSUzQyUyRmclM0UlM0MlMkZzdmclM0UlM0MlMkZkaXYlM0UlM0NkaXYlMjBzdHlsZSUzRCUyMnBhZGRpbmctdG9wJTNBJTIwOHB4JTNCJTIyJTNFJTIwJTNDZGl2JTIwc3R5bGUlM0QlMjIlMjBjb2xvciUzQSUyMzM4OTdmMCUzQiUyMGZvbnQtZmFtaWx5JTNBQXJpYWwlMkNzYW5zLXNlcmlmJTNCJTIwZm9udC1zaXplJTNBMTRweCUzQiUyMGZvbnQtc3R5bGUlM0Fub3JtYWwlM0IlMjBmb250LXdlaWdodCUzQTU1MCUzQiUyMGxpbmUtaGVpZ2h0JTNBMThweCUzQiUyMiUzRSUyMCVEMCU5RiVEMCVCRSVEMSU4MSVEMCVCQyVEMCVCRSVEMSU4MiVEMSU4MCVEMCVCNSVEMSU4MiVEMSU4QyUyMCVEMSU4RCVEMSU4MiVEMSU4MyUyMCVEMCVCRiVEMSU4MyVEMCVCMSVEMCVCQiVEMCVCOCVEMCVCQSVEMCVCMCVEMSU4NiVEMCVCOCVEMSU4RSUyMCVEMCVCMiUyMEluc3RhZ3JhbSUzQyUyRmRpdiUzRSUzQyUyRmRpdiUzRSUzQ2RpdiUyMHN0eWxlJTNEJTIycGFkZGluZyUzQSUyMDEyLjUlMjUlMjAwJTNCJTIyJTNFJTNDJTJGZGl2JTNFJTIwJTNDZGl2JTIwc3R5bGUlM0QlMjJkaXNwbGF5JTNBJTIwZmxleCUzQiUyMGZsZXgtZGlyZWN0aW9uJTNBJTIwcm93JTNCJTIwbWFyZ2luLWJvdHRvbSUzQSUyMDE0cHglM0IlMjBhbGlnbi1pdGVtcyUzQSUyMGNlbnRlciUzQiUyMiUzRSUzQ2RpdiUzRSUyMCUzQ2RpdiUyMHN0eWxlJTNEJTIyYmFja2dyb3VuZC1jb2xvciUzQSUyMCUyM0Y0RjRGNCUzQiUyMGJvcmRlci1yYWRpdXMlM0ElMjA1MCUyNSUzQiUyMGhlaWdodCUzQSUyMDEyLjVweCUzQiUyMHdpZHRoJTNBJTIwMTIuNXB4JTNCJTIwdHJhbnNmb3JtJTNBJTIwdHJhbnNsYXRlWCUyODBweCUyOSUyMHRyYW5zbGF0ZVklMjg3cHglMjklM0IlMjIlM0UlM0MlMkZkaXYlM0UlMjAlM0NkaXYlMjBzdHlsZSUzRCUyMmJhY2tncm91bmQtY29sb3IlM0ElMjAlMjNGNEY0RjQlM0IlMjBoZWlnaHQlM0ElMjAxMi41cHglM0IlMjB0cmFuc2Zvcm0lM0ElMjByb3RhdGUlMjgtNDVkZWclMjklMjB0cmFuc2xhdGVYJTI4M3B4JTI5JTIwdHJhbnNsYXRlWSUyODFweCUyOSUzQiUyMHdpZHRoJTNBJTIwMTIuNXB4JTNCJTIwZmxleC1ncm93JTNBJTIwMCUzQiUyMG1hcmdpbi1yaWdodCUzQSUyMDE0cHglM0IlMjBtYXJnaW4tbGVmdCUzQSUyMDJweCUzQiUyMiUzRSUzQyUyRmRpdiUzRSUyMCUzQ2RpdiUyMHN0eWxlJTNEJTIyYmFja2dyb3VuZC1jb2xvciUzQSUyMCUyM0Y0RjRGNCUzQiUyMGJvcmRlci1yYWRpdXMlM0ElMjA1MCUyNSUzQiUyMGhlaWdodCUzQSUyMDEyLjVweCUzQiUyMHdpZHRoJTNBJTIwMTIuNXB4JTNCJTIwdHJhbnNmb3JtJTNBJTIwdHJhbnNsYXRlWCUyODlweCUyOSUyMHRyYW5zbGF0ZVklMjgtMThweCUyOSUzQiUyMiUzRSUzQyUyRmRpdiUzRSUzQyUyRmRpdiUzRSUzQ2RpdiUyMHN0eWxlJTNEJTIybWFyZ2luLWxlZnQlM0ElMjA4cHglM0IlMjIlM0UlMjAlM0NkaXYlMjBzdHlsZSUzRCUyMiUyMGJhY2tncm91bmQtY29sb3IlM0ElMjAlMjNGNEY0RjQlM0IlMjBib3JkZXItcmFkaXVzJTNBJTIwNTAlMjUlM0IlMjBmbGV4LWdyb3clM0ElMjAwJTNCJTIwaGVpZ2h0JTNBJTIwMjBweCUzQiUyMHdpZHRoJTNBJTIwMjBweCUzQiUyMiUzRSUzQyUyRmRpdiUzRSUyMCUzQ2RpdiUyMHN0eWxlJTNEJTIyJTIwd2lkdGglM0ElMjAwJTNCJTIwaGVpZ2h0JTNBJTIwMCUzQiUyMGJvcmRlci10b3AlM0ElMjAycHglMjBzb2xpZCUyMHRyYW5zcGFyZW50JTNCJTIwYm9yZGVyLWxlZnQlM0ElMjA2cHglMjBzb2xpZCUyMCUyM2Y0ZjRmNCUzQiUyMGJvcmRlci1ib3R0b20lM0ElMjAycHglMjBzb2xpZCUyMHRyYW5zcGFyZW50JTNCJTIwdHJhbnNmb3JtJTNBJTIwdHJhbnNsYXRlWCUyODE2cHglMjklMjB0cmFuc2xhdGVZJTI4LTRweCUyOSUyMHJvdGF0ZSUyODMwZGVnJTI5JTIyJTNFJTNDJTJGZGl2JTNFJTNDJTJGZGl2JTNFJTNDZGl2JTIwc3R5bGUlM0QlMjJtYXJnaW4tbGVmdCUzQSUyMGF1dG8lM0IlMjIlM0UlMjAlM0NkaXYlMjBzdHlsZSUzRCUyMiUyMHdpZHRoJTNBJTIwMHB4JTNCJTIwYm9yZGVyLXRvcCUzQSUyMDhweCUyMHNvbGlkJTIwJTIzRjRGNEY0JTNCJTIwYm9yZGVyLXJpZ2h0JTNBJTIwOHB4JTIwc29saWQlMjB0cmFuc3BhcmVudCUzQiUyMHRyYW5zZm9ybSUzQSUyMHRyYW5zbGF0ZVklMjgxNnB4JTI5JTNCJTIyJTNFJTNDJTJGZGl2JTNFJTIwJTNDZGl2JTIwc3R5bGUlM0QlMjIlMjBiYWNrZ3JvdW5kLWNvbG9yJTNBJTIwJTIzRjRGNEY0JTNCJTIwZmxleC1ncm93JTNBJTIwMCUzQiUyMGhlaWdodCUzQSUyMDEycHglM0IlMjB3aWR0aCUzQSUyMDE2cHglM0IlMjB0cmFuc2Zvcm0lM0ElMjB0cmFuc2xhdGVZJTI4LTRweCUyOSUzQiUyMiUzRSUzQyUyRmRpdiUzRSUyMCUzQ2RpdiUyMHN0eWxlJTNEJTIyJTIwd2lkdGglM0ElMjAwJTNCJTIwaGVpZ2h0JTNBJTIwMCUzQiUyMGJvcmRlci10b3AlM0ElMjA4cHglMjBzb2xpZCUyMCUyM0Y0RjRGNCUzQiUyMGJvcmRlci1sZWZ0JTNBJTIwOHB4JTIwc29saWQlMjB0cmFuc3BhcmVudCUzQiUyMHRyYW5zZm9ybSUzQSUyMHRyYW5zbGF0ZVklMjgtNHB4JTI5JTIwdHJhbnNsYXRlWCUyODhweCUyOSUzQiUyMiUzRSUzQyUyRmRpdiUzRSUzQyUyRmRpdiUzRSUzQyUyRmRpdiUzRSUzQyUyRmElM0UlMjAlM0NwJTIwc3R5bGUlM0QlMjIlMjBtYXJnaW4lM0E4cHglMjAwJTIwMCUyMDAlM0IlMjBwYWRkaW5nJTNBMCUyMDRweCUzQiUyMiUzRSUyMCUzQ2ElMjBocmVmJTNEJTIyaHR0cHMlM0ElMkYlMkZ3d3cuaW5zdGFncmFtLmNvbSUyRnAlMkZDQ1hWams3SngyNiUyRiUzRnV0bV9zb3VyY2UlM0RpZ19lbWJlZCUyNmFtcCUzQnV0bV9jYW1wYWlnbiUzRGxvYWRpbmclMjIlMjBzdHlsZSUzRCUyMiUyMGNvbG9yJTNBJTIzMDAwJTNCJTIwZm9udC1mYW1pbHklM0FBcmlhbCUyQ3NhbnMtc2VyaWYlM0IlMjBmb250LXNpemUlM0ExNHB4JTNCJTIwZm9udC1zdHlsZSUzQW5vcm1hbCUzQiUyMGZvbnQtd2VpZ2h0JTNBbm9ybWFsJTNCJTIwbGluZS1oZWlnaHQlM0ExN3B4JTNCJTIwdGV4dC1kZWNvcmF0aW9uJTNBbm9uZSUzQiUyMHdvcmQtd3JhcCUzQWJyZWFrLXdvcmQlM0IlMjIlMjB0YXJnZXQlM0QlMjJfYmxhbmslMjIlM0VJJTIwYW0lMjBjb21pbmclMjBiYWNrJTIxJUUyJTlBJTkyJTIwLiUyMCVGMCU5RiU4NyVBNyVGMCU5RiU4NyVCNyUyMEVzdG91JTIwdm9sdGFuZG8lMjElRTIlOUElOTIlMjAlMjNUZWFtTWFycmV0YSUzQyUyRmElM0UlM0MlMkZwJTNFJTIwJTNDcCUyMHN0eWxlJTNEJTIyJTIwY29sb3IlM0ElMjNjOWM4Y2QlM0IlMjBmb250LWZhbWlseSUzQUFyaWFsJTJDc2Fucy1zZXJpZiUzQiUyMGZvbnQtc2l6ZSUzQTE0cHglM0IlMjBsaW5lLWhlaWdodCUzQTE3cHglM0IlMjBtYXJnaW4tYm90dG9tJTNBMCUzQiUyMG1hcmdpbi10b3AlM0E4cHglM0IlMjBvdmVyZmxvdyUzQWhpZGRlbiUzQiUyMHBhZGRpbmclM0E4cHglMjAwJTIwN3B4JTNCJTIwdGV4dC1hbGlnbiUzQWNlbnRlciUzQiUyMHRleHQtb3ZlcmZsb3clM0FlbGxpcHNpcyUzQiUyMHdoaXRlLXNwYWNlJTNBbm93cmFwJTNCJTIyJTNFJUQwJTlGJUQxJTgzJUQwJUIxJUQwJUJCJUQwJUI4JUQwJUJBJUQwJUIwJUQxJTg2JUQwJUI4JUQxJThGJTIwJUQwJUJFJUQxJTgyJTIwJTNDYSUyMGhyZWYlM0QlMjJodHRwcyUzQSUyRiUyRnd3dy5pbnN0YWdyYW0uY29tJTJGdG1hcnJldGFtbWElMkYlM0Z1dG1fc291cmNlJTNEaWdfZW1iZWQlMjZhbXAlM0J1dG1fY2FtcGFpZ24lM0Rsb2FkaW5nJTIyJTIwc3R5bGUlM0QlMjIlMjBjb2xvciUzQSUyM2M5YzhjZCUzQiUyMGZvbnQtZmFtaWx5JTNBQXJpYWwlMkNzYW5zLXNlcmlmJTNCJTIwZm9udC1zaXplJTNBMTRweCUzQiUyMGZvbnQtc3R5bGUlM0Fub3JtYWwlM0IlMjBmb250LXdlaWdodCUzQW5vcm1hbCUzQiUyMGxpbmUtaGVpZ2h0JTNBMTdweCUzQiUyMiUyMHRhcmdldCUzRCUyMl9ibGFuayUyMiUzRSUyMFRoaWFnbyUyMCUyNiUyMzM0JTNCTWFycmV0YSUyNiUyMzM0JTNCJTIwU2FudG9zJTNDJTJGYSUzRSUyMCUyOCU0MHRtYXJyZXRhbW1hJTI5JTIwJTNDdGltZSUyMHN0eWxlJTNEJTIyJTIwZm9udC1mYW1pbHklM0FBcmlhbCUyQ3NhbnMtc2VyaWYlM0IlMjBmb250LXNpemUlM0ExNHB4JTNCJTIwbGluZS1oZWlnaHQlM0ExN3B4JTNCJTIyJTIwZGF0ZXRpbWUlM0QlMjIyMDIwLTA3LTA4VDAyJTNBMzklM0EwOSUyQjAwJTNBMDAlMjIlM0U3JTIwJUQwJTk4JUQxJThFJUQwJUJCJTIwMjAyMCUyMCVEMCVCMiUyMDclM0EzOSUyMFBEVCUzQyUyRnRpbWUlM0UlM0MlMkZwJTNFJTNDJTJGZGl2JTNFJTNDJTJGYmxvY2txdW90ZSUzRSUyMCUzQ3NjcmlwdCUyMGFzeW5jJTIwc3JjJTNEJTIyJTJGJTJGd3d3Lmluc3RhZ3JhbS5jb20lMkZlbWJlZC5qcyUyMiUzRSUzQyUyRnNjcmlwdCUzRQ==[/vc_raw_html][vc_raw_html]JTNDc2NyaXB0JTIwYXN5bmMlMjBzcmMlM0QlMjJodHRwcyUzQSUyRiUyRnBhZ2VhZDIuZ29vZ2xlc3luZGljYXRpb24uY29tJTJGcGFnZWFkJTJGanMlMkZhZHNieWdvb2dsZS5qcyUyMiUzRSUzQyUyRnNjcmlwdCUzRSUwQSUzQyUyMS0tJTIwYWRhcHQlMjBuZXclMjAtLSUzRSUwQSUzQ2lucyUyMGNsYXNzJTNEJTIyYWRzYnlnb29nbGUlMjIlMEElMjAlMjAlMjAlMjAlMjBzdHlsZSUzRCUyMmRpc3BsYXklM0FibG9jayUyMiUwQSUyMCUyMCUyMCUyMCUyMGRhdGEtYWQtY2xpZW50JTNEJTIyY2EtcHViLTUxMTM4MjY4ODUwODg1MzglMjIlMEElMjAlMjAlMjAlMjAlMjBkYXRhLWFkLXNsb3QlM0QlMjIzMTMxMTczMjk4JTIyJTBBJTIwJTIwJTIwJTIwJTIwZGF0YS1hZC1mb3JtYXQlM0QlMjJhdXRvJTIyJTBBJTIwJTIwJTIwJTIwJTIwZGF0YS1mdWxsLXdpZHRoLXJlc3BvbnNpdmUlM0QlMjJ0cnVlJTIyJTNFJTNDJTJGaW5zJTNFJTBBJTNDc2NyaXB0JTNFJTBBJTIwJTIwJTIwJTIwJTIwJTI4YWRzYnlnb29nbGUlMjAlM0QlMjB3aW5kb3cuYWRzYnlnb29nbGUlMjAlN0MlN0MlMjAlNUIlNUQlMjkucHVzaCUyOCU3QiU3RCUyOSUzQiUwQSUzQyUyRnNjcmlwdCUzRQ==[/vc_raw_html][vc_column_text]
---
[/vc_column_text][/vc_column][/vc_row]