Glover Teixeira pleasantly surprised the MMA world when he became the UFC light heavyweight champion last year.
He recently spoke about his retirement and managed to fire some shots at Henry Cejudo. Glover Teixeira knows he can't fight forever, but that doesn't mean he's putting an expiration date on his career.
Ahead of his first title defense as light heavyweight champion at UFC 275, the 42-year-old Brazilian said recently that his "perfect plan" would be to defeat Jiri Prochazka on June 11 and then have a retirement fight at Madison Square Garden in New York City later this year.
It wasn't malicious but Glover Teixeira used Henry Cejudo as an example of what he wants to avoid when he retires from the UFC. The Brazilian notes that the end is very near for him.
"Eventually, I do want to retire," UFC champion Glover Teixeira said on The MMA Hour.
"I said the perfect scenario is me beating this guy in Singapore and hopefully fight Jan [Blachowicz] at Madison Square Garden in November and then call it a day. But I don't want to make a decision like that. I think that's a possibility, but I don't want to [say], 'Oh I'm going to retire this year, or a couple more fights,' or this and that. I don't want to make a call and be desperate later. I even mentioned Henry Cejudo. Nothing against the guy, I love the kid, but you see him retired [and] he knows he wants to come back. He knows he has more. I don't want to make this decision like that, but it would be a possibility, yeah."
Glover Teixeira is still enjoying his career as a fighter but his advanced age means he has to think about the end. The UFC champion is obviously still fighting at the highest level and finds fighting fun.
"I love the fight, I love the game," Teixeira continued. "I love the camp life to be preparing for a fight, but I'm also 42 going on 43. It's time to start thinking about it. I want to retire from the sport, I don't want the sport to retire me. You see Khabib [Nurmagomedov], I take my hat off to Khabib when he retired on top. There's no motivation by money. He's making $10, $20 million, they offer him so much money, but he's not going back. He's done. He doesn't want to do it anymore. That's going to be me. The day that I don't want to do it anymore [I will retire]. The day that I don't want to get myself going is the time that I'm going to be done."
Teixeira (33-7) beat Jan Blachowicz via second-round submission at UFC 267 last October to win the title. The victory came more than seven years after the first time he competed for the title, a loss to Jon Jones at UFC 172 in April 2014.
Glover Teixeira has won six in a row and has the most finishes (13) and second most wins (16) in UFC light heavyweight division history.
UFC 275 fight card, odds
Odds via Caesars Sportsbook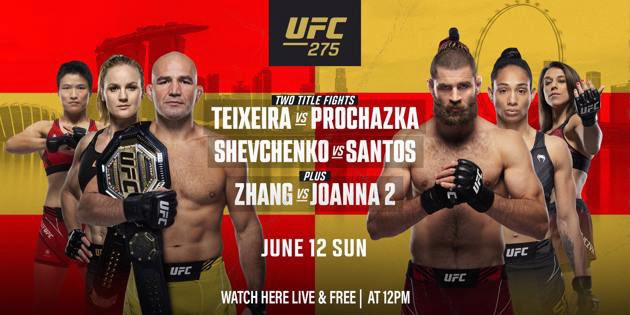 Glover Teixeira (c) +165 vs. Jiri Prochazka, light heavyweight championship
Valentina Shevchenko (c) -800 vs. Taila Santos +550, women's flyweight championship
Zhang Weili -180 vs. Joanna Jedrzejczyk +155, women's strawweight
Seung Woo Choi vs. Joshua Culibao, featherweight
Jack Della Maddalena vs. Ramazan Emeev, welterweight
Jacob Malkoun vs. Brendan Allen, middleweight
Kang Kyung-ho vs. Danaa Batgerel, bantamweight
Orion Cosce vs. Mike Mathetha, welterweight
Ramona Pascual vs. Joselyne Edwards, women's bantamweight
Liang Na vs. Silvana Gomez Juarez, women's strawweight
Steve Garcia vs. Hayisaer Maheshate, lightweight
Manel Kape vs. Rogerio Bontoorin, flyweight
UFC 275 info
Date: June 11
Location: Singapore Indoor Stadium — Kallang, Singapore
Start time: 10 p.m. ET (Main card)
How to watch: ESPN+ PPV