In May, UFC fans enjoyed another month of exciting events: the MMA leader presented three solid fight cards, including several excellent individual performances and finishes.
We even witnessed a confident contender for the title of "Knockout of the Year", but more on that later.
The promotion kicked off the month with UFC 274 in Phoenix, Arizona, and followed up the pay-per-view with two Fight Night events at the Apex facility in Las Vegas. Over the course of these events, fans witnessed some truly memorable knockouts, which have been ranked below.
Here are the 5 best UFC knockouts of May 2022.
5 – Michael Johnson Scores Big Time KO, Snaps Four Fight Skid
UFC lightweights Michael Johnson and Alan Patrick entered the octagon at UFC Vegas 54 badly needing a win.
The first round seemed like both men tried to end the fight. Johnson clearly had the quickness and straight shots while Patrick was obviously the longer, bigger fighter. Both landed by left hand shots that stunned the other, but the round ended with Johnson on top working on a can opener that Patrick tried to expose for an arm bar. In a scramble Johnson remained on top as the round ended.
The second round found Patrick blitzing in on Johnson which the latter took advantage of and landed on him. The two repeated the same dance over and over until Johnson landed a powerful left hand at the end of the combo that dropped Patrick and ended his night.
Johnson snaps a four-fight losing streak with a big time finish at UFC Vegas 54.
4 – Manuel Torres Stuns Frank Camacho in Debut at UFC Vegas 54
Right out of the gate Torres wobbled Camacho a bit with a left hook. Both guys responded by throwing some heavy leather. Camacho did try to get the takedown but it didn't happen.
Camacho then landed a one-two right on the chin of Torres. Torres was really having success with his hands putting Camacho in a lot of danger. From the uppercuts and rights and lefts, everything from Torres was landing.
Torres slipped a right hand and counted with a right-left dropping Camacho and Herb Dead stepped in. Beautiful finish from Torres.
3 – Andre Fialho vs. Cameron VanCamp – UFC 274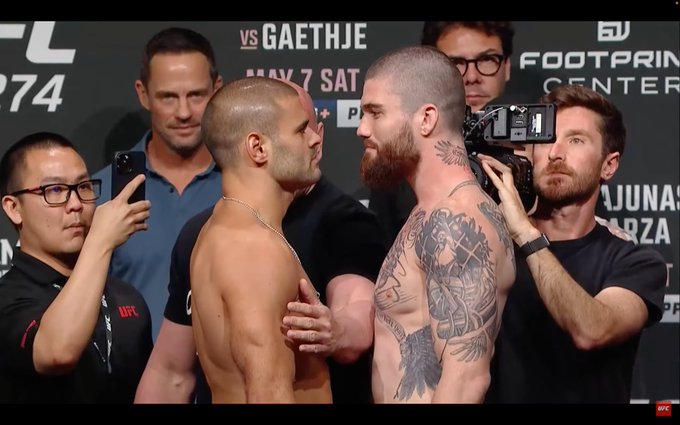 Andre Fialho has made quite the impression since his promotional debut earlier this year – a unanimous decision loss to Michel Pereira. The Portuguese welterweight returned to the octagon just three months after his narrow defeat to Pereira, finishing American prospect Miguel Baeza inside the opening round to open his account in the UFC.
Soon after his win over Baeza, Fialho demanded another fight and the matchmakers obliged. He took on Cameron VanCamp on the preliminary card of UFC 274, coming away with yet another knockout victory.
Fialho needed just over two-and-a-half minutes to put VanCamp away. He dropped the American with a picture-perfect left hook and the referee lunged in moments later to call a halt to the action.
The 28-year-old picked up his second 'Performance of the Night' bonus on the bounce with his win over VanCamp. As expected, he demanded another quick return to the octagon in his post-fight interview and the matchmakers obliged once again. He will feature at UFC 275 in Singapore as well.
2 – Chidi Njokuani def. Dusko Todorovic – UFC Vegas 55
Having picked up his first win in the UFC against Maki Pitolo this past December, Dusko Todorovic was looking to make it two in a row against Chidi Njokuani.
A fellow product of the Contender Series, Njokuani, brother of former UFC fighter Anthony Njokuani, was also looking for his second win in the organization.
Round one began with Njokuani working front kicks to the body then leg kicks. Todorovic shot for a takedown and got stuck in a d'arce choke momentarily, but Njokuani bailed on the choke. Todorovic completed the takedown, but after a couple minutes of trying to take the back ended up clinching with Njokuani on the fence.
Njokuani was finally able to break away, but he decided to clinch with Todorovic again. After failing to get his opponent down or take his back standing Njokuani landed a monster right elbow that dropped Todorovic and ended the fight.
Njokuani has now pulled off impressive finishes in both of his first two UFC fights, after stopping Marc-Andre Barriault in his promotional debut earlier this year. Overall, the middleweight has won four straight fights dating back to a win under the LFA banner in September of 2020.
1 – Michael Chandler def. Tony Ferguson – UFC 274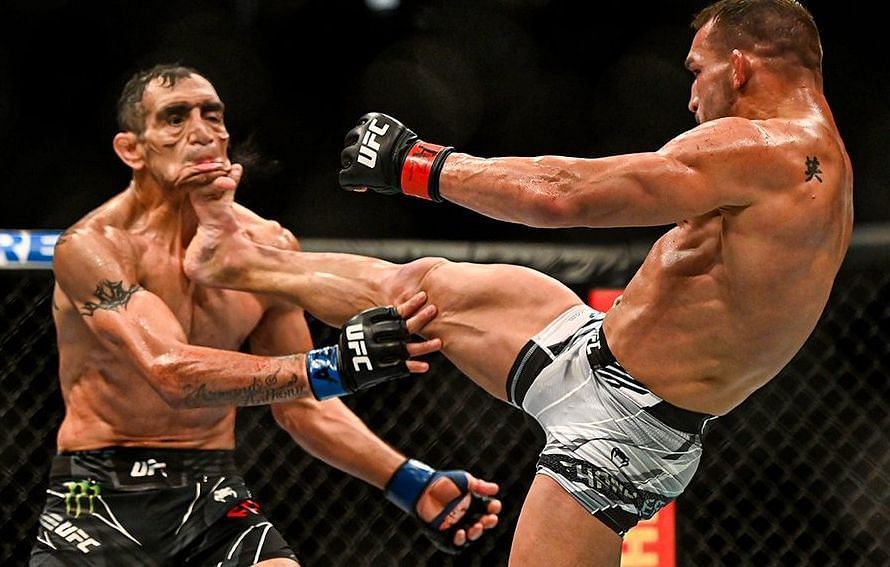 Top-ranked lightweights Michael Chandler and Tony Ferguson locked horns in a highly anticipated bout at UFC 274, with both fighters looking to snap their respective losing skids and return to winning ways.
Ferguson, in particular, was in desperate need of a win, with his last victory coming back in 2019 against Donald Cerrone.
Unfortunately for 'El Cucuy', he suffered the worst loss of his career thus far, coming out on the wrong end of a surefire 'Knockout of the Year' contender.
Ferguson performed admirably in the first round. He knocked down Chandler with a left hook in the opening frame and even sliced open a cut under the former Bellator champion's eye.
However, just 17 seconds into the second round, Ferguson found himself backpedalling as Chandler came forward and unleashed a jaw-dropping front kick. 'El Cucuy' faceplanted into the canvas after getting caught flush under the chin, while 'Iron' celebrated emphatically.
At the post-fight press conference, Dana White hailed Chandler's knockout as "the most vicious" one he'd ever seen.