UFC news: Conor McGregor responded to Khabib's criticism by quoting the famous phrase of Mike Tyson
Former UFC champion in two weight categories Conor McGregor reacted to the statements in his address from Khabib Nurmagomedov. The other day, the Russian visited Mike Tyson's podcast, where he criticized the Irishman for a tweet about his late father. In particular, he suggested that McGregor wrote it drunk, and stressed that only an evil person can hurt his father, wife, children and religion.
McGregor responded to Nurmagomedov on his Twitter page, quoting Tyson's famous threat about children.
"I want to eat your children. When was the last time he saw them at all? His wife? Mother? How about you spend more time with your kids and family for a change and don't say my name until you're trapped somewhere again. Next time you may not be lucky, " Conor McGregor wrote, posting a fragment of a podcast with Khabib, but then deleted his tweet.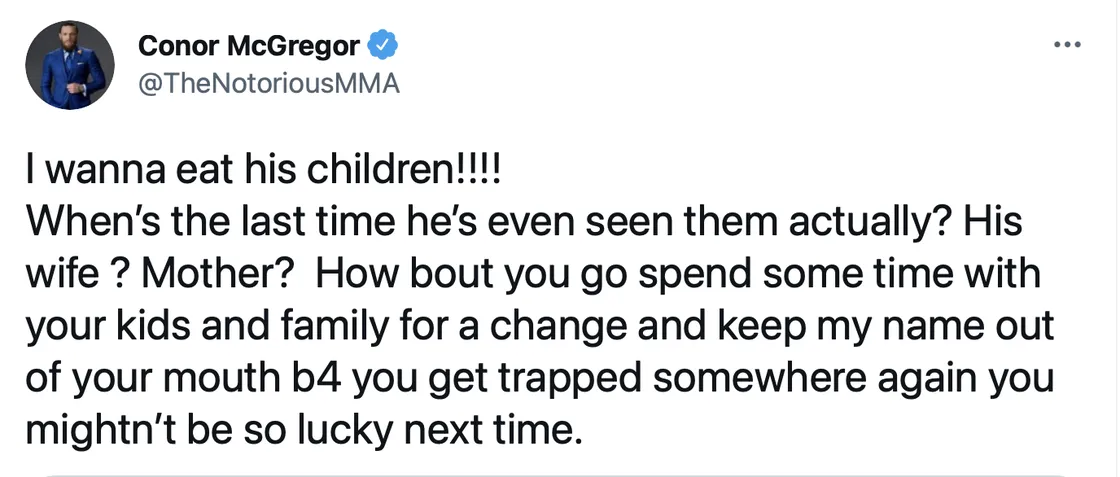 Recall that after the Irishman's defeat at the UFC 264 in a rematch with Dustin Poirier, Khabib wrote a tweet: "Good always wins over evil." To which Connor responded with the following message: "Coronavirus is good, father is evil?", but later deleted this post.