Jorge Masvidal says Colby Covington offer is on the plate by the UFC
Jorge Masvidal and Colby Covington weren't always at each other's throats before. Contrastingly, they were training partners at American Top Team and shared a great bond as they even lived together. However, they had a fallout a few years ago, which many believe was parallel to 'Gamebred's shift to the welterweight division.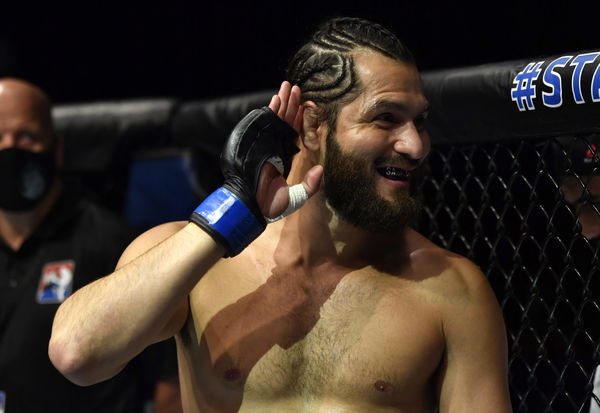 Things have gotten heated over the last year and both men want nothing more than to destroy the other. The BMF initiated a call out to 'Chaos'.
Masvidal took to Twitter and sent a vicious message aimed towards the top-ranked welterweight. The 37-year-old tweeted,
"They gonna call you and hopefully the 4th time is a charm you f*king coward. Don't pssy out now @ColbyCovMMA"
Currently, Masvidal is coming off two back-to-back losses against the welterweight champion Kamaru Usman. The latest one was earlier last year at UFC 261, where 'Gamebred' suffered the first KO defeat of his UFC career in the second round of their bout.
Covington, on the other hand, is also on the same trajectory as he has also suffered two losses against 'The Nigerian Nightmare'. The second defeat to Usman came after a thrilling five-round war at UFC 268.
If these two men ('Chaos' and 'Gamebred') fight, it will be huge. However, Masvidal has even received a challenge from the boxing world.
Jorge Masvidal and Jake Paul's saga
Without a doubt, 'Gamebred' is one of the most popular UFC fighters on the roster and Jake Paul is well aware of it. 'The Problem Child' was quick to leap on Masvidal after his 6th round knockout win over the former welterweight champion, Tyron Woodley inside the square circle.
After flattening 'The Chosen One' with a vicious blow, Paul called out Masvidal among others and even made an exclusive offer to the BMF. The offer included a $5 million payout and a share of the PPV revenue.
The BMF champion was hesitant at first, however, he savagely refused Paul's after as reports came in that Woodley vs Paul 2 only sold 65k PPV buys.
Read more: Jorge Masvidal took to Twitter to clarify his stance on a potential fight with Jake Paul