UFC President Dana White has reacted to Leon Edwards' reluctance to fight Colby Covington.
Leon Edwards successfully defended his welterweight championship against Kamaru Usman earlier this month at UFC 286. Following Edwards' win over 'The Nigerian Nightmare,' Dana White was quick to announce that Colby Covington would get the next title shot.
However, Leon Edwards has not seemed too keen on fighting Covington. 'Rocky' believes that there are more deserving contenders in the division who should get the opportunity to fight for the title ahead of 'Chaos.' However, the UFC president does not seem to agree with the notion.
Addressing Edwards' reluctance to fight the former interim welterweight champion, Dana White had this to say during a post-fight press conference at UFC San Antonio:
"You're the man, Leon. You're the guy. Everybody's coming after you and it's going to be Colby next."
Watch Dana White talk about Edwards vs. Covington below:
After Dana White reaffirmed that Covington will be fighting Leon Edwards for the title, 'Chaos' commented on the post by saying:
"Someone wake @leonedwardsmma up so he can cry himself back to sleep #SeeYouSoonJunior"
Take a look at Covington's comments below: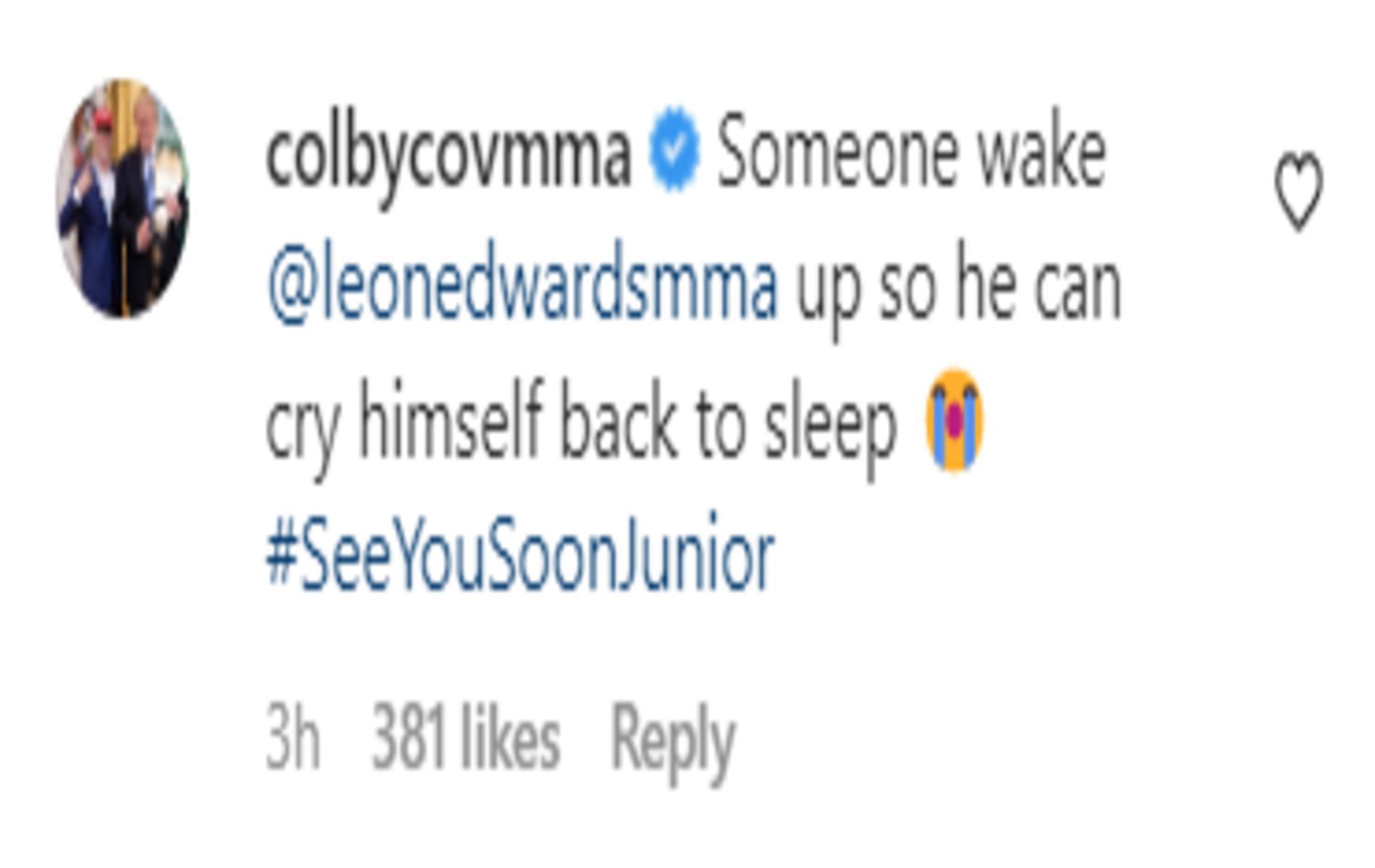 ---
Colby Covington's next fight: What did he say about Leon Edwards?
During an interview with James Lynch, Colby Covington took shots at his potential next opponent Leon Edwards and suggested that 'Rocky' cheated in his trilogy against Kamaru Usman.
During his UFC 286 fight against Kamaru Usman, Leon Edwards had some controversial moments. He landed low blows on two occasions, grabbed hold of Usman's glove, and also grabbed the cage to avoid a takedown. This resulted in referee Herb Dean taking a point away from 'Rocky' in the third round of the fight as well.
Speaking about Leon Edwards' controversial moments during the fight, Covington accused 'Rocky' of cheating and said:
"He's [Leon Edwards] out there poking the guy in the eye, kicking him in the n*ts, grabbing the fence and then Herb Dean stops the action. Herb is like, 'Yo, Leon uh what are you doing man, you can't grab the fence.' Then tries to deny it in front of the world James, he's trying to deny it. Dude the whole world just saw you completely blatantly grab the fence and now you're gonna deny it?"
Watch the interview below: