It looks like UFC star Khamzat Chimaev is seeking alternate means of earning by working as an Uber driver. A video is making the rounds showing 'Borz' chauffeuring a group of women.
The video had the following captions:
"My Uber driver says [that] he's a fighter. [Does] anyone know him?"
The video triggered varying reactions from users, with one user calling his actions 'haram'. Another user named '@joey_gannon32' commented on the side hustles that UFC fighters pursue, saying:
"What is it with UFC fighters doing side quests? Charles Oliveira was just doing a horse race and now, Khamzat is doing Uber."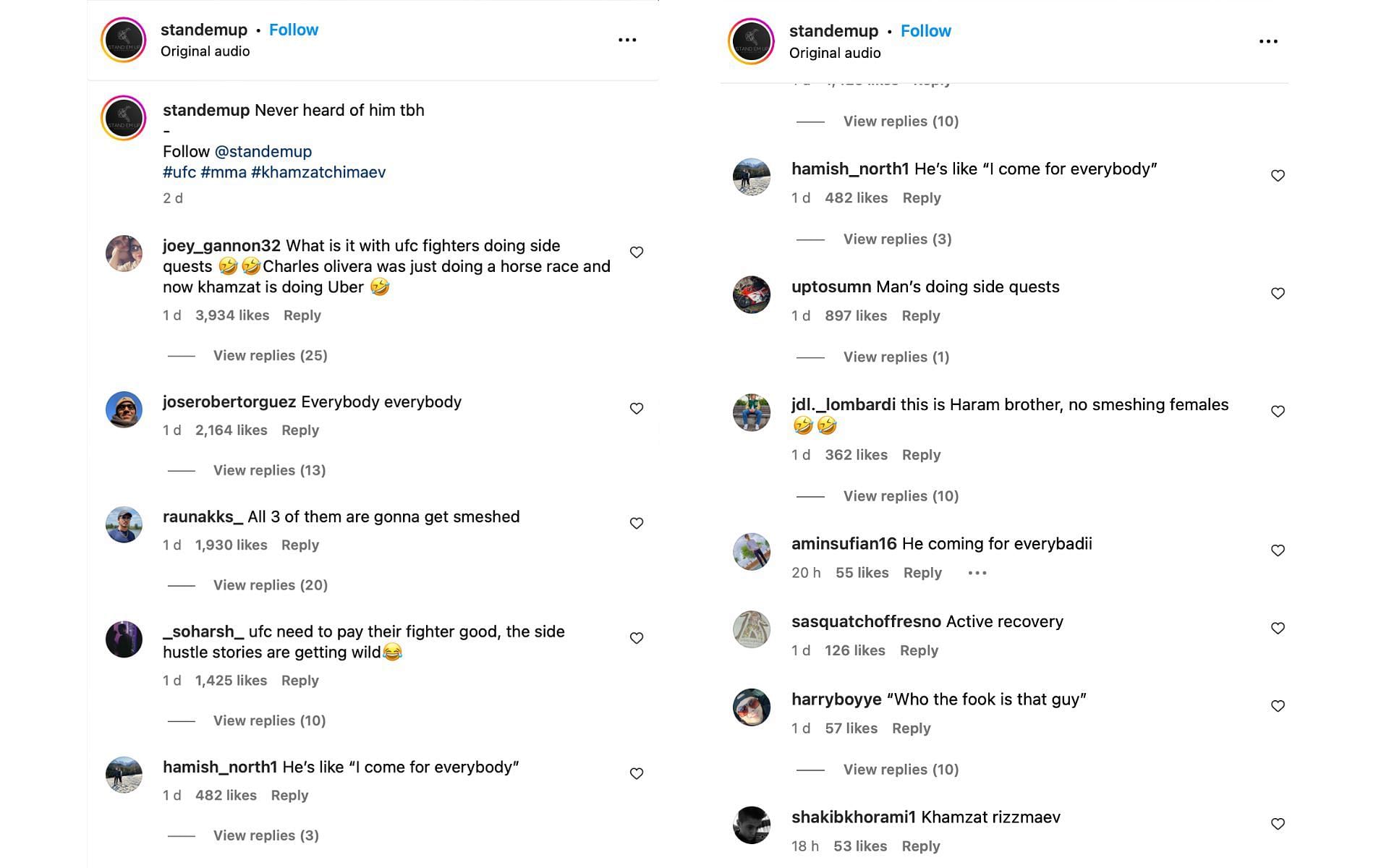 Another user named '@_soharsh_ufc' said that the UFC 'needs to pay their fighters well', adding that the stories of fighters engaging in side hustles 'are getting wild'.
A user named '@hamish_north1' quoted Khamzat Chimaev's infamous 'I come for everybody' phrase, while another user named '@sasquatchoffresno' termed the Chechen-born Swede's activities as 'active recovery'.
---
Khamzat Chimaev vs. Paulo Costa at this year's UFC Abu Dhabi event
Khamzat Chimaev told Ariel Helwani that he's close to being booked for a bout with Paulo Costa at UFC 294 in Abu Dhabi. 'Borrachinha' also appeared on The MMA Hour podcast and confirmed that he's close to being booked against 'Borz' at the aforementioned event.
Here's what Paulo Costa said:
"They want that fight against 'Gourmet Chen Chen' in October in Dubai, I think. But I think October is so far. That's why I was happy when the UFC suggested [that I] fight Jan [Blachowicz]. It's much less work to cut weight [for 205 pounds], and [moving up] doesn't affect my weight division, i.e. 185 [pounds].
Skip to 11:58 for Paulo Costa on his upcoming fight with Khamzat Chimaev:
A fight between 'Borz' and 'Borrachinha' has the potential to win multiple bonuses, that much is understood. What would be interesting is the potential build-up to the fight, given that there is quite a bit of animosity between the two.
Khamzat Chimaev was seen confronting Paulo Costa at the UFC PI, with 'Borz' cussing 'Borrahinha' out. The argument got quite heated and the two had to be separated, particularly the Chechen-born Swede, who was on a profanity-laced tirade.
Check out the UFC PI altercation between Chimaev and Costa:
Paulo Costa has had a rather hilarious take on the whole situation, especially when he appeared in an interview with Henry Cejudo and The Schmo. On the podcast, Costa proceeded to take Chimaev's hat (that he left in the studio) and rub it on his crotch.
The act made The Schmo visibly uncomfortable while 'Triple-C' was in a fit of laughter throughout.
Check out Costa desecrating Chimaev's hat below: