A video of Kendall Jenner and Gigi Hadid at the Met Gala 2023 is being widely circulated on the internet. In the video, Gigi Hadid is seen cheering on Kendall Jenner and clapping her hands.
As Kendall turns around, she gives what fans are calling a "nasty" and rude look. Needless to say, a clip of the interaction that was captured has gone viral with people calling Jenner out.
A post was shared on Instagram which showed Kendall's reaction to Hadid cheering on her. Since it was shared, people have mercilessly been calling out Jenner. One person even said that Kendall was "rude for no reason Gigi was being so sweet too."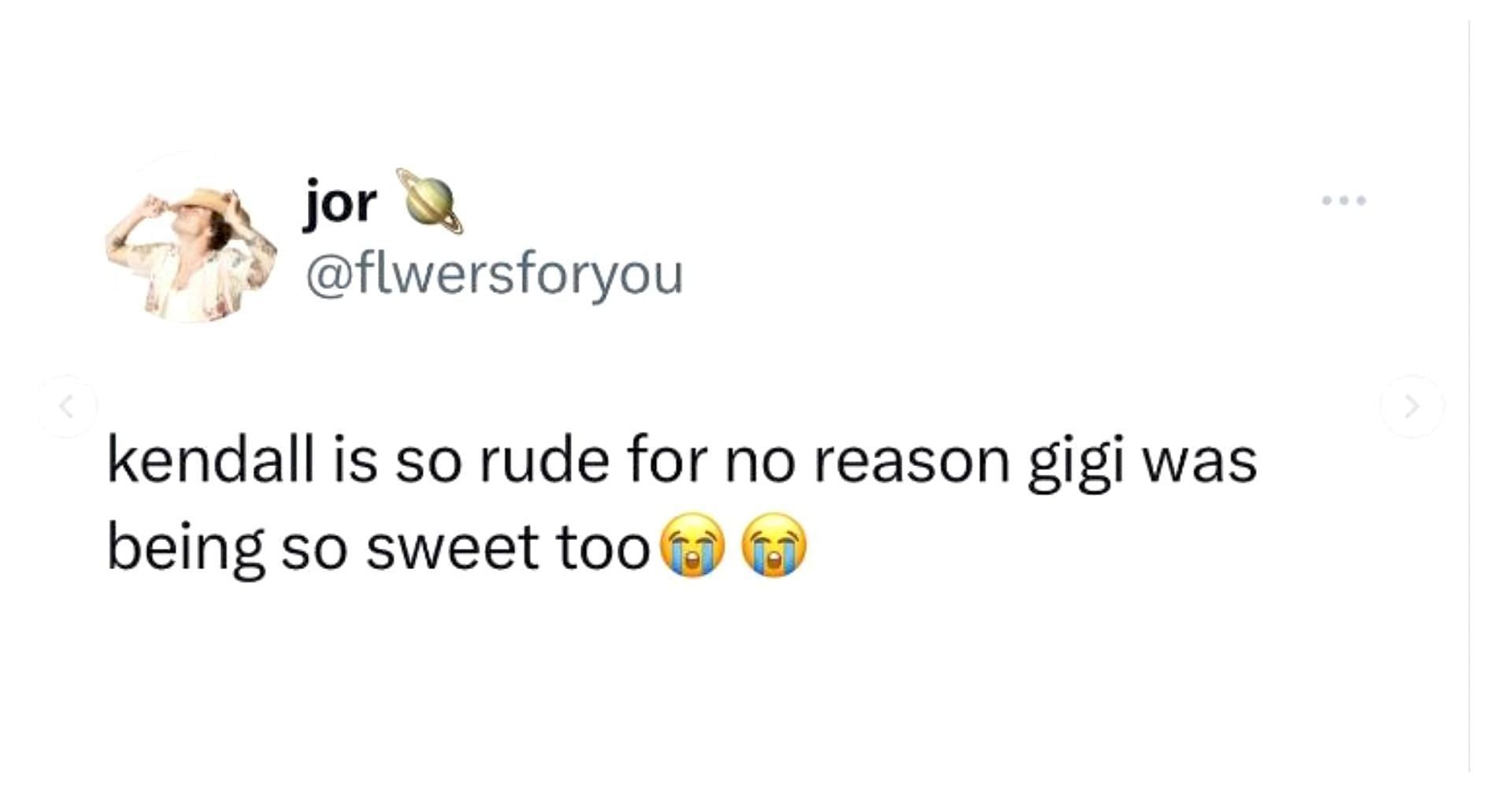 However, other social media users defended Jenner, saying that she may have given the expression as she was nervous or anxious.
Social media users react to Kendall Jenner's reaction to Gigi Hadid, video draws mixed reaction
As internet users came across a video of Kendall Jenner turning her back towards Gigi Hadid and making a face, they could not stop reacting to it. Some social media users defended Kendall and said that her expression was not for Gigi. However, some called Kendall rude for doing so.
It is also worth noting that Kendall and Gigi are close friends and have been spotted together several times. Their friendship began in 2010 when Kendall and Gigi met through the latter's sister Bella Hadid. Since then, they have done a number of runway shows together and have often been spotted hanging out together.
Recently, after the 2023 Oscars ceremony, both supermodels were in attendance at the Oscars afterparty. Kendall shared a clip of her sister Kylie and Gigi, and captioned the story as "hot," and tagged Kylie and Gigi.
---
Kendall Jenner and Gigi Hadid's Met Gala 2023 outfit was also much talked about
Other than the viral video of Kendall's reaction, supermodels Gigi Hadid and Kendall Jenner's Met Gala 2023 outfits were also the talk of the town.
The theme of the 2023 Met Gala honored the late Chanel designer Karl Lagerfeld. Paying an ode to him, Gigi was dressed in a custom Givenchy sheer black gown with long wavy blonde hair and LAGOS jewelry.
Kendall was seen in a black Marc Jacobs bodysuit that was covered in sequins. She also had a quilted sequined lining that trailed behind her like a cape with a slit. She paired her attire with lace-up platform boots and paired the look with a high ponytail.