Zubayra Tukhugov dropped out before the end of summer
Disclosure: This post contains affiliate links. If you buy or sign-up through one of those links, you won't pay a penny more but we'll get a small commission that helps me in running this blog. Read the Disclosure page.
Russian featherweight UFC Zubayra Tukhugov will not be able to enter the octagon until the second half of the summer. The fighter announced this in a post published on his official Instagram account.
"Yesterday I had knee surgery. Recovery will take 3-4 months. I hope to return by the end of the summer. Good luck to everyone and take care of yourself," wrote Zubayra Tukhugov.
Zubayra Tukhugov is teammate of undefeated UFC lightweight champion Khabib Nurmagomedov. In his last fight, which took place at the end of September, Zubayra lost to Hakeem Dawodu by split decision. The 29-year-old Russian has 19 victories, five defeats and one draw.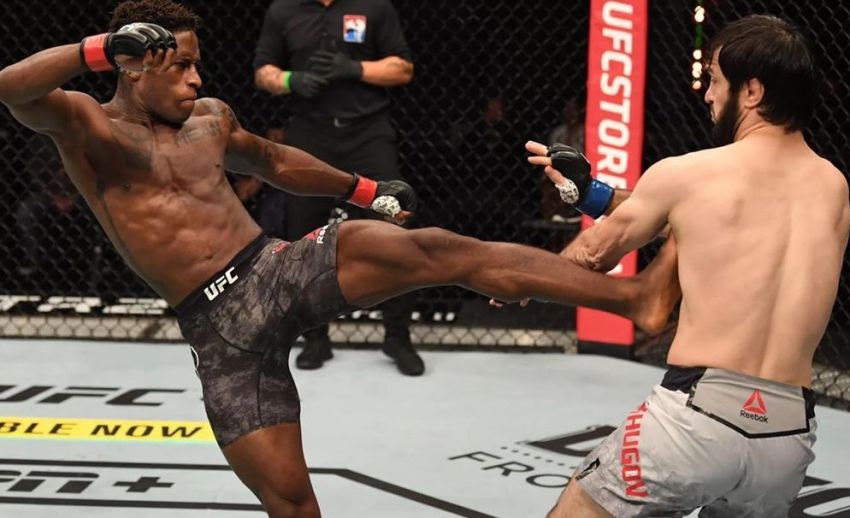 In Abu Dhabi, a duel took place on card of UFC 253, in which the Russian featherweight Zubayra Tukhugov shared the octagon with the Canadian of Nigerian origin Hakeem Dawodu, who was walking on a series of four victories.
Initially, Tukhugov worked as number two, waiting for the mistakes of his opponent, who actively attacked his front leg. But closer to the middle of the first round, Zubayra Tukhugov became more persistent, throwing more and more punches. Hakeem Dawodu counterattacked successfully, often finishing with a precise uppercut to the liver, which later became his most effective weapon.
In the second five-minute Tukhugov began to fight with Dawodu, pulling him to the ground. Once on the floor, Zubayra managed to take the opponent's back, but he did not succeed in achieving anything significant. Slowly but surely, Hakeem began to take the initiative in the fight due to better cardio and refined technique, while Tukhugov was openly looking for transfer opportunities.
It even went so far that Hakeem began to provoke a very tired Tukhugov, urging his opponent to hack to death in the center of the octagon, but he only continued to run from Hakeem Dawodu, without even trying to strike. Not getting what he wanted, the Canadian began to insult Tukhugov right in the face, but instead of Zubayra Tukhugov, the referee immediately turned to Hakeem Dawodu, asking the fighter to follow the speech inside the octagon.
Result: Hakeem Dawodu defeated Zubayra Tukhugov via split decision