The head of the Matchroom Boxing promotion company Eddie Hearn does not believe that the former world heavyweight champion Deontay Wilder will be able to radically change after losing in a rematch with the WBC title holder Tyson Fury. According to the promoter, the "Bronze Bomber" is psychologically broken after that fight.
So confident that Matchroom Boxing promoter Hearn is of Wilder (42-1-1, 41 KOs) losing, he's already pushing for Fury to defend his WBC heavyweight title against his mandatory challenger Dillian Whyte.
Hearn would like Fury to face Whyte (28-2, 19 KOs), and the winner of that contest faces Anthony Joshua in 2022. That would work well for Hearn, as he would have partial control over the two promotions.
Wilder has a new trainer and he's working diligently in changing things around so that he can defeat Fury (30-0-1, 21 KOs) when they fight on July 24th on pay-per-view at the T-Mobile Arena in Las Vegas, Nevada.
"A guy doesn't just grow ability overnight," said Eddie Hearn to the DAZN Boxing Show about Deontay's ability to beat Fury in their trilogy match.
Wilder's punching power could prove to be the equalizer in this fight because he's got a huge edge in that department, and he's also considerably faster than Fury.
There have been a lot of successful fighters in the past like Tommy Hearns that weren't as skilled as some of the fighters he fought, and he still beat them. If Wilder can land his right hand on Fury's chin early, he's got a chance of winning.
What we don't know is if Fury will choose to rough Wilder up like he did last time. If Fury is going to bend the rules a little with rabbit punching and holding & hitting, Wilder won't have much of a chance.
It would require the referee to step in and control the fight the way a police officer would control crime.
"[Wilder appears] exactly the same. Hitting pads with Malik Scott," said Hearn. "Movement, footwork, exactly the same. He's also, mentally, completely and utterly defeated."
You can't say much about a fighter based on them hitting the pads, so Hearn is reaching here to reinforce his original view/hope that Wilder loses.
Everyone looks the same when punching the pad, no matter what changes are being made to their fighting style. A punch is a punch. What we haven't seen from Wilder is him in action sparring, and moving around the ring.
Where Fury got the better of Wilder last time was when he could come forward to club him, he would back straight up against the ropes.
The 273-lb Fury, using his 43-lb weight advantage, would then come forward and wale on him. In the trilogy, Wilder could make things difficult for Fury if he moves laterally when he's coming forward.
Instead of going backward, Wilder would go sideways and stop suddenly to unleash a right hand.
That's what this writer has seen of Wilder's workouts with his coach Malik Scott, which is different from what I saw from him in the past.
When Wilder would work out with his former coach Mark Breland, he didn't use movement. It was all stationary mitt work
"If Tyson Fury wants another fight in between, let's do the right thing and give the fight to the mandatory challenger, which is Dillian Whyte," said a hopeful Hearn.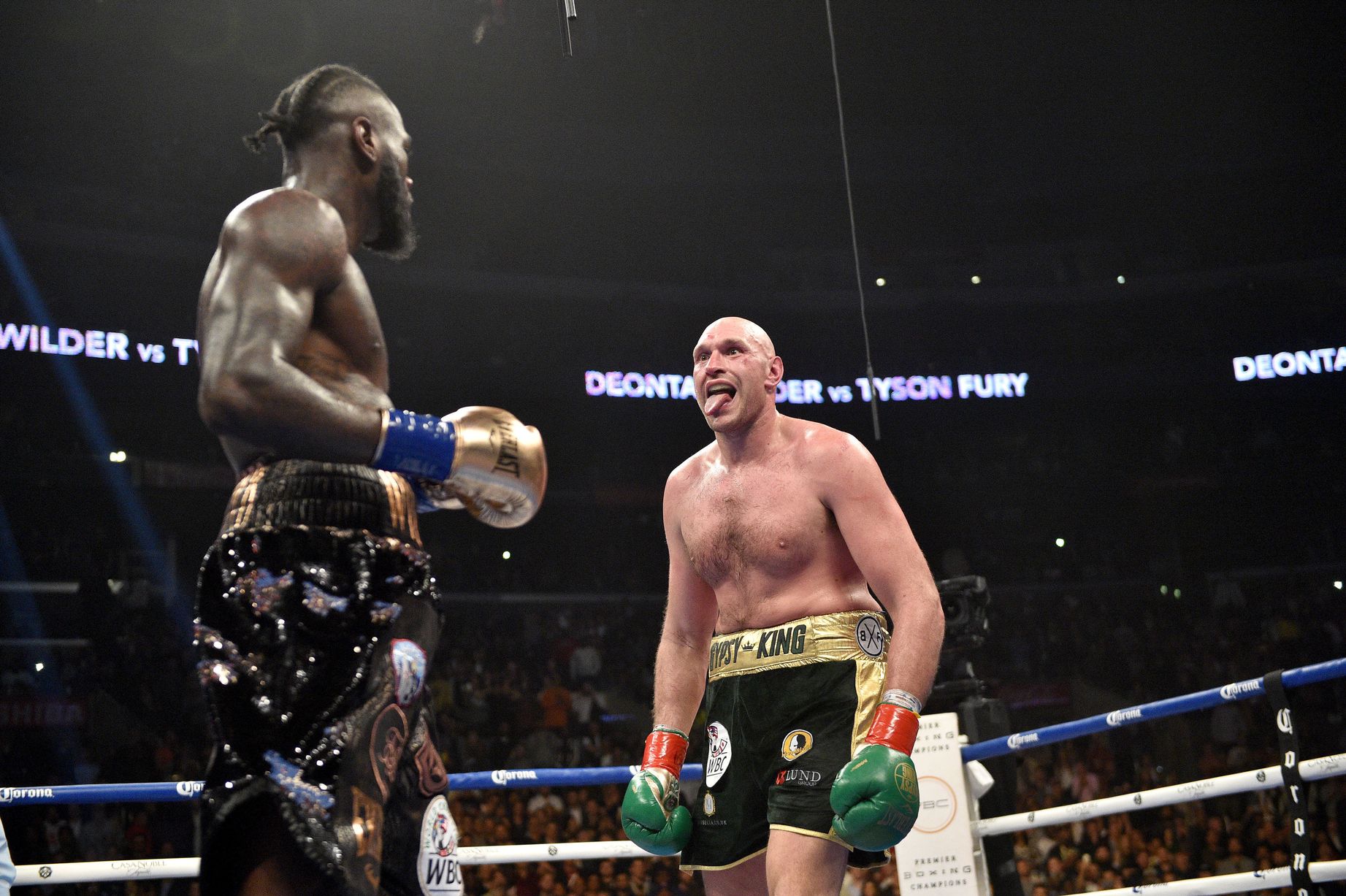 Fury, 32, would go for the idea of fighting Whyte first if the money was worth it for him. If you do the math, Fury can probably get $10-15 million for a fight with Whyte. In contract, Fury's payday against Joshua would be in the $100 million range.
So you have to ask yourself would Fury be willing to take the smaller money to make a mandatory defense against Whyte over the much bigger payday against Joshua.
Keep in mind, Fury said recently he doesn't care about the belts, and he wouldn't care if they both vacated them.
So if Hearn thinks Fury will feel obligated to make his mandatory defense against Whyte first before fighting Joshua, he's deluded.Fury would vacate the WBC title in a second if they tried to force him to defend against Whyte.
---