Madness by Don Fry and Yoshihiro Takayama struck 93 blows in 30 seconds.
At the beginning of the noughties, a legendary duel took place in Japan: the fighters struck 93 blows in 30 seconds. Now one of them is paralyzed, and the second-barely got out of a coma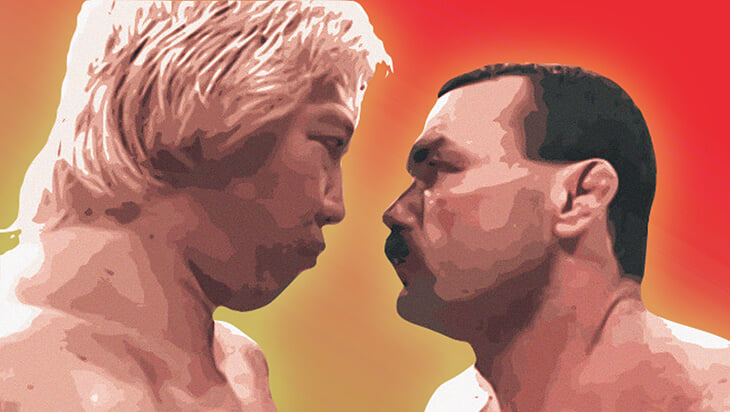 MMA tournaments in the nineties and noughties were not like today: this is a bloody spectacle, where fighters could fight without gloves, rounds lasted more than five minutes, and kicks to the head of a lying opponent-the norm.
Madness by Don Fry and Yoshihiro Takayama.
The most brutal fight of that time is considered by many to be the fight between Don Fry and Yoshihiro Takayama in the Japanese Pride organization in 2002. The star of the early UFC and the Japanese wrestler rolled up a historic chopping block, which is still included in the tops of the most memorable moments in the history of MMA.
We decided to remember the legendary fight, as well as the tragic path of the fighters after their careers: Takayama is paralyzed and chained to a hospital bed, and Fry spent two months in a coma.
Don Fry was a UFC star, but went to Japanese wrestling for money. At 35, he returned to fighting to close out the only defeat of his career
Don Fry was an ordinary firefighter of thirty years, when in 1996 he changed his fate: he performed at the tournament of the still young UFC promotion and in just a year became a star. From February to December, he had ten fights, where he defeated the legendary Gary Goodridge and Tank Abbott, winning the grand Prix of UFC 8 and Ultimate Ultimate 96.
"I used to work as a firefighter, and in my spare time I shoed horses. When I was offered to participate in the fights, I was in the midst of a difficult divorce process. I thought about it and decided that I would make some money, pay the bills, and then go back to the firehouse. But my fighting career took me so long that I had to quit, " Don recalls.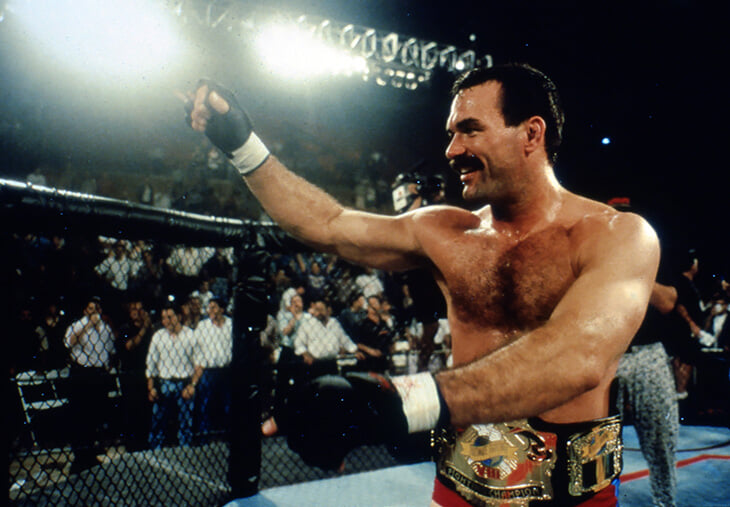 Don Fry was a good wrestler and a black belt in judo, but he was also a skilled boxer. He easily ran over opponents (in the opening, Don knocked out the poor guy in 8 seconds) and lost only to the top Mark Coleman. But at the peak of his popularity, Fry quit MMA and went to Japanese wrestling – there he was offered good money. For the injury-plagued Fry, this was the perfect option: the brutal American with a bushy mustache quickly fell in love with the Japanese. But the thirst for real battle did not let go of Don.
In the early noughties, the UFC lost ground, and the main MMA promotion in the world was the Japanese Pride. The Japanese knew a lot about the show: they gathered top fighters, did not bother with doping control and regularly arranged fights of freaks. And when Mark Coleman came to the promotion, Fry first thought about returning to fighting:
"Losing to Coleman reminded me of my first wife – I just couldn't live with it. I was making a lot of money in Japan, but I was still thinking about the rematch. Then Mark started losing in the UFC, but I didn't feel any better. I thought Mark would follow my example and quit MMA, but he came to Japan and won the Pride 2000 Grand Prix. It was very inspiring and I decided to come back."
Fry had to fight twice to get to the old offender: in 2001, he first defeated the scandalous Gilbert Evel (a fighter who bit opponents, and Don poked his fingers in the eyes), and the next year he defeated another UFC legend – Ken Shamrock by a split decision.
"After Shamrock, the only thing I wanted to achieve in MMA was to beat Coleman. I was no longer the same fighter who fought in the UFC, so I wanted to fight Mark before my injuries worsened, " recalls Don.
The fight with Coleman was scheduled for June 2002, and Fry was seriously preparing for the tournament for the first time in his career. He invested $ 30,000 in the camp, but right before the fight, Coleman withdrew due to an injury. The reason was serious – in training, Kevin Randleman (another UFC legend – died in 2016) almost broke Mark's neck when throwing. The replacement was a two-meter Japanese wrestler Yoshihiro Takayama – by that time he had held two fights in MMA, and lost both.
The fight made history: Fry and Takayama staged a fiery stardown, delivered 93 blows in 30 seconds and led the restrained Japanese to delight
By the time of the fight with Takayama, Fry was already 36, and he suffered from permanent injuries. Don could feel his punches weakening and his speed plummeting. But for the fight with Takayama, the veteran came out as charged as possible.
"I spent a lot of money and overcame myself and my injuries for the fight with Coleman, which I never got. I came to Japan to vent all my anger in a fight," admitted Don Fry.
Yoshihiro Takayama was a famous wrestler and a real giant: under two meters tall and weighing 115 kg. Against his background, even the textured Fry looked like a baby (the Japanese was 10 centimeters taller and 20 kg heavier). Takayama wore his hair long, which hid a congenital defect – an undeveloped left ear. Because of this, young Yoshihiro was mercilessly teased at school, and the complex remained for life.
"I grew my hair long in high school to cover my ears. But it didn't help, they started teasing me about my girly hair. In high school, I wanted to be strong and signed up for rugby, " said the Yoshihiro Takayama.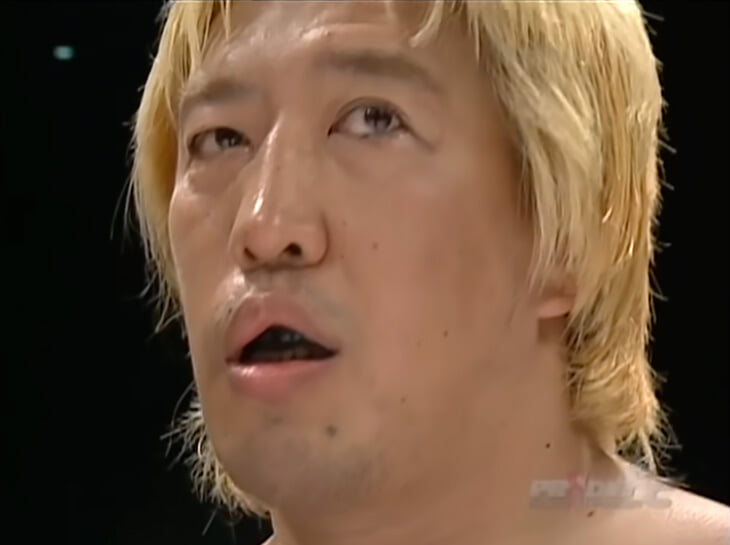 And although Takayama did not have a fighting school (he often used techniques from wrestling), the Japanese was very strong physically. In addition, he did not want to fail for the third time – in front of his fans and family.
Sterdown before the fight turned out to be fiery-the fighters withered each other with a look. And with the gong, the madness began: Fry and Takayama scored on the gameplay, hooked their hands on the backs of their heads and began to throw terrible bombs-right into each other's open faces.
"I've always wanted to see what the other guy has. Whether he is stronger than me, whether he can withstand my blow, and I – his. I did it with Tank Abbott when my corner begged me not to stand in front of him. But no one could talk me out of fighting if I got it into my head. Nothing that my opponent could have done would have forced me to retreat, " Fry said.
In the exchanges, Takayama and Fry forgot about the defense – they tested each other for strength. The fighters threw 93 punches in 30 seconds, which brought the local audience into ecstasy.
"In Japan, fans are so respectful and reserved that you can usually hear a rat urinating on cotton. So when I heard them go crazy, I knew we had a special fight," Fry recalled.
The fighters quickly tired, but if someone thinks that the blows were weak-look at Takayama's face. After the first exchange, it seemed that the Japanese had stuck his head in a beehive – old Fry still had dynamite in his fists, but he could not knock out his opponent.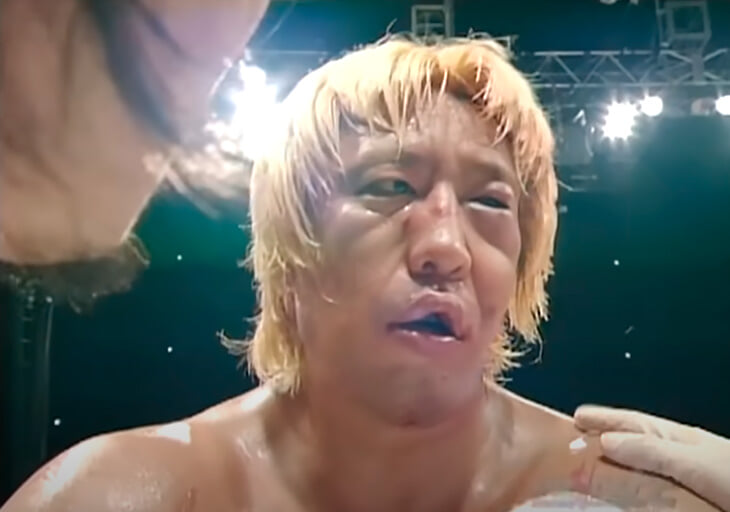 "I used to hit Takayama on the chin with twos, but my strength wasn't the same as in the UFC. I finally lost my back and right shoulder in Japan and couldn't put all the weight into the punches," Fry admitted.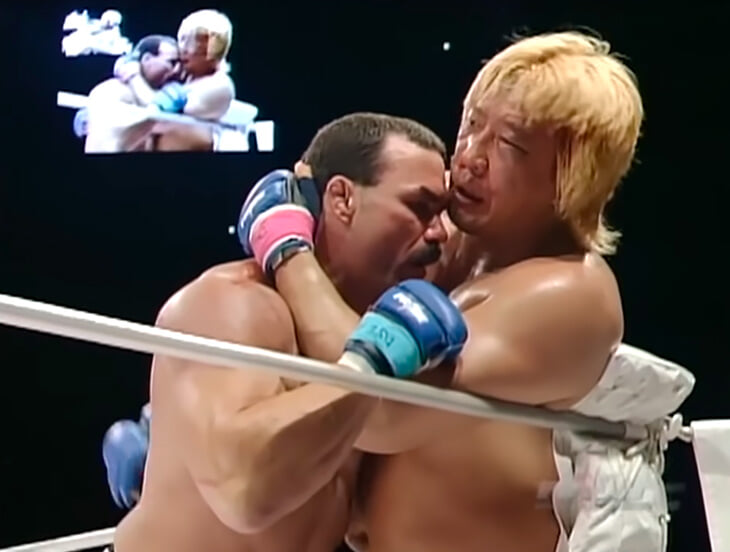 This fight is not at all similar to the current fights in MMA: there was no verified gameplay or work on the result. The first round in Pride lasted 10 minutes and for many turned into survival. So it turned out this time: after the crushing exchanges, Fry and Takayama rested in the clinch, but only to arrange the chopping again.
And although Takayama launched a terrible knee at Fry's head, it was the American who came out of the fight victorious. When Yoshihiro slowed down, Fry read his takedown attempt and tripped him. Don was on top of the exhausted opponent and rained down a hail of blows on him. At the sixth minute of the first round, the referee stopped the fight, which was later recognized as the fight of the year in Pride.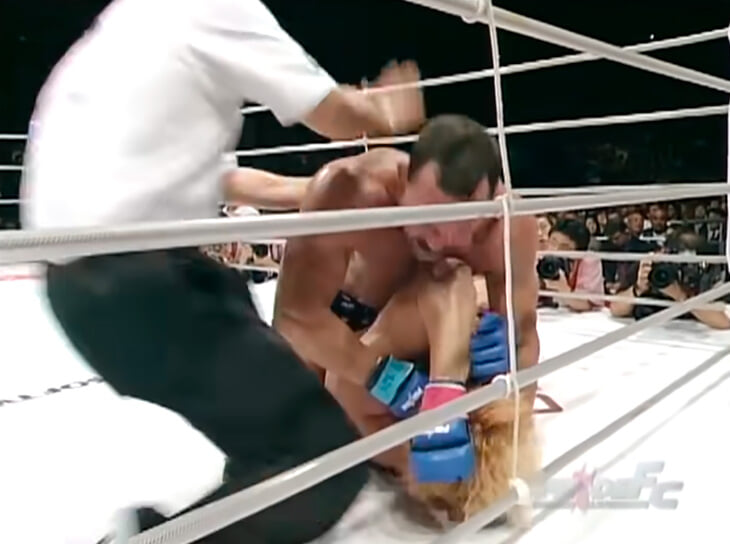 Fry later admitted that Takayama was monstrously strong in that fight. And his knee strikes almost broke the American:
"Takayama was so damn big and so much stronger than me. His knees made me want to vomit my guts out. His legs looked like two lightweights, and his strength was terrible. I could feel his knee strikes even through the press – with all my organs."
The fight between Fry and Takayama became so popular that it was even reshot in the movies. In 2005, the film Nagurimono: Love and Kill was released in Japan, where Don and Yoshihiro recreated the same crazy exchange.
After the fight with Takayama, Fry fought until the age of 46. He regrets that he picked up defeats, and recently-experienced a broken spine, coma and depression
The further history of both fighters is sad: Fry, despite injuries and age, continued to perform, which pretty much spoiled the record. In the subsequent career, he won only 5 victories and suffered 7 defeats. He still faced Mark Coleman in 2003, but lost again (first time by TKO, this time by decision).
Fry played until the age of 46 and finished with a 20-9 record. At that time, he only thought about money, but in retirement, a spoiled legacy does not give him peace of mind:
"At the end of my career, I lost to people who should never have walked into a bar and told a story about how they beat Don Frye. I met the last dawn in the fight with Takayama – I left all of myself in that fight."
As for Takayama, after the fight with Fry, he became a real star in Japan. Yoshihiro regretted that his defeat had brought him such glory, but he felt that he had shown himself to be a warrior: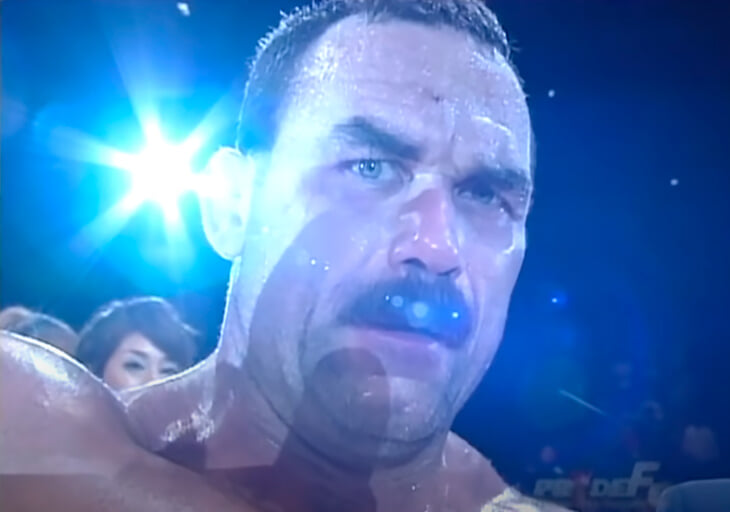 "The defeat is disappointing, but my family and friends are proud of the way I fought. It was an honor to share the ring with Don, my brother forever."
Takayama and Fry became friends, and both faced tragedy. In 2013, Fry underwent spinal surgery, connecting two vertebrae with a rod. But three years later, it turned out that the rod broke – a bacterial infection began. An emergency operation was required, and Fry was put into an artificial coma, in which he lay for more than two months.
Fortunately, Fry pulled through, and the UFC (despite the conflict between Don and Dayna White) supported the veteran, in 2016, including him in the Hall of Fame. Fry was depressed due to health problems and a divorce – and the UFC decision was his salvation.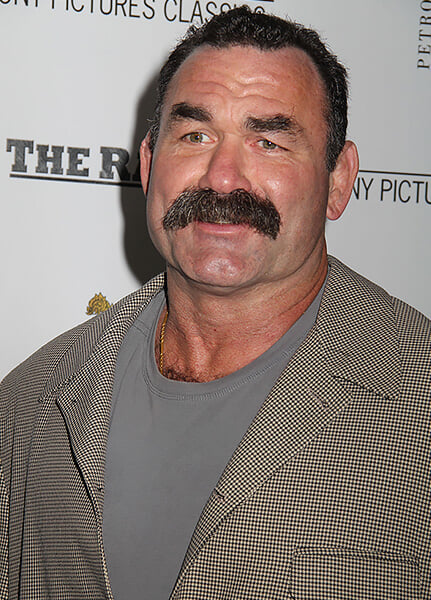 "We sit with friends, smoke cigars, drink beer and watch the broadcast of UFC 199. Then they start announcing the inclusion of Bob Meyrowitz and Nogueira in the Hall of Fame, and then they say: "And the third one will be…" and they show a picture of me and Dan Severn going out to fight. I thought about it: "Geez, Dan Severn's already been in the Hall of Fame for a long time." But then they show another picture of me, without Dan, and then another one. And only then it dawned on me: "Holy shit, they're talking about me!
I was invited back to the UFC event, and the timing was perfect. Now I need it more than ever, my life has come to a black streak. My favorite horse died recently, and then my wife betrayed me and took the kids with her, so I don't really have anything left. For me, such a chance is like a breath of fresh air," Fry shared his joy.
Takayama became a wrestling star after his fight with Fry. But in 2017, he held an unsuccessful reception and remained permanently paralyzed
If Fry struggles with depression and suffers from constant problems with the spine, then fate was much more merciless for Takayama. Back in 2004, he suffered a stroke, but returned to professional wrestling. And in 2017, he went to a fight that changed his life forever.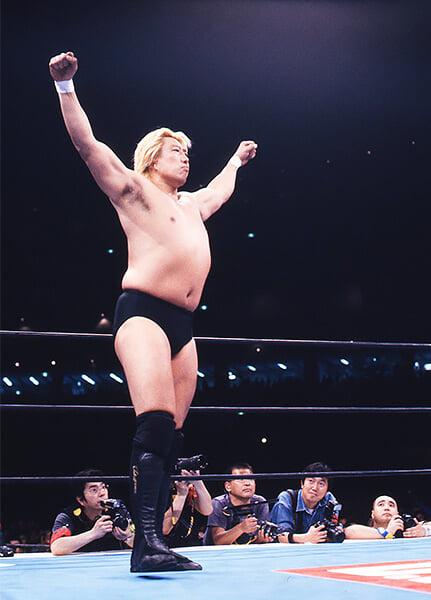 50-year-old Takayama tried to hold the most difficult reception, but overestimated his strength. He landed with his opponent on his neck and immediately realized what had happened. He couldn't move or even move his eyes – the referee had awarded Takayama a defeat, but he still didn't get up.
"At that moment in the ring, I couldn't even look down. I couldn't move my head and realized what had happened. To be honest, I thought it would be better to die in the ring – like in the last scene of the movie Mickey Rourke "Wrestler", – admitted the Japanese.
Doctors diagnosed the fighter with multiple fractures of the spine and damage to the cervical spine. Takayama underwent surgery, during which he almost died – his heart stopped. When Fry learned about the injury of a former rival, for whose life the doctors were fighting, he addressed him with a touching speech:
"Takayama-san, God gave me the greatest opponent you could ever want. You have fought the greatest battle the world has ever seen. You are the reason why our fight broke the ratings of the World Cup on TV. You are a real samurai. You are the person I am always asked about when I meet you. You are a warrior.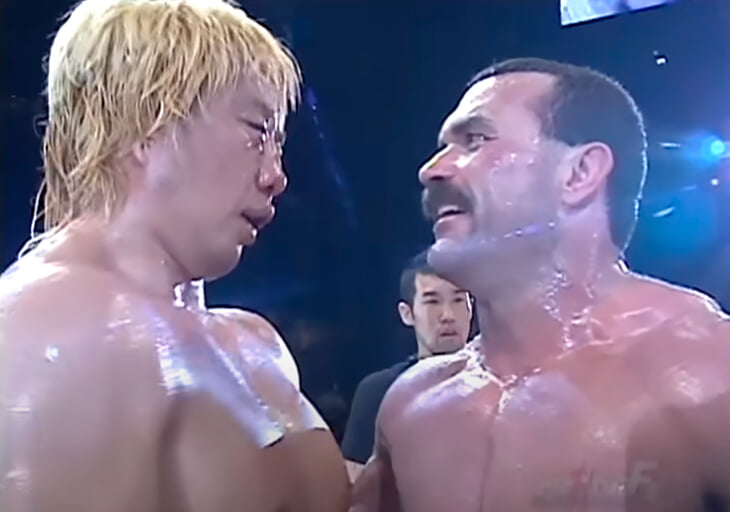 Takayama-san, if you are done with this life, this adventure, and want to move on, good luck. But we are not ready to lose you and let you go. Therefore, we will always remember you. But if you must go, sir, God be with you."
Takayama survived, but was left paralyzed: he is chained to a hospital bed and is breathing through a tube in his throat. A special device helps Yoshihiro to speak – because of this, the Japanese has a metallic voice.
Takayama has no chance of recovery – he will spend the rest of his life paralyzed. It's hard for him to even express emotions: he barely winks and smiles. In 2019, Fry again found himself in a hospital bed – problems with his spine do not leave him. But he found the strength to go to Japan and visit Takayama:
"My health sucks, so does Takayama – God bless him. But then we were the kings of the universe. Our fight will live forever, " Fry said.
Takayama's body is still, but his mind lives on. He remembers the past glory, victories and beautiful life. With the help of his mouth, Yoshihiro draws pictures from the past – for example, a striped Chevrolet Malibu, which he bought with the royalties for the fights.
"Now I draw without the help of my hands – only with my lips and brush. The goal for the future is to master the computer and tablet, " Takayama plans.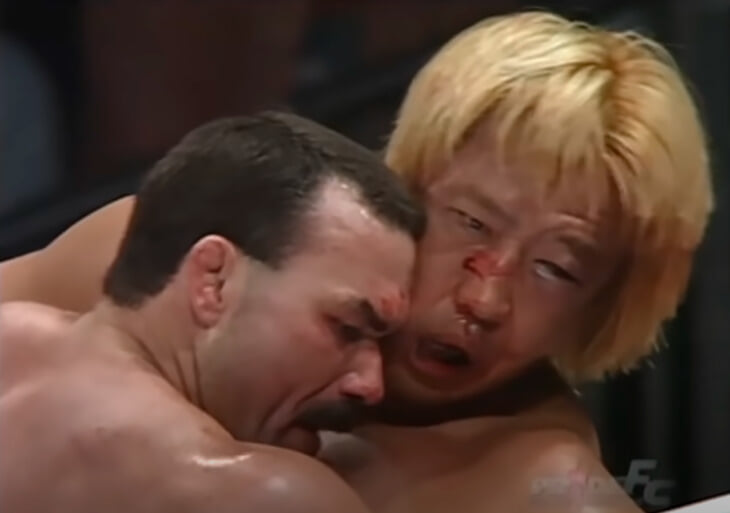 Many fighters of early MMA were broken in retirement: the former Pride champion Vanderlei Silva suffers from the received concussions and wants to bequeath a brain for research, and the UFC legend Gary Goodridge-is close to dementia and thinks of suicide. The fighters of that time went through the most brutal sparring and uncompromising fights, where they left not only their soul, but also their health. And the story of Don Fry and Yoshihiro Takayama is just one of many pages in the bloody history of sports.
---