Tim Tszyu vs. Bowen Morgan. Boxing night at Bankwest Stadium in Parramatta, Australia. The contender for the title in the first middleweight (up to 69.9 kg), 26-year-old Australian Tim Tszyu (16-0-0, 12 KO) faced off in a 10-round bout with 31-year-old New Zealander Bowen Morgan (21-1-0, 11 KO).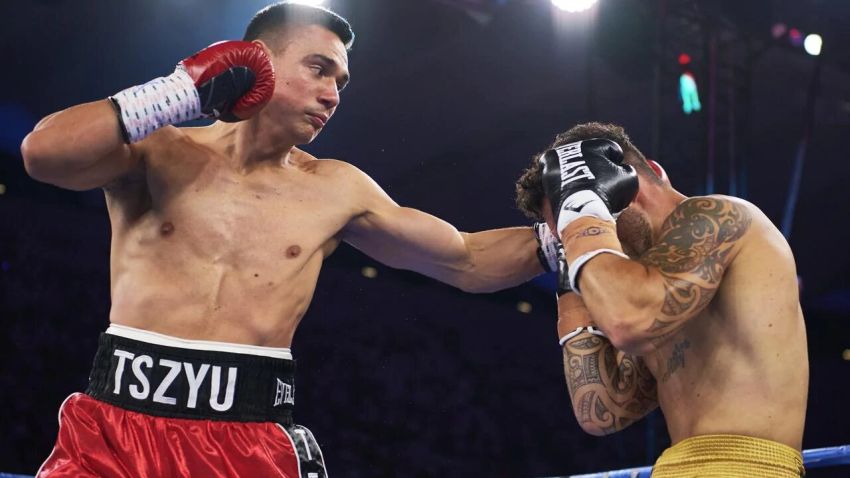 Here is the video Tim Tszyu vs. Bowen Morgan at Bankwest Stadium, Australia
There was no intelligence. Tszyu from the start took the center of the ring, stood firmly on his feet and began to stick his front hand into an opponent who was unsuccessfully trying to get closer, who for some reason did not even try to work out on his feet.
Morgan did not jab at all, for which he was immediately punished by the favorite, who, after several sighting attacks, invested in an uppercut and hit. Morgan lost his bearings, and after a short bombardment, he found himself on the floor. Tszyu did not delay and finished the fight with a single right side kick.
At the moment, 26-year-old boxer Tim Tszyu has not had a single defeat in his professional career, and the victory over Morgan at the same time became the 17th victory in the career of a promising boxer.
Konstantin Tszyu, father about son.
"Today I talked to my son before the fight. He has certain strategies and tactics for the battle, it's hard for me to explain tactical directions, various details. He has his own coach, his own team that has been with me for many, many years. These are people whom I trust in everything one hundred percent. His trainer also works with him – this is my sister's husband, my father, the team manager who has been working with me since 1994. I would like to be in Australia with my son, but due to quarantine I could not fly there. I want to bring his fight here to Russia next year, "said Tszyu Sr. in a live broadcast of the" All for the Match! " on the Russian TV channel "Match TV".
More news from the world of mma and boxing here. Latest news and videos. Click here
Subscribe our blog below and to our Facebook group UFC, MMA, Boxing, Football, NHL!!! Sports news!!!
Stay up to date with events and new news www.sportsandworld.com