Tony Ferguson posted a Heartwarming Message as His baby turns 1 month old.
UFC fighter

Tony Ferguson

was blessed with a baby boy earlier this year, and now as his son turns 1-month-old, Ferguson took to Social media to share news of the same.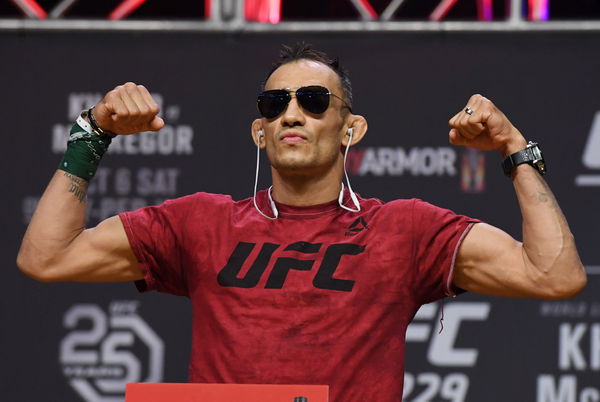 Tony 'El Cucuy' Ferguson wrote, "Angel, Anthony, Happy 1 Month My Blue-Eyed Baby Boy, Daddy Love You Mijo, Your Conditioning Is Great. We Love Spending Time With You & Armand Anthony. You Boys Make Us Smile Consistently, Hometeam, Good Work Baby girl."
The birth of Ferguson's son came as very good news for him and his family. However, on the professional front, Ferguson has been experiencing setbacks one after another. Tony Ferguson has not won an MMA fight since June 2019. 'El Cucuy' has lost 3 consecutive fights since then losing against Justin Gaethje, Charles Oliveira, and Beneil Dariush.
Therefore, Ferguson was ecstatic when he shared the news of his son's birth as 'El Cucuy' took to Instagram to share his feelings. He wrote, "Snap Downs & Dreams Today My Wife Gave Birth To Another Handsome Hispanic Son. One Day It Will Be Snap Downs & Dreams For Him & His Brother To Run. Angel Anthony, My Son, I Hope You Give Your Best At Whatever You Do & Hope One Day All That Hard Work Makes Those Dreams Come True."
"I Promise To Be The Best Dad I Can Be & Remember You Can Count On Me- Dad. We Love You Boys, Familia Ferguson. Great Fight Camp Baby girl."
What next for Tony Ferguson?
Tony Ferguson lost his third consecutive fight at UFC 262 against Beneil Dariush. After this loss, many people have started speculating as to what is next for 'El Cucuy'. Some people believe that Ferguson should retire as he does not have it in him to compete at the top level anymore.
However, some still think Ferguson is a top-level fighter and can get back to winning ways. Ferguson himself put all this speculation to rest as he talked about not planning on retiring soon. Therefore, we can expect to see Tony Ferguson back in the Octagon soon.