Former UFC lightweight champion Weili Zhang said she emotionally reacted to the referee's decision to stop her fight with Rose Namajunas at UFC 261 in the first round because she considered it unfair to herself.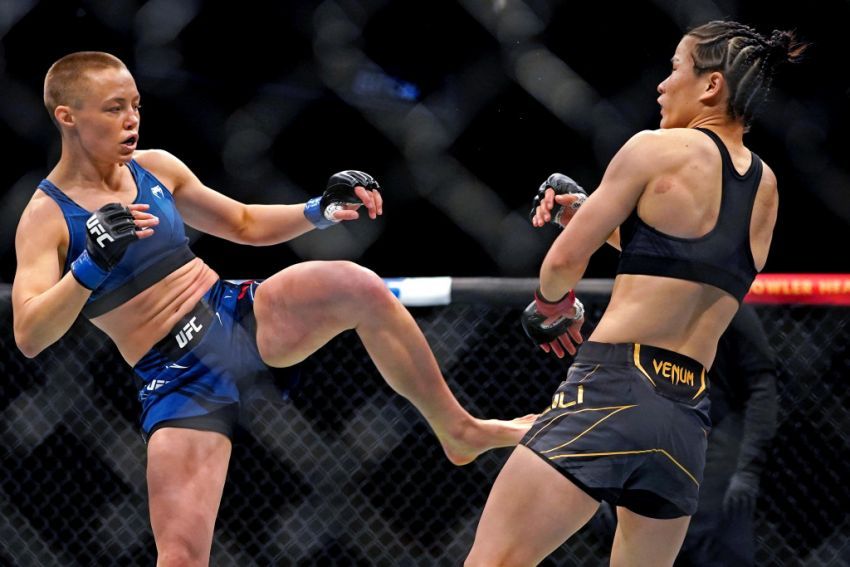 ---
With the fight ending in just 1:18 seconds into the first round, many fans were surprised to see the fight not turn into a knock-down, drag-out war. The arena was packed with combat-carnage-thirsty fans, and at times they vehemently booed the former champion that represented China on that fateful night. While Namajunas has not confirmed she will give Weili Zhang an immediate rematch, she has said that they will talk about it.
After some time spent at home and a chance to ponder the stoppage and the events that preceded it, the former champ Weili Zhang explains initially why she did not accept the results in real-time, as well as the commitment and relentless training she put her body through in preparation for what ended up being a very short fight.
"Regarding the stoppage, when the referee pulled me away, I really couldn't accept the fact," Weili said during a live stream recently. "I was not reconciled at all. I worked hard for a long time, and I trained very hard every day. And I brought a big team of mine to America, yet the match ended this early. Deep inside, I couldn't accept this fact."
The fight-ending sequence was a thing of beauty and Weili Zhang can attest to the tactical awareness Rose Namajunas demonstrated in the heat of the moment. Faking a low kick, and swiftly connecting with Zhang's chin made the shot unpredictable. Zhang expressed frustration with how the results unfolded.
"It's because I put in so much effort to prepare for this fight, and it was very tough for me every day. But because of one misjudgment that I made, I thought she was doing a low-kick, and I had a defense for the low kick, but she made a high-kick instead. And it was very sudden, very quick. And it's not like we went for three rounds and she overpowered me, or even after one round if she overpowered me and I lost, then I would admit that my skills weren't as good. But this one is really.. you know. I didn't have a chance to show what I've got. So I felt wronged."
Even so, many believe the stoppage to be justified but the champion admits that at that moment she could not accept the fact that she lost, and on top of that, got finished with strikes. Since the knockout happened in a sudden and abrupt manner, Zhang feels she did not get a fair shake in showing off all of what she learned during her training camp. In essence, Zhang believes in order to determine the best fighter that a longer fight is necessary.