The UFC returns to Houston for the third time in nine months, and a potentially epic middleweight title fight sits atop the bill.
While the championship matchup between reigning titleholder Israel Adesanya and Robert Whittaker is deservedly getting the lion's share of attention for Saturday's UFC 271, it's hardly the only intriguing storyline that will unfold at Toyota Center.
Ahead of this weekend's pay-per-view event, here are the main reasons to watch UFC 271.
Is a refreshed 'Reaper' enough to unseat 'The Last Stylebender'?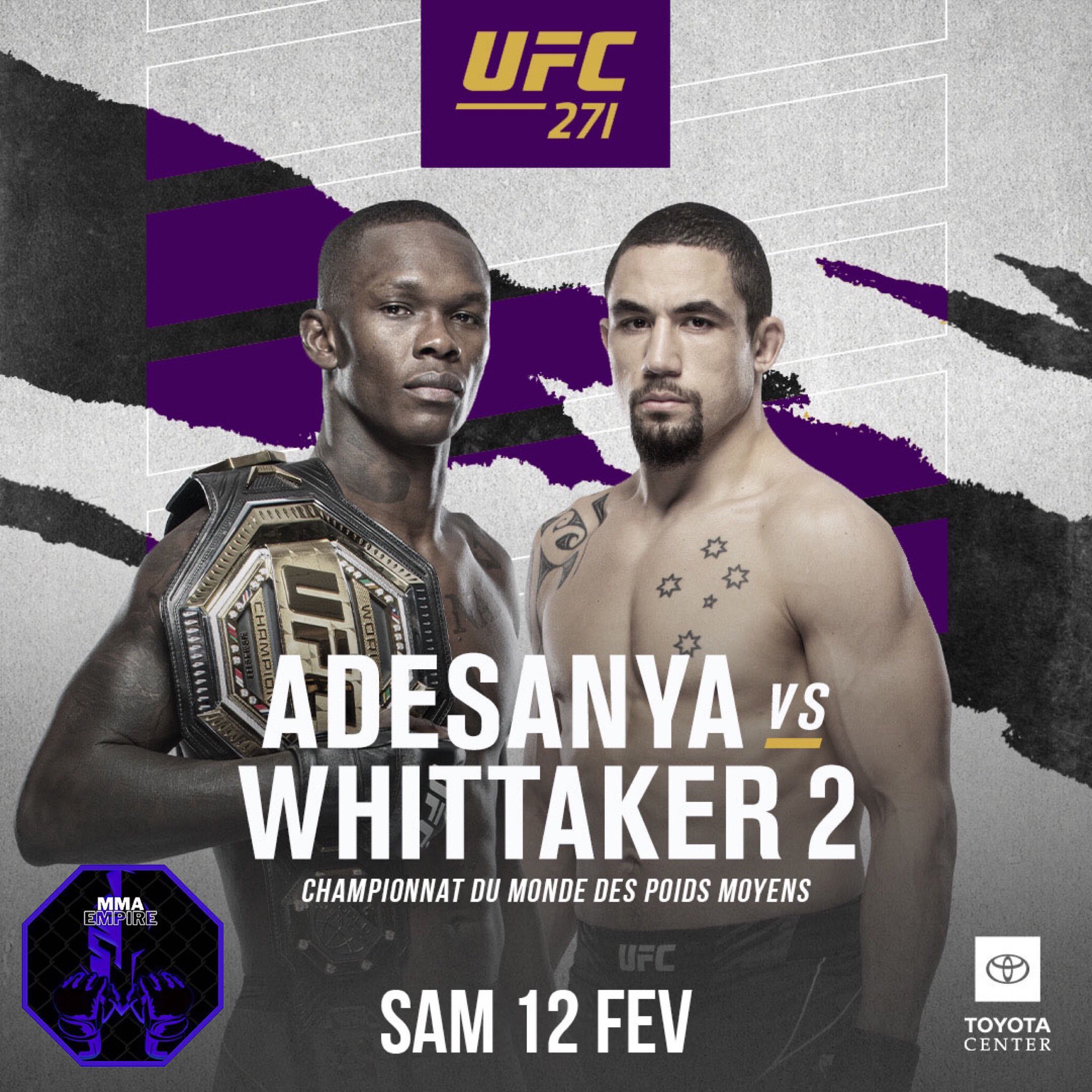 Israel Adesanya (21-1 MMA, 10-1 UFC) and Robert Whittaker (23-5 MMA, 14-3 UFC) first met in 2019, filling Melbourne's Marvel Stadium for a much-anticipated encounter between two of the greatest fighters in the history of the Oceania region. On paper, it seemed to be a competitive matchup, but in the cage, the result was stunningly one-sided, and Adesanya was crowned undisputed UFC middleweight champion.
Rematches are a funny thing, especially when the first meeting offered such a clear result. But the mental strain that was on Whittaker at the time had become painfully clear, and in the time since, he's openly discussed just how bad things were behind the scenes. Wholesale changes to his approach have resulted in three impressive wins over the likes of Kelvin Gastelum, Jared Cannonier and Darren Till, and now "The Reaper" gets a chance at reclaiming gold.
The riddle of Adesanya hasn't gotten any easier in the two-and-a-half years since their first meeting. Yes, there was a loss to light heavyweight champion Jan Blachowicz along the way, but the massive size difference between Blachowicz and Whittaker, not to mention the larger cage that will be used at UFC 273 vs. the smaller one utilized in that UFC 259 clash, means that just following a blueprint to success isn't really the answer.
If anyone has what it takes to unseat Adesanya, it is most certainly Whittaker, which is precisely why the first meeting was such an event. Was that first meeting truly just an off night for Whittaker, or is Adesanya simply that much better? We're about to find out.
Who falls first: Derrick Lewis or Tai Tuivasa?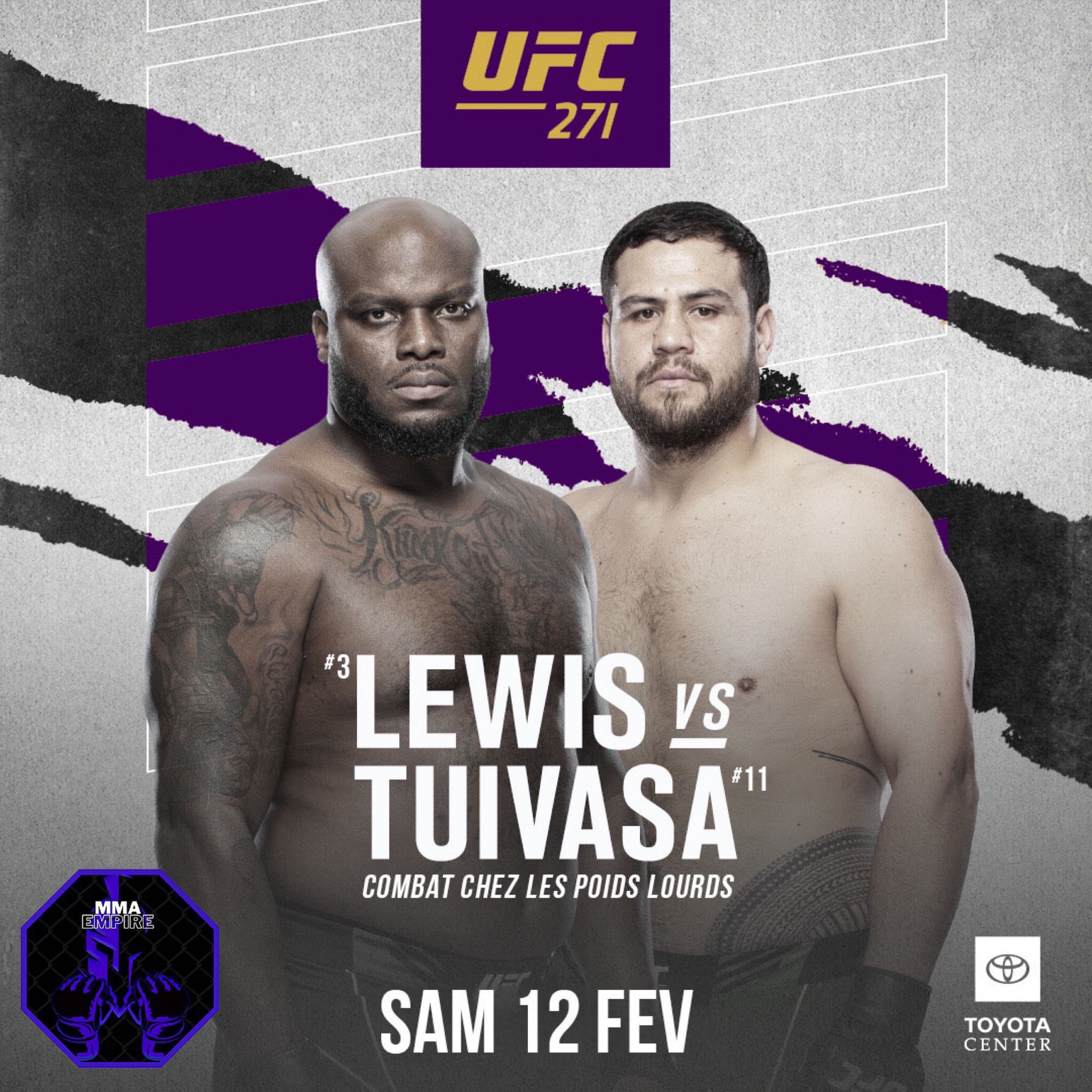 The great thing about a fight like Derrick Lewis (26-8 MMA, 17-6 UFC) and Tai Tuivasa (14-3 MMA, 7-3 UFC) is that everyone knows exactly how this fight is going to unfold, but how it ends all boils down to one simple question: Who lands first?
Personally, I love watching grappling at its highest level, with subtle positional changes and weight shifts quickly turning a bad position into one of dominance. But there's not a combat sports fan on the planet that doesn't find some fun in two heavy-handed heavyweights just teeing off until one of them drops to the canvas.
In 40 combined career victories between them, Lewis and Tuivasa have claimed 34 of those by knockout. It's a safe bet one more is going to be added to the tally.
Will it be Houston's own Lewis bringing joy to a community in which he is so beloved? Or will it be the care-free Australian who admits he's best known for his penchant of chugging beer from a shoe? You can bet there will be a buzz in the air until we know the answer.
A clear-cut No. 1 contender fight at middleweight?
This past weekend, Sean Strickland had a real chance to spoil the hopes of Derek Brunson and Jared Cannonier and stake his claim as the No. 1 contender in the UFC's middleweight division. However, a lackluster decision win over Jack Hermansson means that position is likely instead to be filled by the winner of Derek Brunson (23-7 MMA, 14-5 UFC) vs. Jared Cannonier (14-5 MMA, 7-5 UFC).
Brunson has quietly put together a rather impressive five-fight winning streak dating back to 2019, and while it seems he's often viewed as simply a gatekeeper for the division, another win would make it difficult to deny his position.
Meanwhile, Cannonier is 4-1 since dropping to 185 pounds, with the only loss in that span coming to Robert Whittaker. "The Killa Gorilla" also has the advantage of being a fresh matchup should Israel Adesanya prove victorious in the night's main event, with "The Last Stylebender" currently in a run of rematches.
Schedules matter, too, and nothing is ever guaranteed, but this seems like a clear-cut No. 1 contender matchup at 185 pounds.
Andrei Arlovski, living legend
Absolutely no disrespect intended to Jared Vanderaa (12-6 MMA, 1-2 UFC), but even he understands he's the B-side in this featured prelim bout with Andrei Arlovski (32-20 MMA, 21-14 UFC), admitting he was "still fan-girling inside" when talking about the matchup at Wednesday's media day.
It's absolutely insane to think he debuted for the promotion more than 21 years ago, and it's been a hell of a journey for him along the way, from the highs of a UFC title to the lows of his Fedor Emelianenko loss and a rather forgettable Strikeforce run.
But behind the scenes, you'll struggle to find a figure in the sport more universally loved than Arlovski. He's a loving husband and father, a great teammate to his peers at American Top Team and also a notorious prankster.
Arlovski doesn't plan on calling it quits anytime soon, but even he admits he can't fight forever. For now, he represents a connection to a different era in the sport, back when casual fans would ask "about that guy with the fangs" in reference to his signature mouthpiece.
Arlovski is a future UFC Hall of Famer and a true legend of the sport. For me, it's special to see him make that walk each and every time.
UFC 271: Pre-Fight Press Conference