The Rise And future Fall Of Deontay Wilder
35-year-old American heavyweight, Deontay the Bronze Bomber Wilder (44-1-1-41 KOs) has had a vivid career as of date.
From the highs of becoming world champion in 2015 to the dramatic defeat at the hands of Tyson the Gypsy King Fury in 2019. And the subsequential aftermath that followed with accusations, allegations, and sabotage. In this article, I will be covering Wilders story and what went so wrong!
Deontay Wilder originally aspired to play American football or basketball for his hometown Alabama Crimson Tide. But in 2005, at the age of 19, the birth of Deontay's first daughter, who was diagnosed with Spina Bifida during the pregnancy, put an end to his college sporting career.
With exorbitant medical bills looming and working three jobs at IHOP, Red Lobster, and driving a beer truck. Wilder decided to make a career out of boxing to help support his family, and more importantly, his daughter.
"I was just a guy in college, was on the basketball team," he tells Sun Online. "I'd do it all over if I had to for my daughter. She's the one that got me into boxing."In January of 2015, Deontay Wilder had his shot at becoming a world champion against Canadian WBC champion Bermane Stiverne.
This would be the first time Deontay went 12 rounds against a boxer who many at the time did not consider a true or worthy champion due to the nature of how he acquired the WBC belt. But vacant belt or not, Bermane was a World Champion nonetheless. What was surprising during this fight is how Deontay couldn't knock out a slow, predictable Stiverne.
Before the Stiverne fight, Deontay Wilder had knocked out all of his 33 opponents, albeit hideously lopsided match-making. Either way, Wilder worked hard and became WBC World Champion. Just like he promised to his daughter."I promised her that daddy will be a world champion one day and I'll be able to support her. I made sure I could deliver that promise. She inspired me to change my profession."
Deontay Wilder would go on to make 10 successful title defenses, equalling the great Muhammad Ali. As impressive as it sounds having that many defenses, a closer look at Wilder title opponents reveal a more startling story!
Eric Molina #11
Johnn Duhaupas not in top #15
Aurtur Spilka #10
Chris Arreola not in top #15
Gerard Washington #8
Bermane Stiverne #15
Luis Ortiz #3
8 Tyson Fury #2
Dominic Breazeale #4
10.Luis Ortiz #3
As you can see, a lot of Wilder's defenses are against the same opponent. In fact, nearly half are the same, Bermane Stiverne twice, Luis Ortiz Twice, and even Tyson Fury twice. But I did not include the rematch fight with Tyson Fury on Deontay's successful defenses list for obvious reasons.
Lastly, 1/5 of Wilder's defenses were not even ranked in the top 15! So, as you can all see, Wilder's resume of defenses is starting to look a bit thin! And this lack of challenging opponents would prove disastrous later on down the line for the Bronze Bomber.
Deontay Wilder was unsuccessful in securing a mega-fight deal with the British Heavyweight world champion Anthony Joshua when he turned down a 120-million-dollar deal from DAZN.
And then previously failed to sign a contract that Wilder himself agreed to from Eddie Hearn's Matchroom promotions for 15 million dollars. And going back as far as 2017, Wilder was demanding a ridiculous 50-50 split. But I'm not going to go onto details about this. Just read my previous article titled, Deontay Wilder, holding the WBA and heavyweight division to ransom.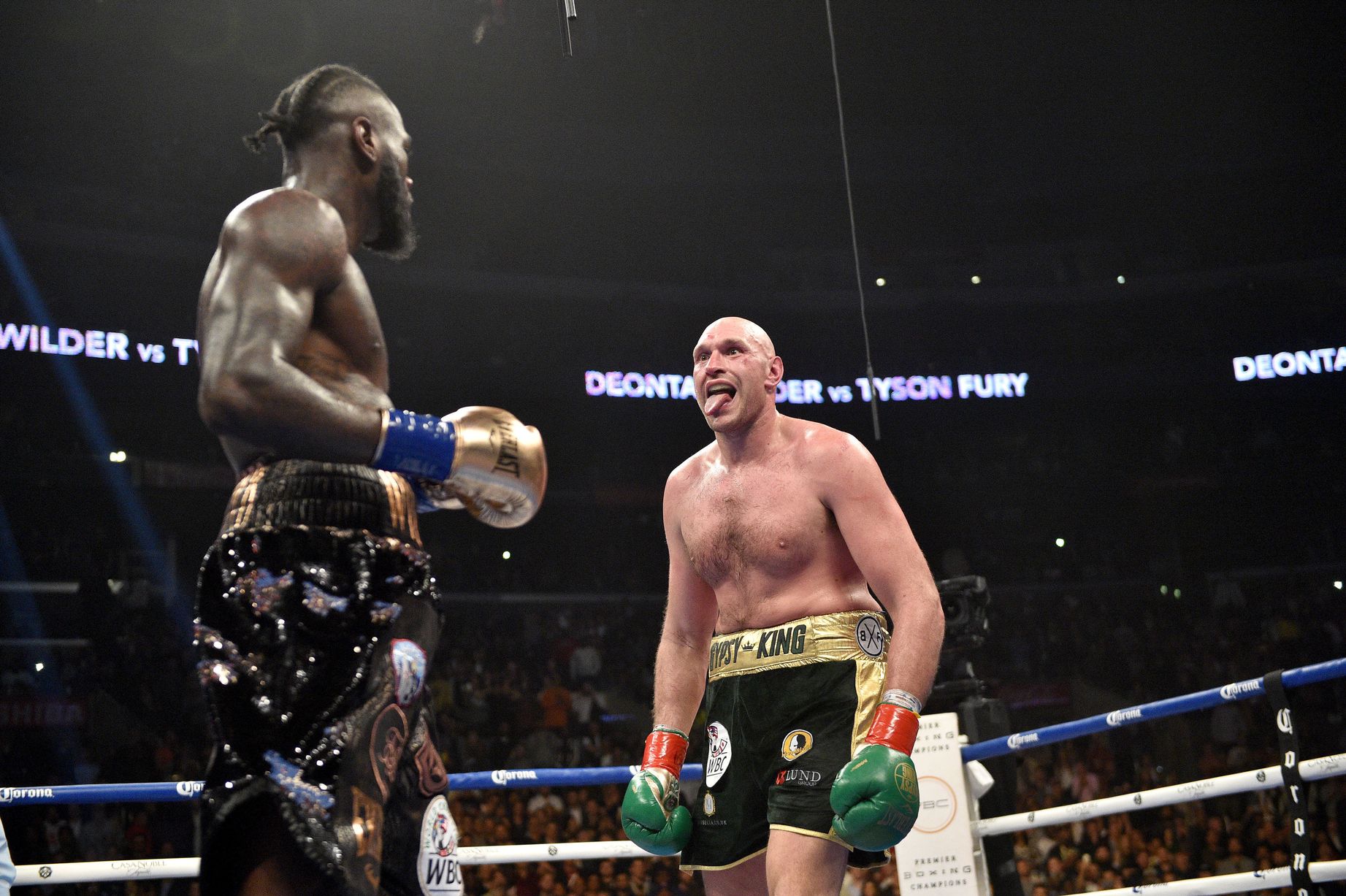 So Deontay turned his attention toward former world champion Tyson Fury who at the time fell off the rails after defeating the legendary Wladimir Klitschko. During Tyson's 3 years out of the ring, He suffered from depression, drug, and alcohol abuse and ballooned up to 300lbs. To Wilder and his team, this seemed like an easy win against a boxer who they thought was washed up. Providing a perfect path to getting an even 50-50 purse split against Anthony Joshua.
But life has a way of throwing a spanner in the works! In the first Deontay Wilder Vs. Tyson Fury fight. The Bronze Bomber was lucky to get a draw. Many professionals had Tyson's work rate inside the ring superior to Wilders and easily outpointing the American giving what should have been a win to the Gypsy King. But the rematch was more clear-cut, with the Tyson schooling Wilder in every round until his corner had enough and threw in the towel in submission at the 7th round.
Normally at this point, most Boxers would have analyzed their mistakes, played back the video footage, and learned from the errors that were made and improved upon them. Sadly, this was not the case for Deontay Wilder. Instead, he decided to blame everyone and everything but his own lack of skills. Sacking former trainer Mark Breland and even going as far as to blame Mark for spiking his water. More excuses from Deontay Wilder followed, such as.
The ring walk suit was too heavy,
Egg weights in Tyson's gloves
Tyson's gloves weren't wrapped up correctly
The ref was crooked "crab in a bucket"
Bicep injury sustained during the fight
Tyson used illegal rabbit punches
Hand no legs at the beginning of the fight
Deontay Wilder claims he has the proof that Tyson Fury cheated from a Dr's report after the 2nd fight, of which he sustained a dent to the side of his head, which could only be done by an "egg weight." This proof has yet to see the light of day!
As for the water spiking, the VADA anti-doping agency cleared all boxing from having anything suspicious chemicals in their system.
The Ring Walk suit weighed in at around 40lbs, according to its makers, which is the same weight as the "training vest" that Wilder wears during a fight camp.
What about Tyson's floppy gloves? Most credible boxers can't see how this would be effective. In fact, most experts say it would cause more harm to Tyson to have a floppy glove, increasing the risk of breaking Tyson's own wrist.
Somehow the Deontay was blaming the Ref. I was never able to sustain why this was the case. To me, it looked like the Ref favored Wilder when he deduced Tyson a point without issuing an adequate warning.
But the latest excuse is Wilder had COVID, and that's why he underperformed, aka dead legs! Though this has yet to be verified by Deontay himself. Though this writer doesn't believe any proof will come to light, just like the Dr's report.
Now we are some 18 months down the line after the rematch back in 2020, and I feel Deontay Wilder has not learned a thing from his previous fights to become a better complete boxer! In fact, it has had the opposite effect. Wilder appears more closed off and narrow-minded, doubling down on how he was cheated.
At the same time, being surrounded by "YES MEN" telling him what he wants to hear, stroking his damaged ego back to health with disingenuous lies and false narratives. Spurred on by his new trainer, Malik Scott. The same Malik Scott who many thought took a dive in the 1st round against Deontay Wilder back in 2014, and this is the same Malik Scott who some feel faked 8 knockdowns against Luis Ortiz in 2017.
I feel sorry for Deontay Wilder. I really do. He is surrounded by people who are not interested in making him a better boxer, just groupies trying to leach of his success. And that is why I feel, along with a majority of other fellow boxing fans, that Tyson Fury will School Wilder once again in their trilogy fight scheduled for July 2021. But this time, I would not be surprised if it's a TKO stoppage without the help of a towel.
---