The Octagon has returned to Phoenix for UFC 274, the fifteen-fight card of which will be led by Charles Oliveira vs. Justin Gaethje.
Charles Oliveira (32-8 MMA) missed the weigh-in by half a pound and was forced to refuse the UFC lightweight title, as well as part of his fee for the fight. In addition, "Do Bronx" is no longer eligible to receive the vacant 155-pound belt tonight. Charles Oliveira will enter the fight with 10 victories, the last of which is a victory by a submission over Dustin Poirier.
In this article we will look at the most interesting details of this UFC 274.
UFC 274 fight card has taken a last minute hit as Donald Cerrone was forced to withdraw from his bout with Joe Lauzon.
Cerrone (36-16 MMA) was slated to open up tonight's pay-per-view main card against fellow veteran Lauzon (28-15 MMA). Unfortunately for fight fans, 'Cowboy' suffered a fight-day illness and was forced to pullout of the fight. UFC officials announced the news during this afternoon's prelim broadcast.
A welterweight bout between Randy Brown and Khaos Williams has now been bumped up to main card status.
UFC 274 main card featured a highly anticipated lightweight scrap between Michael Chandler and Tony Ferguson.
Round two of this UFC 274 lightweight fight begun and Michael Chandler lands a front kick and Tony Ferguson is out cold.
Official UFC 274 Result: Michael Chandler def. Tony Ferguson via KO in Round 2
UFC 274 co-main event resulted in one of the worst championship fights in UFC history.
Very few strikes were thrown throughout the course of twenty-five minute affair but it was the pressure and a few takedowns from Carla Esparza that proved to be the difference. After five rounds of less than stellar action, the fight went to the judges scorecards for a decision.
Official UFC 274 Result: Carla Esparza def. Rose Namajunas by split decision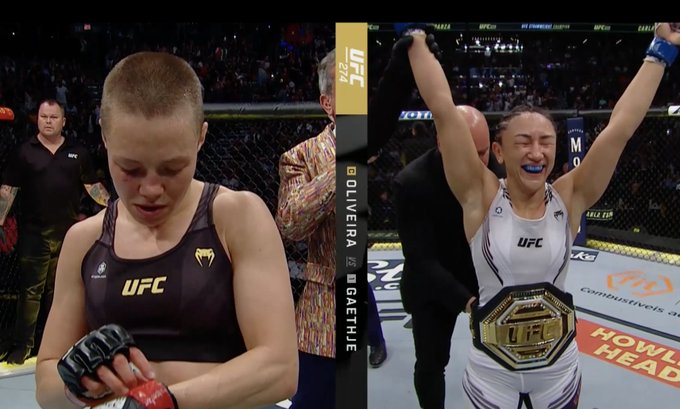 UFC 274 event was headlined by a special stipulations lightweight title fight featuring Charles Oliveira taking on Justin Gaethje.
UFC 274 main event proved to be a thrilling contest as many expected. Justin Gaethje was able to drop Charles Oliveira on multiple occasions but the former champion was able to respond with a late knockdown of his own. From there, the submission specialist would promptly lock-up a rear-naked choke that forced 'The Highlight' to tapout. It was another incredible performance from the top ranked lightweight on planet earth.
Official UFC 274 Result: Charles Oliveira def. Justin Gaethje via first round submission (RNC)
Oh that was a crazy night for fans and fighters! Also worth noting was the touching moment when the UFC promotion announced the entry of former UFC heavyweight champion, Daniel Cormier, into the Hall of Fame this night!
All Results of UFC 274:
UFC 274 MAIN CARD (Pay-per-view, 10pm EST)
Charles Oliveira vs. Justin Gaethje – Oliveira def. Gaethje via submission (RNC) in Round 1
Rose Namajunas vs. Carla Esparza – Esparza def. Namajunas by split decision (47-48, 49-46, 48-47)
Michael Chandler vs. Tony Ferguson – Chandler def. Ferguson via KO at :17 of Round 2
Mauricio Rua vs. Ovince Saint Preux – Saint Preux def. Rua by split decision (29-28, 28-29, 30-27)
Randy Brown vs. Khaos Williams – Brown def. Williams by split decision (29-28, 28-29, 29-28)
Donald Cerrone vs. Joe Lauzon – Cancelled
UFC 274 PRELIMINARY CARD (ESPN/ESPN+, 8pm EST)
Francisco Trinaldo vs. Danny Roberts – (29-28, 30-26, 30-27)
Macy Chiasson vs. Norma Dumont – Chiasson def. Dumont by split decision (30-27, 28-29, 30-27)
Brandon Royval vs. Matt Schnell – Royval def. Schnell via submission (guillotine choke) at 2:14 of Round 1
Blagoy Ivanov vs. Marcos Rogerio de Lima – Ivanov def. De Lima by unanimous decision (29-28 x3)
UFC 274 EARLY PRELIMS (ESPN+, 5:30pm EST)
Andre Fialho vs. Cameron VanCamp – Fialho def. VanCamp via KO (punch) at 2:35 of Round 1
Tracy Cortez vs. Melissa Gatto – Cortez def. Gatto by unanimous decision (29-28 x3)
Kleydson Rodrigues vs. CJ Vergara – Vergara def. Rodrigues by split decision (29-28, 28-29, 29-28)
Ariane Carnelossi vs. Loopy Godinez – Godinez def. Carnelossi by unanimous decision (30-27, 30-26 x2)
Fernie Garcia vs. Journey Newson – Newson def. Garcia by unanimous decision (30-27 x2, 29-28)
UFC 274: Charles Oliveira Octagon Interview