UFC news: Charles Oliveira is ready to face Conor McGregor after UFC 269. Charles Oliveira once again confirmed why he deserves to sit on top of his division. The Brazilian defeated Dustin Poirier to ace his first title defense in the UFC. 'Do Bronx' dominated the match with his top-notch grappling skills and submitted 'The Diamond' midway in the 3rd round to keep his win streak intact. However, immediately after his win, he received a challenge from Conor McGregor.
Conor Notorious' McGregor'The wrote, "So what date am I fighting Oliveira?"
Replying to the tweet in his style, Oliveira accepted the challenge by 'The Notorious' and even asked him to fight this Saturday at UFC Fight Night: Lewis vs Daukaus.
'Do Bronx' wrote, "What do you think about this weekend? I'm ready, I'm still in town, and there's an up&coming event. Let's go baby"
The Irishman has not replied to the tweet yet. However, it remains to be seen if the Twitter brawl can materialize into a match in the real world.
McGregor has been out of the combat scene since he lost the trilogy fight with Dustin Poirier back in July. 'The Notorious' suffered from a serious injury in the match as he broke his leg during the fight. The 33-year-old has since been recovering from the damage and there is no confirmation about when he will return to the octagon. Currently, he sits 9 spots behind the champion, who increased his win streak to 10.
UFC lightweight champion Charles Oliveira (32-8, 1NC) ventured into untested waters as he walked inside the octagon for his first title defense.
'Do Bronx' overcame adversity in the first round as Poirier poured his boxing skills into the fight. However, things changed in the second round, as Oliveira showcased his superior grappling skills and continued to do so in the next round as well.
The bout concluded in the middle of the third round as 'Do Bronx' secured the back and put 'The Diamond' in a standing Rear-Naked Choke to earn the submission victory.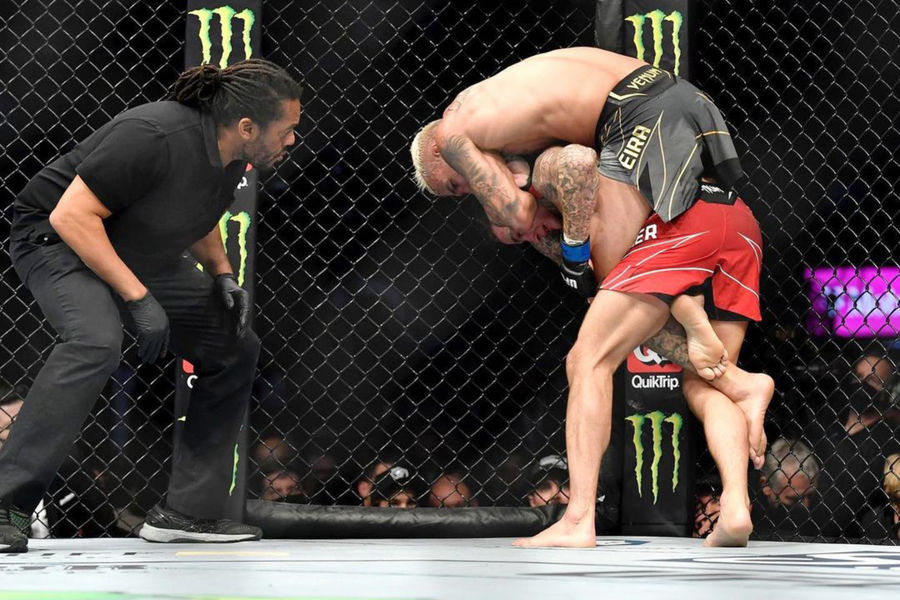 Ultimately, Oliveira proved why he was worthy of the lightweight title as he cemented himself as the champion with his first title defense.