Former UFC champion in two weight categories Conor McGregor once again found himself in the center of a scandal.
The shocking Irish fighter almost got into a fight with the popular American rapper Machine Gun Kelly on the red carpet of the MTV Video Music Awards. The incident occurred on the night of September 12-13 at the Barclays Center arena in Brooklyn.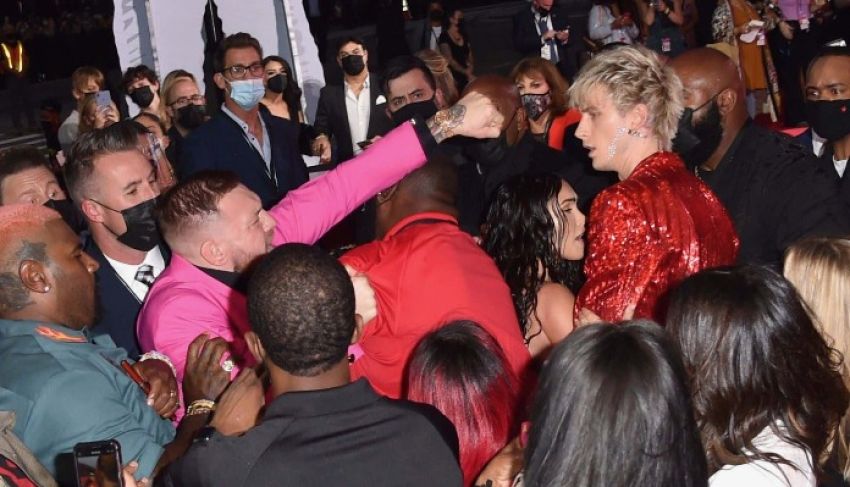 According to TMZ, McGregor asked the performer for a joint photo, and after refusing, he threw a glass in the direction of Machine Gun Kelly. Then a scuffle began between them, which was stopped by the security service in time.
"They grappled, then the passions subsided, but Conor went after him again," a source told PageSix.
The insider added that this incident did not "please the photographers" who threatened Conor with a boycott, as they were afraid that Machine Gun Kelly, along with his girlfriend Megan Fox, would no longer appear in front of them after the skirmish.
Another eyewitness said that McGregor was really ready to fight with the rapper.
"Connor was ready to swing his fists. It was difficult for the security service to restrain him, " a source told PageSix.
Recall that McGregor is recovering from a broken leg sustained in a fight with Dustin Poirier at the UFC 264 in July.
Nevertheless, Conor McGregor said that he had no conflict with Machine Gun Kelly, and reports of their brawl are only rumors.
"Absolutely nothing (happened)," McGregor said to ET. "I don't know. I just showed up and I don't know. I don't even know the guy to be honest with you."
When asked if the scuffle was just a rumor then, Conor McGregor says it was as he only fights real fighters.
"Just rumors. Nothing happened with me. I only fight real fighters. People that actually fight," McGregor said. "I certainly don't fight little Vanilla Ice white rappers. I don't even know the guy. I don't know anything about him, except that he's with Megan Fox."