The first number of the UFC lightweight Dustin Porrier does not agree with Justin Gaethje, who accused the reigning 155-pound champion Charles Oliveira a "quitter".
Quite recently, speaking to UFC Unfiltered, Gaethje blasted Oliveira. He called the Brazilian a "quitter" and said that Poirier is going to beat him up when they meet at UFC 269. In fact, Gaethje is so sold on Oliveira being a quitter that he hopes to get the chance to fight him in the near future. For Gaethje, even though Oliveira has shown huge improvements in his game over the last few years, he won't let him forget about all the times he folded in the Octagon.
"I'm in a great position, I don't have to win eight in a row. I've got to win one in a row. So if he wins, I would love to fight Charles Oliveira, because I will show you what I'm saying. He's a quitter. He is a quitter. He showed it to you in the Michael Chandler fight. At the end of the first round, he was not looking good, he didn't want to be there. He doesn't want to be there when it gets nasty. That's just what I think, that's my opinion. And Poirier is going to beat him up," Justin Gaethje said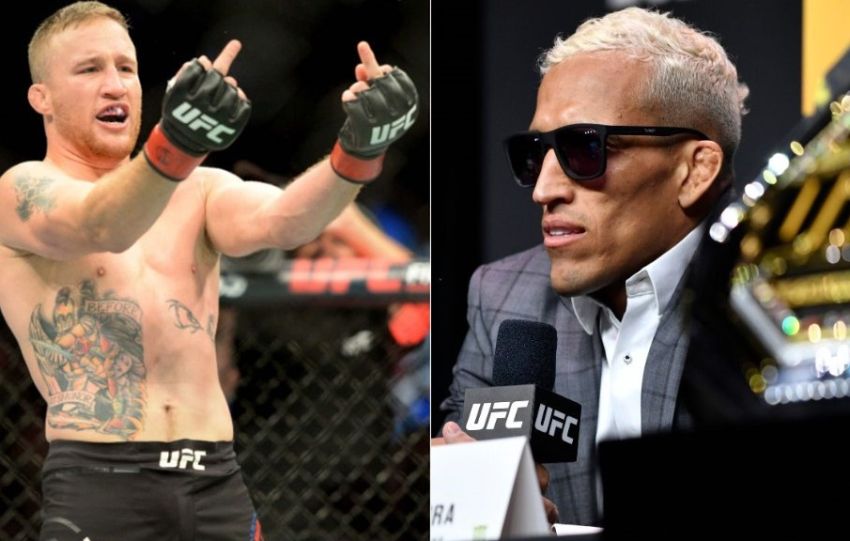 Despite Oliveira coming back from being down early against Chandler to win the title, Gaethje recently labeled the lightweight champ a "quitter," pointing to his past performances where he folded under pressure. Speaking to the media at the UFC Hall of Fame ceremony this week, Poirier — who fights Oliveira for the UFC lightweight title at UFC 269 — said that he doesn't agree with what Gaethje said about Oliveira. In fact, Poirier says, Oliveira proved he's not a quitter when he was able to come back and beat Chandler.
"I've seen Charles in a lot of fights," Dustin Poirier said. "He's been in a lot of fights at a high level so I've seen him kind of fold in fights before. But I've also seen him rise to the occasion and show up in adversity. If he was a quitter, he had a chance to quit when Chandler hurt him but he came back and put him away. If that shows anything – like they say, your last fight is your most important and your next fight is your most important. The guy showed a championship mentality, he showed a championship effort, got hurt, pulled it together, finished the guy. There was no quit that night," Dustin Poirier said.