Former UFC lightweight champion Khabib Nurmagomedov said that promotion president Dana White did not answer his message urging to make Islam Makhachev fight with Charles Oliveira a title fight.
For the first time in their relationship White ignored his message, according to Khabib. However, Nurmagomedov assured that he is fine with it and is not offended by White.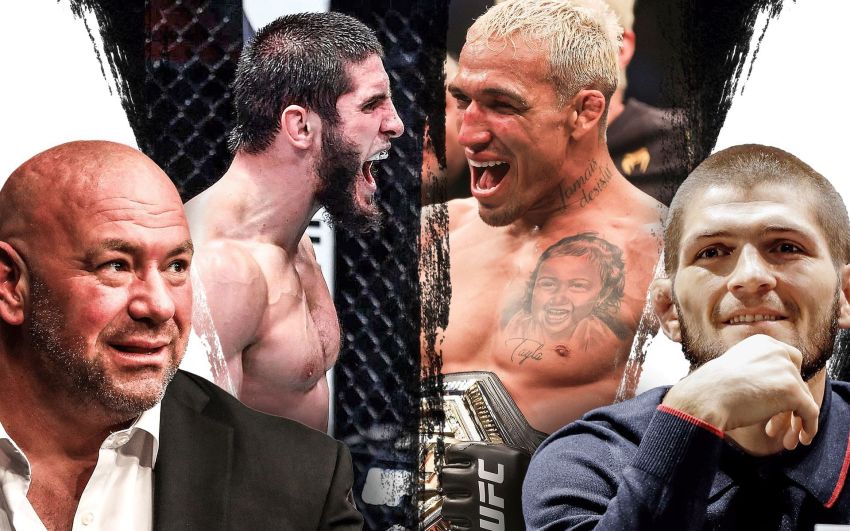 "Honestly, this is the first time since we started communicating that Dana didn't respond to me. I texted him, 'Hey, nobody else should be fighting for the title. It should be Islam." I texted him something like that, but he didn't respond. I think Dana was busy. This is the first time this has happened, but it's normal. Everybody makes mistakes. He'll come back stronger," Khabib Nurmagomedov told ESPN MMA.
Former UFC champion Russian Khabib Nurmagomedov admitted that he respects Brazilian Charles Oliveira and despite the fact that he was stripped of his lightweight title, he still considers him the champion.
The former UFC Lightweight Champion is backing his boy Islam Makhachev on his ongoing title dream. The top contender is looking to fight for the vacant title, which was left behind following Charles Oliveira's unprecedented weight miss.
'There Is Only Islam And Charles'
With Charles Oliveira getting a shot at his lost gold next, he needs just one thing… an opponent.
Khabib Nurmagomedov believes it's only 'fair' that his teammate Islam Makhachev achieve a title opportunity.
"If Charles wins against Islam, we have to give him credit," Nurmagomedov told ESPN.
"Then he's going to be undisputed UFC lightweight champion. Right now, I believe he's champion. I believe even this. People talk about the half-pound. I believe he deserved it. Right now, in this moment, he deserved to be champion. He's doing a very good job, you know? But he's not undisputed. When I finished, I was undisputed."
"This is going to be fair, if Islam fights versus Charles for the title. Because right now there is no champion in lightweight division. Of course, Charles deserves this. But, there's no champion. Why Islam have to fight for the contender fight if there's no champion? Let them fight! Best vs. best. There is only Islam and Charles."