The co-founder of the streaming service Triller, Ryan Kavanagh, said that negotiations have resumed on the organization of a fight between former world champion in six weight categories Oscar De La Hoya and former UFC champion Vitor Belfort.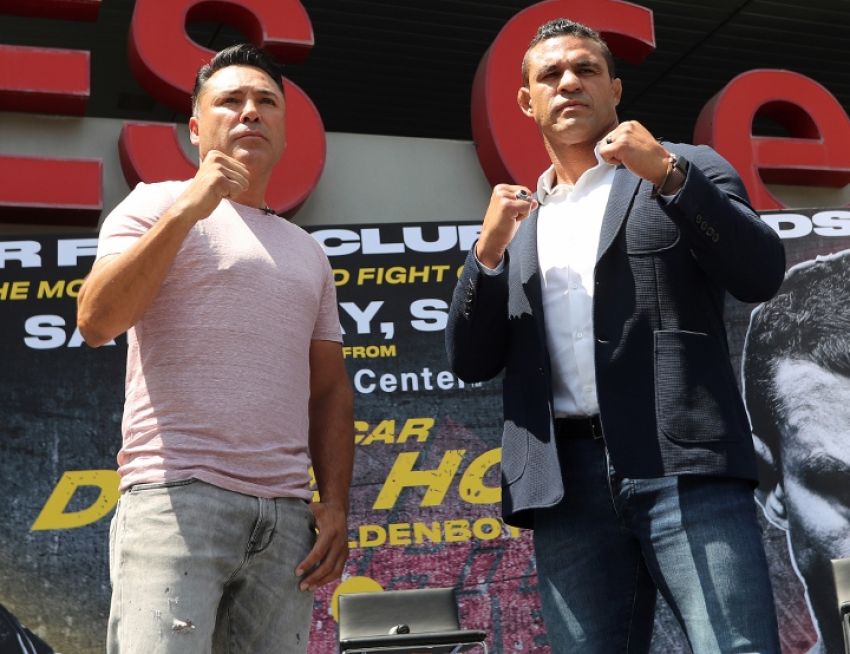 Oscar De La Hoya, 48-years-old, was scheduled to face Belfort on September 11 at Staples Center in Los Angeles.
It would have been De La Hoya's first fight since getting stopped by Manny Pacquiao in 2008.
A week before the pay-per-view bout, De La Hoya revealed that he tested positive for COVID-19 and was forced to withdraw.
He was replaced by 58-year-old former heavyweight champion Evander Holyfield – and the entire event was moved to Hollywood, Florida.
Belfort would stop Holyfield in the first round of a one-sided fight.
Kavanaugh is talking with De La Hoya about the idea of staging the Belfort clash on a date in November.
"The Oscar De La Hoya/Vitor fight, on Thanksgiving – if we can make this happen – has just become much more interesting," Kavanaugh explained to the MMA Hour.
"Because, for all those people who seem to be upset at Vitor for what just happened with Holyfield, you've just made this a much more personal fight, if you will. And Oscar becomes somewhat of a, not just his own 'Golden Boy', but coming in for revenge for Holyfield. And so, we are in talks with Oscar about having him fight Vitor on Thanksgiving weekend, Saturday [November 27th], and calling it 'The Revenge'."
In the aftermath of his win, Belfort called for a fight with Youtube star turned boxer Jake Paul.
Triller is offering Paul $30 million to take the fight. However, Paul is under an exclusive contract with Showtime.
But the focus right now, says Kavanaugh, is getting Belfort in the ring with De La Hoya.
"I think we'll probably try and do the Oscar fight first, because Oscar was in such good fighting shape, and now that he's recovered from COVID, we don't want him to lose that fighting shape. And I think Jake needs to get back into fighting shape, from what I understand. That could be wrong," Kavanaugh said.