Chael Sonnen has given his prediction on the spectacular fight Conor Mcgregor vs Dustin Poirier
Conor McGregor is ready to clash against Dustin Poirier in the biggest trilogy fight of the year. And the UFC veteran

Chael Sonnen

has given his prediction on the spectacular fight.
This fight is the main event at the UFC 264 that will take place inside the T-Mobile Arena Las Vegas this weekend. The stakes are high and the combat fans are eagerly awaiting the fight.
Meanwhile, many celebrities, current and also former UFC fighters have given their predictions on the trilogy fight. However, Sonnen's prediction might have the fans believe that 'The Notorious' will win the fight.
Sonnen's prediction often goes wrong and fans bill it as the 'Sonnen Curse'. In his new podcast he picked a winner from the fight and said, "As soon as the referee says go, Poirier goes on the attack. He's got a damn good offense.
"When he holds back and lets Conor take charge as most every opponent of Conor does, doesn't really go very well. I don't think Poirier is gonna do that. Look, and these guys are gonna trade shots and they gonna trade some positions."
He added, "I think that Poirier's gonna come in at least strategically with a little more of a ground-heavy mindset if he gets stuffed on those shots if those shots aren't working those takedowns are too much energy he will get away from it quickly comes back to fisticuffs.
"Not extremely bullish on this. I am not bullish on this. But I'm taking the Diamond."
However, Sonnen picked 'The Notorious' the last time ahead of Conor McGregor vs Dustin Poirier 2. He lost that fight brutally against Poirier. Here's a look back at the fight.
Conor McGregor vs Dustin Poirier 2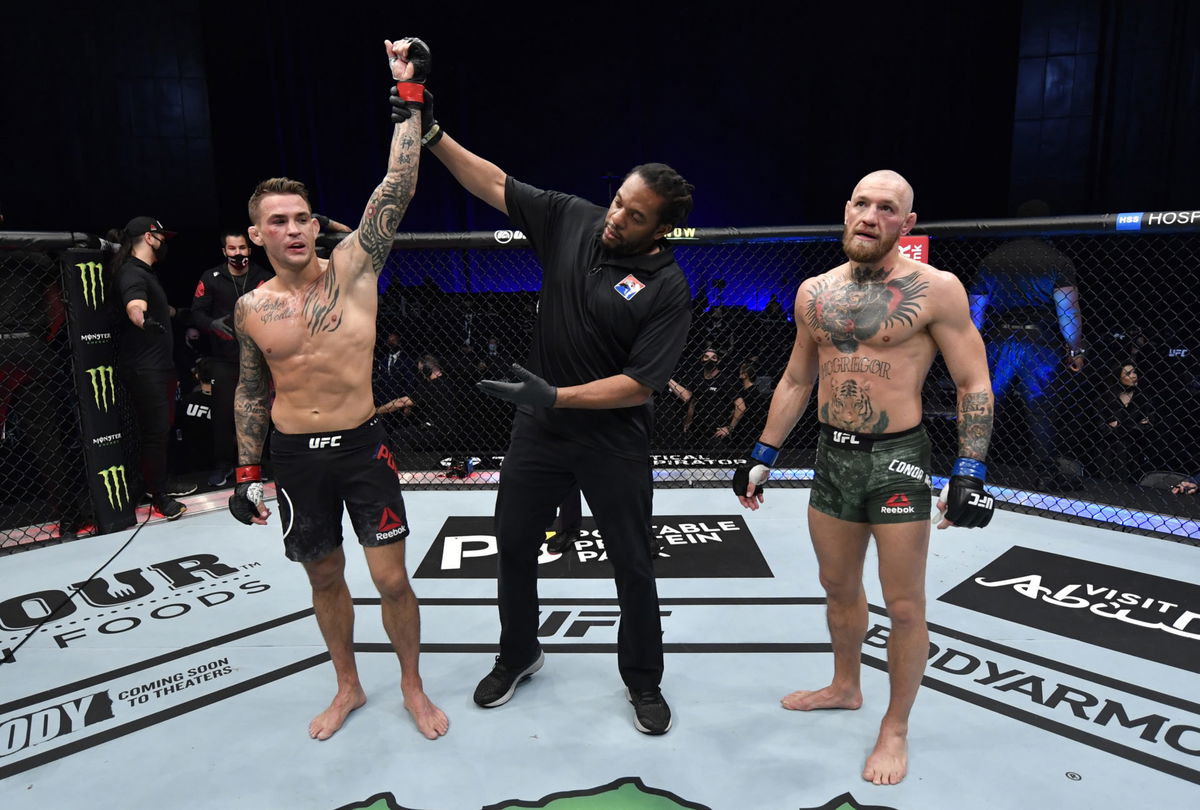 'The Notorious' one first defeated the American fighter at the UFC 178. Later the UFC veteran picked McGregor as the winner in the rematch against Poirier at UFC 257. However, the Irishman was brutally defeated by the American native.
'The Diamond' majorly targeted McGregor's lead leg right after the bell in the fight. In the first round of the fight, both the fighters exchanged heavy strikes. However, the round ended with both men still on their feet.
Dustin Poirier caught McGregor with a series of punches in the third minute of the round second round. 'The Diamond' rained down his own punishment until the referee jumped in and stopped the fight.
'The Diamond' got his revenge 6 years after the first fight. However, the result of the UFC 257 rematch was the exact opposite of what Sonnen predicted. Hence fans believe this time the 'Chael Curse' will repeat at UFC 264.